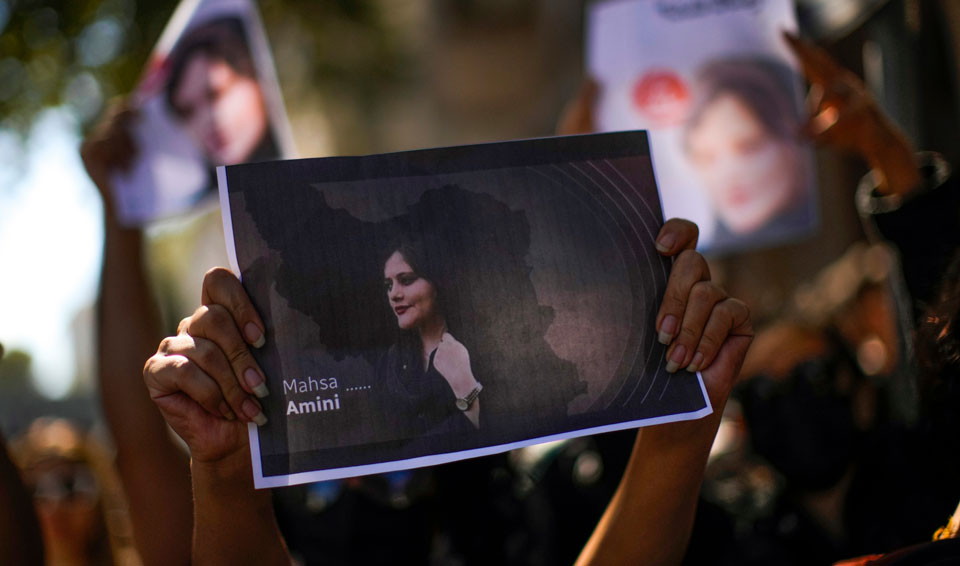 Women's protests continued to sweep Iran Wednesday over the death in custody last Friday of Mahsa Amini, a woman arrested for breaching sexist dress laws imposed by the fundamentalist Islamic regime.
In Sari, north of Tehran, large crowds cheered as women set their hijabs alight in defiant acts of protest. Street protests took place in the capital Tehran and other cities, student protests were staged at universities, and bazaars across Iranian Kurdistan have been shutdown in protest.
Jamshid Ahmadi, assistant general secretary of the Committee for the Defense of the Iranian People's Rights (CODIR) reports that "the murder of Mahsa Amini is the trigger that has set off an unprecedented massive nationwide protest across Iran."
Facing massive public anger, Tehran's police chief offered the paltry response earlier this week that the death of Amini was an "unfortunate" incident. Police brigadier general Hossein Rahimi denied any wrongdoing by the authorities.
Amini died on Friday, three days after morality police held her for allegedly breaking hijab rules. An ethnic Kurd from the city of Saqez in Kurdistan province, Amini's death sparked protests in much of Iran—protests which have continued daily.
She was detained outside a metro station in Tehran last week. She was accused of breaking a law which requires women to cover their hair with a headscarf and their arms and legs with loose clothing.
According to witnesses, Amini was beaten while inside a police van that took her to a detention center. Police rejected that allegation, claiming she suffered "sudden heart failure" while waiting with other women at the facility to be "educated."
Kurdish human rights group Hengaw said at least 38 people were injured in clashes with the police on Sunday and a 10-year-old girl had been shot in the head in Bukan.
"The scale of this protest mobilization is similar to that which shook Iran in November 2019 amid protests against the sudden tripling in the price of petrol," CODIR's Ahmadi said.
"Protesters are now calling openly for transition from theocratic dictatorship to a national democratic republic guaranteeing human and democratic rights, as well as social justice," he added.
CODIR said the way protesters were resisting and confronting security forces showed that "the relationship between the people and the ruling theocratic regime has entered a new stage.
"Given the highly unjust economic system and the reactionary enforcement of Islamic laws, the ruling dictatorship lost most of its social base long ago.
"It is finding it increasingly harder to control the situation without resorting to brute force and mass oppression, thus entering dangerous territory. The continuing popular and wide-scale revulsion at the death of Mahsa Amini shows the sheer depth in unpopularity of the theocratic dictatorship and its crisis at home.
"A wide spectrum of opposition forces is now using these protests to force the ruling regime into retreat with the demand to abolish the reactionary and hated 'morality police' [in whose hands Amini died] as a first non-negotiable demand."
CODIR called for international solidarity with the Iranian protests—which was forthcoming in Chilean President Gabriel Boric's first address to the United Nations general assembly on Tuesday night.
Boric talked of the urgency of "putting an end to the abuses of the powerful anywhere in the world, and to mobilize our efforts to stop violence against women—whether it be in Iran, in memory of Mahsa Amini who died at the hands of police, or anywhere."
This article includes material from the Committee for the Defense of the Iranian People's Rights (CODIR) and Morning Star.