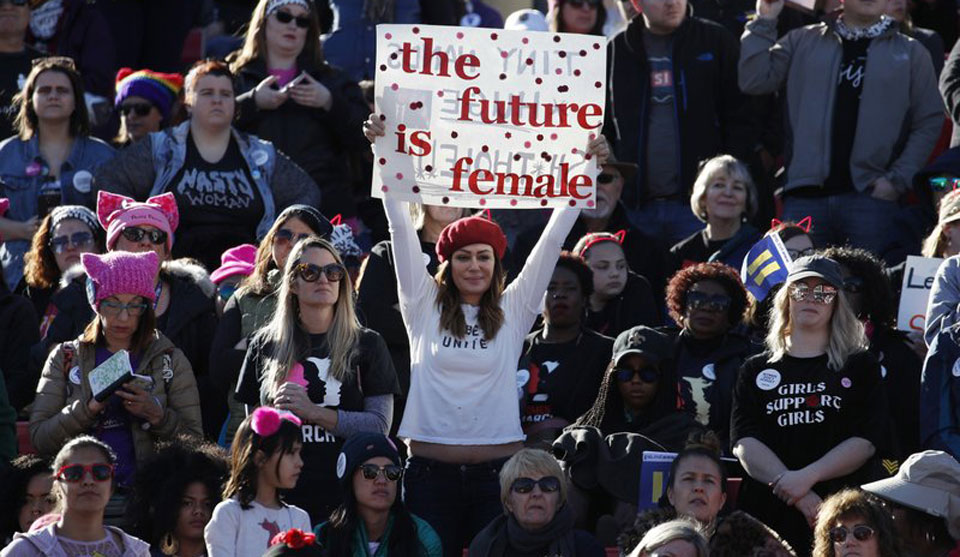 LAS VEGAS—With signs such as "Grab 'em by the midterms," and "Still here, still nasty, still voting," thousands of women and their allies descended into the Sam Boyd Stadium here in order to kick off a national voter registration tour one year after the historic Women's March on Washington. The major theme throughout the rally was putting the momentum from the movement for gender equality into concrete electoral wins in 2018.
Capping off a weekend in which an estimated 1.6 million across the country marched in various cities for women's rights, (the Los Angeles march alone had an estimated 500,000 attendees), the rally, organized by the Women's March, addressed a variety of topics concerning women and the strategy forward for systemic change.
Women running in 2018
It's a small state, with only four U.S. representatives (and six Electoral College votes), but Nevada has contributed more than symbolism to women's equality in recent voting cycles. In 2016, Hillary Clinton won the state, and in a closely watched campaign, voters elected another Democrat, Catherine Cortez Masto, to replace retiring Sen. Harry Reid. Cortez Masto is the first Latina elected to the U.S. Senate. Nevadans also re-elected Dina Titus and Jacky Rosen for the U.S. House of Representatives.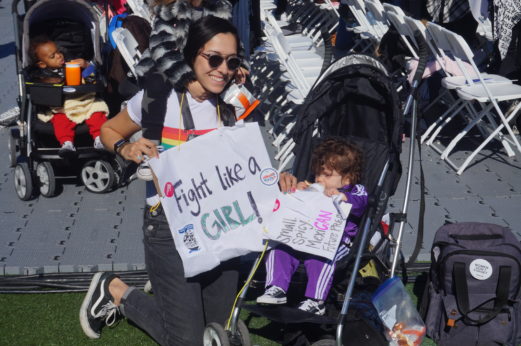 Now, Republican Sen. Dean Heller's term is up, and he is standing for re-election. He has been a dependable Trump agenda stalwart who has failed to distance himself in any way from the president or Senate leader Mitch McConnell. Jacky Rosen is his Democratic challenger in 2018. If the heat generated Sunday at the National Rally in Las Vegas is a reliable indicator, Rosen will unseat Heller with the help of swarms of motivated, engaged women and the state's highly unionized service sector workforce based in the southern part of the state in Las Vegas' Clark County. Both Cortez Masto and Rosen were stuck in Washington, D.C., dealing with the GOP's federal government shutdown, but both appeared in special video messages to the large, loud, and enthusiastic crowd of mostly women.
On the state level, Nevada ties for first place in the percentage of women in a state legislature. Its three largest cities have women mayors. Although the present governor, Brian Sandoval, is male, he will be termed out this year, and already viable women candidates are queueing up to replace him. Christina R. Giunchigliani has already announced. Nevada state Sen. Yvanna Cancela cited the current backlash against three women elected to Nevada state government, who are being subjected to vengeful, expensive recalls by the GOP in a move to invalidate the voters' choice on election day. "When the fight is this urgent, fear is not an excuse," she said.
Early in a lineup of speakers on an almost six-hour program, we were introduced to "Idaho's next governor," the twice-elected Idaho House member Paulette Jordan. Jordan is a member of the Coeur d'Alene tribe with a strong appreciation for her Native roots. Jordan does not seem to be someone who hears, "You can't do that." She issued "a call to all of you: It's time for you to run," and echoed one of the salient themes of the day: "First she marched, then she ran." In a deep red state such as Idaho, it would be a major victory for a progressive Indigenous woman to reach the governor's mansion.
Attending the rally from San Francisco, that city's District 6 Supervisor, Jane Kim, announced that she is running for mayor. She would become the city's second female mayor, after (now U.S. Senator) Dianne Feinstein. Kim pointed out that in Congress, and in most state legislatures, barely a fifth of the members are women. "Time's up," she said, "on waiting for our turn."
Ashlee Marie Preston is running as the first openly trans person for the California state legislature, and says there is so much work ahead of us. "Don't spend any more time talking about what went wrong with Bernie or Hillary," she admonished. Focus on right now and the future. The president has already spent more of the nation's treasure on his trips to Mar-A-Lago than on relief from Hurricane Maria. "We are strong," she chanted, "we are brave, we are courageous, we are united, we are America."
Speakers came from a variety of organizations working to increase the progressive vote in 2018, such as MoveOn.org, Moms Rising, and Indivisible, and of course from the national leadership of the Women's March. One of those leaders, the hijab-wearing Linda Sarsour, who calls herself "unapologetically Palestinian-American, Muslim-American, and from Brooklyn, New York," observed that aside from Jordan in Idaho, an African-American woman, Stacey Abrams, is running to become the next governor of Georgia. Sarsour looked forward to the headlines the morning after Election Day 2018: "Women in the U.S.A. brought us to victory."
– A complete list of women running for office in 2018 can be found here.
The role of labor in the fight for women
Several speakers shouted out their salutes to the labor unions that supported the rally with logistical and material contributions. And a number of labor movement representatives spoke as well. Luisa Blue, executive vice president of the Service Employees International Union, gave a rousing speech on why unions are important—for a voice, for a contract, a fair wage, to oppose discrimination and harassment. If you believe in—and she counted off all the democratic achievements and aspirations of a functioning democracy that unions defend every day—then, she said, "you stand with us." "Let's not forget the DREAMers," she reminded her listeners. "Today we protest, tomorrow we vote."
This being Las Vegas, it was probably not surprising that a feisty contingent of sex workers was also included on the program, with bold signs and speeches meant to remind the audience of their right to work, to be treated fairly, to have access to healthcare, and to be defended against all too frequent violence.
One of the last union officials to address the crowd was Marietta A. English, president of the Baltimore Teachers Union (BTU) Teachers Chapter of the AFT, a mostly women-based union that is 1.7 million members strong. If what the Women's March stands for is collective action, that has always been the core of the labor movement. She quoted the path-breaking labor leader Bayard Rustin, who called for an army of "angelic troublemakers" to stir up and heal our country. "The AFT," English said, "will be there fighting with you."
Kristin Rowe-Finkbeiner, executive director and CEO of Moms Rising, cited statistics that she recently brought before the U.S. Congress, that on average a woman earns 80 cents to a man's dollar, although the disparities are much wider for women workers of color. She gave encouragement to all the "resisters, insisters, and persisters." The common element seems to be "sisters!" As one poetic orator on Sunday declared, "The ground is shaking, the mountains are quivering."
Combating voter suppression and the fight for democracy
The rally organizers were enthusiastic to speak to their goal of registering one million people to vote by November 2018, at the same time acknowledging the severe issue of voter suppression. Since the gutting of the Voting Rights Act in 2013 with the Supreme Court decision of Shelby County v. Holder, there has been a wave of states and cities where voter discrimination laws have been enacted. These discriminatory laws have greatly affected people of color, those with disabilities, and others, and their ability to vote. A variety of speakers at the rally spoke to the impact this has made on previous elections, and how crucial it will be to combat this discrimination for the midterms and beyond.
Civil rights advocate Kimberlé Williams Crenshaw, who also spoke at the Los Angeles Women's March the day before, said to the crowd, "The people who lost their right to vote [were] larger than the margin that determined the outcome of the last presidential election." Crenshaw refers to the fact that in 2016, for the first time in 50 years, the presidential election occurred without the full protection of the Voting Rights Act. A total of fourteen states had recently enacted voting restrictions.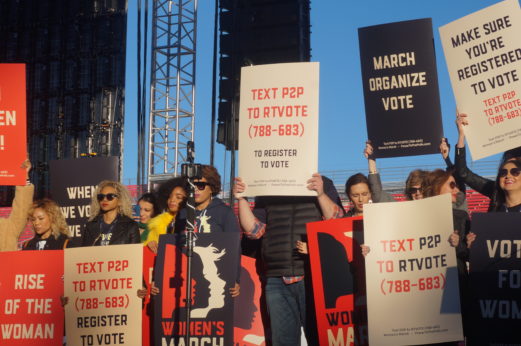 The national chair of the Poor People's Campaign, Rev. William Barber, expounded further on the issue of voter suppression and the overall threat to democracy faced with the current White House administration. Barber expressed, "Participating in voter suppression that allows extremists to cheat in order to get into office is anti-woman, anti-family, anti-American, and immoral."
Rev. Barber pledged that the Poor People's Campaign stands with the Women's March in their goal to register more than one million new voters. "Truth is, my sisters, it's movement time in America. Anytime a race-driven electoral college turns the presidency over to a narcissistic, egotistical, racist—that loses by three million votes—it's movement time…. We can't wait four years. We have to move extremists now out of the Congress and out of state houses," Barber said. "Alabama doesn't have to be an anomaly," he said, referring to the Doug Jones victory over Roy Moore. "We can win in Georgia, Florida, and North Carolina, and Texas, and Mississippi. We need a midterm election turnout like never before…. We can take a word like 'shithole' and turn it into fertilizer."
The leading role of Black women in the resistance
Acknowledging the leading role that Black women, and other women of color, have played in recent elections and battles for equality, several speakers addressed the need for the continuing empowerment of women of color, trans women, and women with disabilities. Also tackled were the questionable voting practices of a significant segment of white women in recent elections, such as the presidential race and in Alabama. The racial divide between women voters is an issue that many speakers argued needed to be confronted head-on.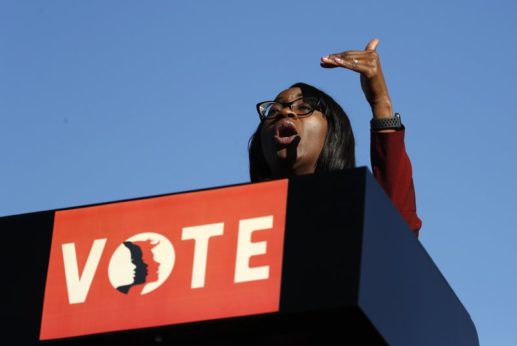 Bob Bland, a co-president of the Women's March organization, explained that she and other white women had work to do among themselves. "White women, we have to wake up to our complicity to this system that was founded on white supremacy. We need to bring our voice and vote not just for ourselves, but for the issues of all marginalized communities. This [fight] can't just be about reproductive health. Women are not a monolith," Bland said. "Confront the implicit bias. Hold other white folk accountable. Marching is not enough," she concluded.
Bland's fellow co-president, Tamika D. Mallory, spoke on the issue of inclusivity of women of color. Expressing her disappointment that there were Black women who told her they wouldn't show up to the rally because they didn't feel welcome, Mallory said, "We have to do better…. From Emmett Till to now, white women, you've got a problem you need to handle in your community."
President of Our Revolution, and former Ohio state senator, Nina Turner spoke on the power of "Black girl magic" and the need for women of color in leadership. "We need to acknowledge the role women of color have played in leading this organization," Turner noted.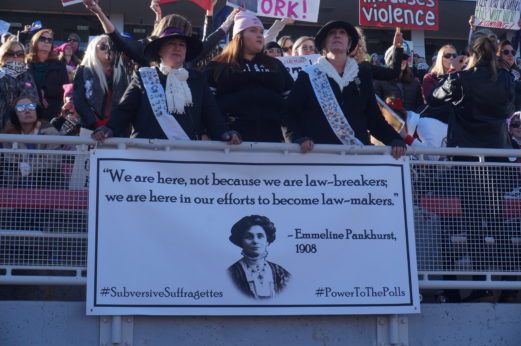 Activist Mia Ives-Rublee spoke on the need to champion women with disabilities. "The Power to the Polls tour is essential. We must ensure we register as many people as possible, and reach out to communities that are often forgotten, like the disability community," she noted. "We must also work to train individuals on their voting rights. Over 60 percent of voting places are physically inaccessible. And many do not have the facilities to communicate with deaf and blind people…. Disabled people face some of the steepest hurdles to voting, even though we have every right to vote," Rublee said.
Trans-women activists Yoshi Castro, Trace Lysette, and Bamby Salcedo spoke to the need for the movement for gender equality to include and champion transwomen. "Some of us are at greater risk," Lysette said. "Time is up on transphobia and anti-trans violence. If you are considered the 'other,' it's time to show them how powerful you are," she concluded.
It was announced that the next three states on the voter registration tour will be Texas, Pennsylvania, and Ohio. As the national Women's March co-president Tamika D. Mallory stated, "In 2018, we must turn our work into action ahead of the midterms. This new initiative will address voter registration and voter suppression head-on."
Bamby Salcedo summed up the spirit of the day saying, "Our movement will not advance unless we all walk together to the finish line."