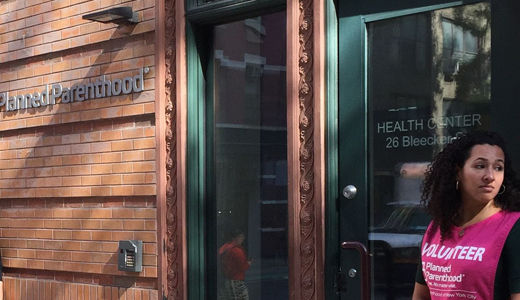 COLORADO SPRINGS – Amidst all the fear about "radical Islamic terrorism" being stoked by GOP presidential candidates, women's groups are pointing out that terrorism is not something limited to an extreme fringe of organizations misusing the Islamic faith to justify their ends. They are reminding Americans that right-wing Christian groups and individuals have been practicing terrorism against providers and consumers of women's health services for many years now, often injuring and even killing both patients and medical personnel.
To that end a variety of national organizations including NARAL Pro-Choice America, UltraViolet, CREDO Action, and the Courage Campaign are demanding a federal Department of Justice inquiry of the shooting outside a Planned Parenthood clinic here Nov. 27. The shooting left three dead and nine injured.
The FBI defines terrorism as violence meant "to intimidate or coerce a civilian population; [or] to influence the policy of a government by intimidation or coercion."
A police officer, a single mother, and an Iraq war vet were gunned down outside the Planned Parenthood clinic by Robert Lewis Dear, 57, who was apprehended after a five-hour standoff with police and is being held without bond. He is described as having expressed anti-government and anti-President Obama sentiments; and US Attorney General Loretta Lynch said it was clear that he was "motivated by opposition to safe and legal abortion."
Abortion advocates have declared Dear's actions undeniable acts of domestic terrorism, and a coalition of organizations, led by NARAL Pro-Choice America, is pressuring the Department of Justice to investigate violence against women's health care clinics as such.
A DOJ investigation, according to Ultraviolet Co-founder, Shaunna Thomas, is necessary because anti-abortion violence is often inspired and coordinated by large networks of right-wing extremist groups; while there may only be one 'actor' perpetrating the violence, attacks at health care clinics are by no means isolated events perpetrated by individuals.
Photo: "You wouldn't survive in this climate, with the threats, you wouldn't stick it out if you didn't really, really care about it," clinic volunteer. Courtesty of Planned Parenthood of New York City.
According to CREDO campaign manager Heidi Hess, "incendiary rhetoric" on the lips of legislators, presidential candidates, and right-wing media personalities "vilify Planned Parenthood and the women who access services there," and asserts what happened in that parking lot was instigated by "a network of actors [in an] intentional campaign to demonize healthcare providers."
Hess says if the DOJ can take the time to investigate outrageously false claims made against Planned Parenthood because of a badly-doctored fake video, they should have the time and resources to investigate this "very real crime." Hess says calling anti-abortion violence anything other than terrorism is "a slap in the face to women."
The coalition argues that a large, federal investigation will we be able to find the connecting threads between people like Robert Dear and others like Zachary Klundt, who destroyed (and effectively shut down) a full-family practice offering abortion care in Kalispell, Montana last year.
Photo: "You wouldn't survive in this climate, with the threats, you wouldn't stick it out if you didn't really, really care about it," clinic volunteer. Courtesy Planned Parenthood of New York City.