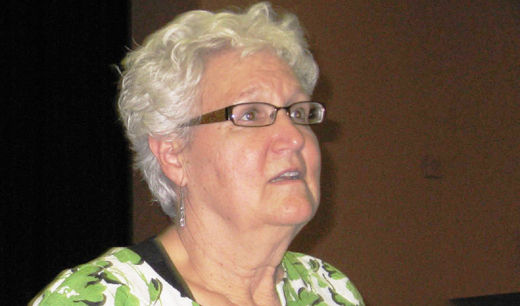 DETROIT – In Recognition of Women's History Month, the Civil Rights Committee of the Metro Detroit AFL-CIO showed the film "Norma Rae."
Committee co-chair Michele Artt said a lot of thought went into picking this film. "The committee viewed a number of DVDs looking for the right one. First we wanted to honor women in unions and their struggle for equal pay. With so many people discouraged, we needed a movie having a positive outlook; one showing working people on the winning side. We really feel gains are possible when people unite and of course, the movie sends a great message to all women."
The film starring Sally Field, a winner of several academy awards, does just that.
It's based on the 1975 true story of Crystal Lee Sutton, a 33 year old mother of three, earning $2.65 an hour folding towels at the J.P. Stevens plant in Roanoke Rapids, N.C. Low pay and unsafe working conditions compelled her to take a leading role in efforts to unionize the plant. Who could ever forget the scene where Field stands on her workbench table holding a white sign with the black letters spelling UNION?
Sutton lost her battle with brain cancer on September 11, 2009.
April Smith, a retired teacher said, "It's hard to believe it took until the 70's to organize that plant – and now many of those jobs are gone.
"Due to the loss of manufacturing jobs, having decent jobs and decent wages is more of an issue today for women and families."
As I walked out, the words to the Dusty Springfield tune running through the movie were still in my head: "And maybe what's good gets a little bit better and maybe what's bad is gone."
Bush is gone and the possibilities for things to get better are there. It's going to take the same kind of unity and determination to move forward that it took to organize J.P. Stevens.
Photo: Michelle Artt connects union women and the struggle for pay equity to Women's History Month at a recent Detroit celebration. John Rummel/PW