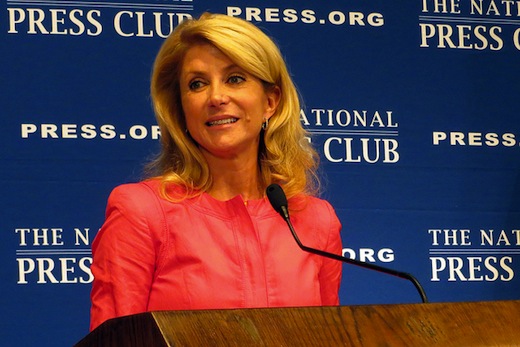 AUSTIN, Texas – State Sen. Wendy Davis made it official Thursday: she is running as the Democratic candidate for Texas governor.
Speaking before a large and enthusiastic crowd in Haltom City, where she attended high school, she spoke of her commitment to public education and the battles she's fought in politics on behalf of everyday Texans.
At age 19, she was a poverty-stricken divorcee and mother. Despite her tough times, she worked her way through community college, eventually graduating with honors from Harvard Law School.
"I could afford those classes [at community college] because the Texas I came up in made it possible," she said. "The road I travelled is a lot steeper for young people today. College is more expensive; the choices are fewer. Young people are turned down for grants and loans while our state leaders turn a deaf ear. That's not what Texas is about."
Davis is best known for her inspirational filibuster this past summer in the Texas state Senate, as she and her fellow Democrats tried to slow the passage of a harsh anti-abortion bill. The bill passed, but her grit and composure despite the long odds helped inspire demonstrations by thousands of protesters in the state Capitol.
That support on the street has translated into donations, which, in a state whose political establishment relies on petro dollars, is essential to electoral success.
This will be the first Texas governor's race without an incumbent since 1990. However, no Democrat has won statewide office since 1994.
Lone Star progressives can take heart from the knowledge that that 1990 election saw the iconic Ann Richards defeat a heavily favored Republican oilman named Clayton Williams.
Two career Republican politicians, Greg Abbott and Tom Pauken, are expected to fight it out for the GOP nomination. Both are better financed than Davis, but the Fort Worth state senator said during her announcement that "our current leadership thinks promises are just something you make to the people who write big checks."
Davis decried business-as-usual cronyism in Austin, saying, "Quid pro quo shouldn't be the status quo … It's time for a leader who'll put Texans first."
Recalling her hardworking, humble beginnings, Davis said, "Until every child from Longview to Lubbock to McAllen to Mesquite makes it to a stage like this, and gets their diploma, and knows that nothing will wash out the road to their future dreams, we will keep going." She continued, "With the right kind of leadership, the great state of Texas will keep its sacred promise that where you start has nothing to do with how far you can go."
Photo: Texas state Sen. Wendy Davis speaks at the National Press Club, Washington, Aug. 5. Alan Kotok CC 2.0
TOWN HALL May 2 – Confronting the COVID Economy: Women Fight Back