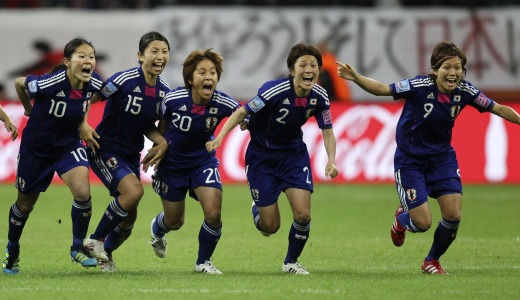 After a deadly earthquake, followed by a devastating tsunami and nuclear power plant disaster, the Japanese people got some good news July 17, when their women's soccer team won the 2011 FIFA World Cup Final.
The Japanese team "Nadeshiko," the name for a pink mountain flower that symbolizes beauty and strength, ranked No. 4 going into the games. Japan beat two-time World Cup champions, team USA, 5-3 in penalty kicks.
The final game in Frankfurt, Germany, was a thriller. Twice the Japanese team came back tying the score in overtime. Japan hit three of its penalty kicks. The U.S. made only one.
"I never felt this day would come," said Homare Sawa, Japan's team captain and the final game's Most Valuable Player, to the Associated Press.
Speaking to reporters in Japan after returning home, Sawa said, "It's just now setting in. We played hard as a team. We didn't give up. I have to dedicate this win to the people who suffered the disaster."
Team member Toru Komatsu added, "This is a chance to forget the nuclear disaster and everything else, to just unite and celebrate."
On March 11, more than 20,000 people in Japan were left dead or missing after a massive earthquake and tsunami ravaged much of the country's northeast coast. The aftermath caused a nuclear power plant disaster, the worst in the world since the Chernobyl disaster in 1986.
Japan's Prime Minister Naoto Kan hailed the teams victory as the "greatest gift" to uplift the country's on-going recovery efforts. "I think they brought courage to the whole nation," he said.
Despite their loss, team USA played one of their best games and graciously saluted the Japanese team for their heroic performance.
Team USA hopes their success in the tournament and high ratings, encourages more Americans to support initiatives in women's sports.
"I think we did something pretty special for women's soccer here in America," said Megan Rapinoe, a midfielder for team USA, to CNN. "Hopefully this has kind of opened people's eyes a little bit to how beautiful the women's game can be."
Soccer like many women's sports in the U.S. has long labored in the shadow of men's games, especially professional football, baseball, basketball and other major league sports.
Critics note the recent Women's World Cup proved to be an engaging showcase of just how far women's soccer has come and a sober reminder of how far it has to go both nationally and internationally.
This year's games marked the sixth World Cup for women. The tournament began in 1991, six decades after the first men's World Cup. But as recently as six years ago Sepp Blatter, the president of FIFA, sparked controversy saying women could enhance their game by wearing tighter shorts.
For the first time Colombia qualified for the World Cup along with Equatorial Guinea.
France was a first-time semifinalist, and Japan a first-time champion.
The New York Times writes how Eucharia Uche, Nigeria's coach, tarnished her team's appearance with homophobic remarks, saying that she had attempted to rid the squad of lesbian behavior, calling homosexuality "a dirty issue" and "spiritually, morally very wrong." This was a clear violation of FIFA rules against discrimination, but, critics noted, as usual when charged with policing itself, FIFA did nothing but issue empty words.
However gay rights supporters note the recent World Cup final may have been the first where fans at the stadium during the game were seen waving supportive LGBT pride flags.
Meanwhile players from Germany and France posed nude in attempts to draw attention to their World Cup teams. And it was only after pressure from fans that the BBC televised England's quarterfinal match against France. The game ended up drawing 1.8 million viewers in England, the country where modern soccer was invented. However women's soccer still remains largely dismissed there.
Women athletes in soccer have it very hard in Latin America, because many male players there seem to see sports as their domain. But such attitudes remain a big problem in the U.S. and worldwide wherever men don't accept women athletes, constantly put them down and view them as lesser achievers.
Critics say one way to deal with this problem is properly funded sports programs for young girls and women, beginning at a young age and continuing through college and into professional sports. And many are coming around to the idea that we should celebrate and encourage women in sports, and that men (fans, friends, fathers and brothers) must play an active role in supporting and advocating for equal opportunities in sports and recreation for girls, and for women athletes and teams.
Photo: From left, Japan's Homare Sawa, Aya Sameshima, Mana Iwabuchi, Yukari Kinga, Nahomi Kawasumi celebrate winning the final match between Japan and the United States at the Women's Soccer World Cup in Frankfurt, Germany, July 17. (Michael Probst/AP)