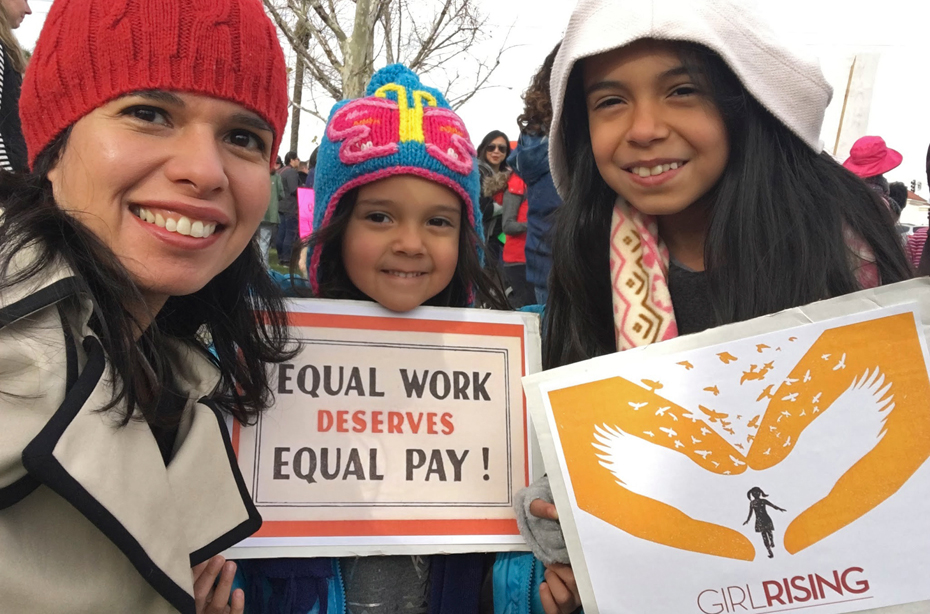 SAN FRANCISCO—A pro-woman worker ruling by an influential federal appeals court, announced literally the day before, highlighted Equal Pay Day, April 11. That's the day when a median woman worker's wages for all of 2017 and part of 2018 equal those of the median male worker—in the same or equivalent jobs—for 2017 alone.
Statements from unions, women's rights groups, and others highlighted the continuing pay gap between men and women, showing women still earn nationwide 80 cents for every dollar a man earns.
The gaps are even larger for Latinas and African-American women. But calculations show they're much smaller for unionized women. Not only do union women earn 89 cents for every dollar the union man in the same job earns, but both earn far more than their non-union male and female counterparts.
And women could earn even more after the 9th U.S. Circuit Court of Appeals in San Francisco ruled firms and governments—in this case, the Fresno, Calif., school district—could not use a woman's past pay history as a basis for setting her present pay. The district must pay her equally with men in equal jobs, the court majority said, reversing lower courts.
That's a reversal of prior court rulings sharply limiting the 1962 Equal Pay Act, and it comes in a court that covers eight states, including the nation's most-populous, California, home to one of every eight people in the U.S.
The Fresno County school district hired Aileen Rizo six years ago, but, basing its decision on her prior pay, paid her a starting salary $13,000 less per year than a man in an identical job. That's illegal under the 1962 law, appellate judge Stephen Reinhardt wrote for the whole court, in a ruling completed just before he died of a heart attack.
"The Equal Pay Act stands for a principle as simple as it is just: Men and women should receive equal pay for equal work regardless of sex," Reinhardt declared.
"The question before us is also simple: Can an employer justify a wage differential between male and female employees by relying on past salary? Based on the text, history, and purpose of the Equal Pay Act, the answer is also clear: No."
"Salaries speak louder than words, however. Although the act has banned sex-based pay discrimination for more than 50 years, the financial exploitation of working women embodied by the gender pay gap continues to be an embarrassing reality of our economy."
That gap persists, according to data the National Partnership for Women and Families compiled for Equal Pay Day. Courts have said "other factors" can legally cause pay discrimination. Reinhardt, writing for his colleagues, said past pay—including past discrimination—can't.
But it still happens, the center's charts show.
"Today is a sad reminder of the pay inequity faced by women in the workplace. Despite the annual effort to pass legislation in Congress that would codify paycheck fairness, there has been no progress. And that inaction will cost women and their families more than $430,000 over the length of their careers," Teamsters President Jim Hoffa said.
"The pay gap has barely budged in more than a decade. It hits nearly every occupation and is even worse for women of color. This is not just a low-income problem—it is an everywoman problem. But children of the working poor pay the biggest price for this injustice.
"The Teamsters know it doesn't have to be this way. For more than a century," Teamsters' contracts have required "men and women earn the same wage. Unfortunately, not all employers follow the same standard. It may be the 21st century, but for too many women it might as well be the Dark Ages. It's time for all of Congress to stand up for paycheck fairness."
"Equal Pay Day calls attention to the persistent moral and economic injustice working women face," the AFL-CIO said in a statement. "For a woman to earn as much as a man, she has to work a full year, plus more than 100 extra days, all the way to April 10."
Black women get paid, on average, only 63 cents and Latina women 54 cents.
"Women are the backbone of America's economy, making up half the workforce and providing enormous contributions to family income. Women also do most of the work in the household—work that is unpaid. As a society, we must strive to do better. We can value women's work in our economy, communities, and families."
The pay gaps vary widely not only by race, but by region of the country. For example, the pay gap is less than a dime in 10 of California's 53 congressional districts, and women actually earn more than men in another one: The 37th, where Democrat Karen Bass represents women whose median pay is $1.06 per median dollar for a man: $44,383 to $41,842.
At the other end of the spectrum is Utah's 3rd District, in the state's rural southeast. GOP Rep. John Curtis represents woman workers whose median pay is 62 cents per dollar for a median man. The yearly median pay gap there is more than $22,000: $36,821 for a median woman worker; $59,343 for a median man.
"Equal Pay Day is a disturbing reminder women overall have had to work more than three months into 2018 just to catch up with what men were paid in 2017, and black women and Latinas must work
considerably further into the year," said National Partnership President Debra Ness. "The wage gap cannot be explained by women's choices. Discrimination contributes to it—and it's causing grave harm to women, families, and the country." Ness criticized Congress for not doing enough to end wage discrimination and sexual harassment.
"If our country is to thrive, we must root out bias in wages, reject outdated stereotypes, and stop penalizing women for having children and caring for their families."
The Trump administration, however, has turned a blind eye—or worse—to the pay gap. It forced the Equal Employment Opportunity Commission, the small agency that enforces equal pay laws, to yank a proposed rule telling firms to publicly disclose median pay of their workers, by classification—such as race and sex—not by individual.
Its action prompted Rep. Rosa DeLauro, D-Conn., author of a measure to strengthen the Equal Pay Act—legislation the GOP-run Congress has buried for more than a decade—to demand EEOC come up with a new and strong rule.
"The Trump Administration's stay on collecting wage data from large companies…is a shameless attempt to dismantle a critical equal pay initiative. This is an attack on equal pay, plain and simple," said DeLauro.