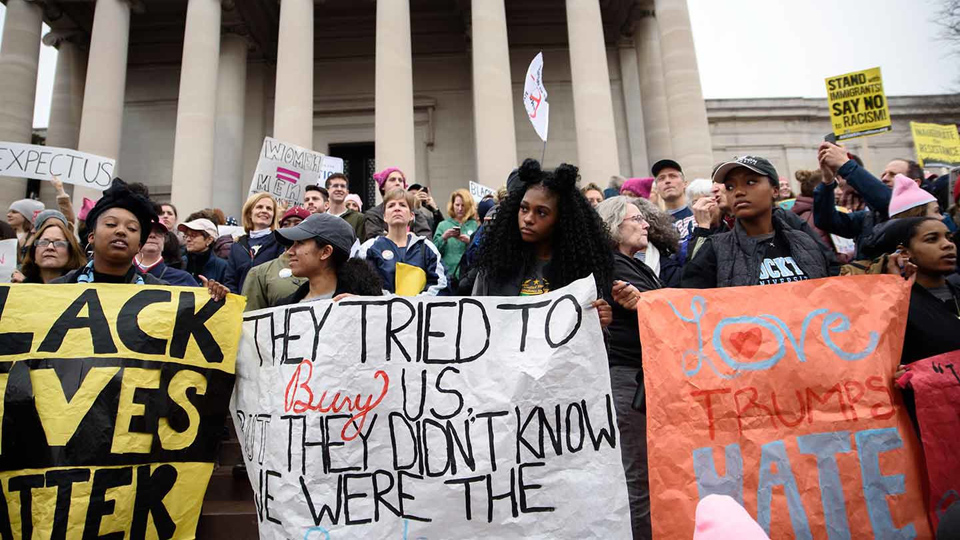 Building on the energy from five million people who poured into the streets nationwide on Jan. 21 to protest the Trump administration and its schemes, a coalition of activists, women's groups and several unions will stage mass marches and a potential national women's strike on Wednesday, March 8.
Backers include the National Domestic Workers Alliance (NDWA), Jobs With Justice, the American Federation of Teachers (AFT), National Nurses United (NNU), Restaurant Opportunities Center United (ROC United) and the National Organization for Women (NOW).
"Organizers are calling all women and allies to come and be in solidarity with women workers, for an end to workplace violence and harassment and to promote pay equity, one fair living wage, paid leave, and labor rights at work," the groups said in announcing one rally, which will take place at the U.S. Labor Department that afternoon.
And an end to workplace violence, which harms women ranging from nurses and restaurant workers to managers and executives, will also be a key cause, the statement said.
"This rally will be on the day – and in solidarity with – women around the world rising for women's rights, including the International Women's Action and The Women's March: A Day Without a Woman," it added.
Writing on Glamour magazine's website, Ai-Jen Poo, head of the National Domestic Workers Alliance, said the protests the day after Trump took office spurred the organizing of the marches and potential strike.
"The Women's March was a powerful launch, and this is just the beginning," she said.
That night, 700 leaders and 400,000 people online discussed next steps, she explained. They decided on "the need to build community and organize locally, the need to connect our issues and concerns, and the need to build our political power. Half the room had never been to a march before. The whole room was ready to continue marching.
"Meanwhile at the White House, Trump and his unqualified, out-of-touch team launched attacks on everything we hold dear, from every direction…He has approved pipelines, police states in sanctuary cities, banned people from certain Muslim-majority countries, criminalized entire immigrant populations, and announced a border wall.
"He has made clear his plan to cancel access to health care for children in need. Our worst fears, and then some, have been manifested," Poo added.