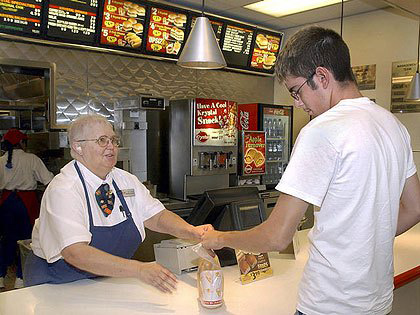 This is the first in a series of articles on aging in America that will appear on People's World as we look back on 50 years of the Older Americans Act.
Other articles in the Aging in America Series can be read here.

In the dirty old Boston of my boyhood, to see an older man walking down the street early in the morning probably meant he was on his way to the bakery, or to the café to gossip with his buddies. If it was a Thursday or Friday, he might buy some fruit at Haymarket and make his way back home in time for lunch. A generation of largely immigrant workers aged at home with the help of their children, were able to retire with Social Security, and many could count on union-bargained pensions. Today, only the wealthy can afford to live in the once-working class neighborhoods of Boston's pricey housing market, and if there are seniors in the streets early in the morning, they're likely going to a full-time job just like their younger neighbors.
Despite the fact that a tidal wave of older adults over 65 is already crashing down on lawmakers in state legislatures and Capitol Hill, many leaders are choosing to hide their heads in the proverbial sand rather than plan to meet the needs of low income older adults over the long term. Over the next 30 years, the 65+ population will nearly double, from 48 to 88 million, according to An Aging World, a U.S. Census report released last month.
While this dramatic increase in the older population is far from being news, in terms of the percentage of older adults participating in the labor force, the U.S. is fast approaching levels reminiscent of a developing economy.
Looking at the nine-year trend (2002-2011), the number of Americans between the ages of 65 and 69 who are still having to work increased from an already very high 26.1 to 32.1 percent. By contrast, in France during almost the same period (2001-2011), that percentage began at 2.1 and increased to 5.3 percent. Although those percentages are considerably lower thanks to France's national pension and health care systems, the rise of elder poverty, longer life-spans, and the need for work is clearly visible.
Late-stage capitalism may be hindered in countries like France, with its social charter, strong trade unions and viable political parties of the left, but its imprint and future course is unmistakable.
Back in the U.S., in 2013, over 70 percent of working men age 65+ were working full time jobs. This is hardly an anecdotal incident of grandpa bagging groceries to pay for his golfing trip; it is quickly becoming a way of life for most working class older Americans. When asked the question "Overall, how confident are you that you will be able to fully retire with a lifestyle you consider comfortable?", 40 percent of U.S. older adults surveyed indicated that they were "not confident."
None of this will come as a surprise to working people with older parents, friends, and colleagues in the workplace. More and more older people have been forced into working low-wage jobs in order to help pay for things like prescription drugs, medical treatment and food, in lieu of enjoying a healthy retirement.
While the low-wage-no-benefits economy continues to flush the super-rich with even more of the world's wealth, health care spending for the average senior citizen has skyrocketed. The Centers for Medicare and Medicaid Services (CMS) forecast that health care spending will surge at an average annual rate of almost six percent between now and 2024. Incredibly, national health expenditures during this period will be increasing one percentage point faster than the U.S. Gross Domestic Product. Profits for a few are leaving millions without the basics, and the siutation for older people will only get worse.
In the face of these overwhelming challenges, the Congress and its well-heeled campaign contributors continue to try to sabotage the Affordable Care Act and adequate resources for essential programs such as Social Security, Medicare, and Title III funds re-authorized by the Older Americans Act of 1965 (OAA).
In the Republican-controlled Congress, minimalist legislation is hailed as a grand commitment to the elderly. As an example, the re-authorization of the OAA, which funds critical social and nutritional services across the country, was recently passed by both houses of Congress. Touting the mirage of a seven percent annual increase (which itself must be approved every budget year), the GOP policy handlers omitted the fact that their single-digit increase will be inundated by the wave of Baby-Boomers who are turning 65 at the staggering rate of 10,000 per day.
Older Americans have traditionally been a well organized political force, but too many of the programs and organizations which once advocated for Social Security and Medicare have been co-opted by insurance schemes and pay-for-play politics.
Still, out of the fires of this immense challenge, working people have a unique opportunity to combine the strength of older adults, labor, and smart political leadership, to advocate for both radical changes and real politics. A system which pushes frail, older people back to work to pay for profiteering health care is a system the American working class can no longer afford.
Donald Donato is a writer, priest, and human services advocate from Boston. He has worked with community-based organizations in support of economic, social, and cultural rights as human rights for over a decade, and he is currently the Area Planner and grant writer for an Area Agency on Aging near Boston.

Photo: An elderly worker at a fast food restaurant. AP