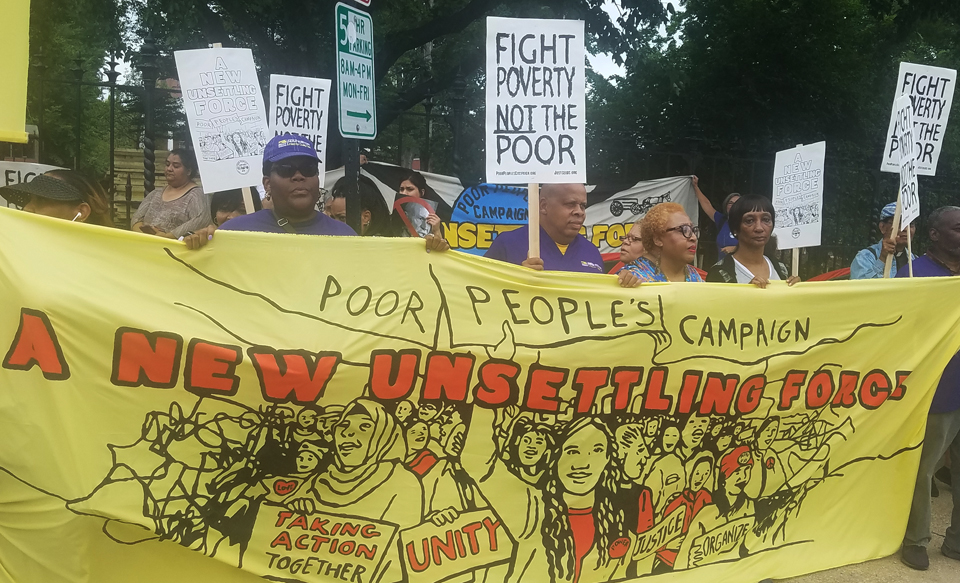 WASHINGTON—Worker rights, specifically the right to organize and the right to a living wage, took center stage at the New Poor People's Campaign's rallies in Washington, D.C., and state capitols nationwide on June 11 – and continued throughout the week.
"It is sin and sin and sin when the greedy take and take and take from the needy," the campaign co-chair, the Rev. William Barber, said in midst of a rainstorm at the Nation's Capital. And then, taking a shot at the right wing, he declared: "You keep lifting up the Bible, well, we're going to make sure you know what's in it!"
But D.C. wasn't the only site of the New Poor People's Campaign. Other campaigners showed up in dozens of state capitals, as they have in prior weeks. For example, in Springfield, Ill., a group of NPPC members gathered to criticize anti-worker right-wing GOP Gov. Bruce Rauner. One poster: A cutout of Rauner's face with the word "VETO" stamped in red on his forehead.
In Springfield, Illinois, as at other state capitals across the country, poop people rose up to tell their often powerful and compelling stories of struggle. Standing just feet away from Gov. Rauner's mansion Cecelia Garcia, mother of five, described how her hard-working husband of 17 years was torn from the family in 2015 and deported to Mexico. "It's coming up to father's day," she said "and we feel the pain all over again remembering how after a traffic stop on Oct. 11, 2015 he was arrested and then shipped out of the country with no regard to the circumstances. He was a hard worker, supporting the family and Gov. Rauner here could have pardoned him but instead cruelly turned his head. Since then, despite holding two jobs, I had to deal with foreclosure and poverty. And it's not just me, 3 million other poor people have dealt with this same problem."
Another woman in the crowd described how her husband who came back home after serving two tours of duty in the U.S. military in Afghanistan was deported 8 weeks after his homecoming.
Worker rights and immigrant rights are key planks for the NPPC, which launched on Mother's Day. Each ensuing week has featured a different theme, including campaigning for universal health care, against racism and xenophobia, and for an end to U.S. wars and a militaristic economy.
All those and more will be tied together in a mass rally at the U.S. Capitol on June 23, and in the weeks beyond, since all are linked to poverty, including its presence and its eradication. The NPPC will continue for months and years to put elimination of poverty atop the U.S. agenda, say Barber and its co-chair, Rev. Liz Theoharis.
"We demand immediate implementation of federal and state living wage laws. We demand the right of all workers to form and join unions. We demand equal pay for equal work. We demand fully-funded anti-poverty programs," followed by other demands, Theoharis said.
At least five prominent national and international unions support the New Poor People's Campaign: The Steelworkers, the Teachers (AFT), the Communications Workers, the United Food and Commercial Workers and the Service Employees.
In keeping with the campaign's bottoms-up organization and emphasis, a parade of workers, union and non-union, joined Barber and Theoharis at the D.C. lectern before many of the group walked to nearby streets and buildings for their weekly peaceful civil disobedience and arrests, all to dramatize the issue of poverty and its causes.
"Can you believe that with the money they got from the tax cuts, AT&T is demanding we pay more for our health care?" asked Sarah Harris of Communications Workers Local 6450 in Kansas City, an AT&T call center worker there. "The corporations are working with the politicians, at the expense of the economy and everyone else."
"AT&T got a $20 billion tax cut" from the GOP's $1.5 trillion tax cut for corporations and the rich, Harris continued. Its CEO, Randall Stephenson, who promised to create 7,000 jobs in response. "Yet he chose to lay off our workers and close call centers across the country."
And Patrice Johnson, a cleaner at Washington's National Airport, hired by Metropolitan Building Services, said her Service Employees Local 32BJ "fought for a contract with better wages, health services and other benefits."
"But I'm here for people standing next to me" who don't have unions, Johnson added. They too need higher wages, the right to "not getting fired for unjust causes and in favor of people who just work and don't complain." They need unions, she said.
"Everyone regardless of race, sex or cultural background is entitled to the benefits we as a people" deserve, said one member of United Food and Commercial Workers Local 1994.  "We must say to every politician that you either support us and you create jobs, or we vote you out."
And Josh Armstead, vice president of Unite Here Local 23's D.C. Food Service unit, told the crowd they must also campaign against so-called "right to work" laws – which workers and unions call "right to work for less" laws.
The laws, enacted now in 27 states, bar unions from collecting dues, or even "fair share" fees covering just bargaining and grievances, from workers they represent, union or non-union. That lets non-unionists in union-represented shops to be "free riders" who don't have to pay one red cent for the services and benefits they receive.
Right to work, Armstead explained, has "a racist history," starting in the South in the 1940s as a way to split working-class white from working-class African-American workers. Earlier, Barber cautioned the crowd, and mainstream media, against categorizing the working class as solely, the white working class.
"But the Supreme Court is about to give a victory to RTW," Armstead said. The court's Janus case, involving a dissenting AFSCME member from Illinois, "was pushed by today's billionaires."
The answer, Armstead said, is "We will continue to organize, we will continue to gain strength, and we will continue to win, because we are organized labor."
Meanwhile, the NPPC returned to the Kentucky state capital building in Frankfort, one week after troopers, at the orders of the GOP-controlled legislature and right-wing GOP Gov. Matt Bevins locked them out, a first. African-American Kentucky state legislators asked the state's attorney general to give them a legal explanation.
"The image of a black pastor standing toe-to-toe, nose-to-nose with a white trooper acting under orders to stop a protest was jarring, especially since Barber's effort is an extension of the civil rights battles of the 1960s," Louisville Courier-Journal columnist Joseph Gerth wrote.
More than 100 were arrested at the U.S. Supreme Court Monday as the movement set its sights on the high court's ongoing assault on workers' rights and voting rights, including today's ruling to uphold Ohio's purge of voters from the rolls.
As decisions in landmark cases concerning union rights, the Muslim ban and partisan gerrymandering loom, Campaign Co-Chair the Rev. William Barber was taken into custody along with workers in the Fight for $15, SEIU Secretary-Treasurer Gerry Hudson, Communications Workers of America President Chris Shelton and Secretary-Treasurer Sara Steffens and other labor leaders as part of a wave of nonviolent direct action highlighting the crisis of inequality in America.
"There is no justice in a court ruling to rob America's poorest people of their right to organize in a union or participate in the political system," said the Rev. Barber. "The grave inequality this country faces today was manufactured by judges and politicians who stacked power in the hands of corporations and the rich. Our movement is the counterweight America needs to restore power to the poor and disenfranchised and rebalance the scales of justice."
More than 2,000 Poor People's Campaign activists have now been arrested while participating in what has become the most expansive wave of nonviolent direct action in U.S. history.
U.S. Sens. Elizabeth Warren and U.S. Rep. Elijah Cummings announced they will convene a hearing on Capitol Hill Tuesday on economic inequality, union rights, voter suppression and other issues raised by the new Poor People's Campaign. U.S. Sen. Cory Booker is expected to be among a dozen lawmakers who will hear testimony from and question campaign Co-Chairs Barber and Theoharis, along with victims of systemic poverty, systemic racism, ecological devastation and America's war economy.
The Congressional hearing comes as a war on the poor unfolds across the country. From Arkansas to Kentucky to Michigan to Indiana to South Carolina, states are imposing work requirements on Medicaid recipients that could rob hundreds of thousands of healthcare coverage. The Trump administration is continuing efforts to undermine the Affordable Care Act, urging a federal judge in Texas to throw out the law's protection for people with pre-exisitng conditions. U.S. Housing and Urban Development Secretary Ben Carson recently unveiled a plan that would raise rents for low-income tenants by 20 percent a year. Republicans in the U.S. voted to cut $7 billion from the Child Health Insurance Program. And Republicans in North Carolina are trying yet again to institute a voter I.D. law, after their previous attempt was struck down in court.