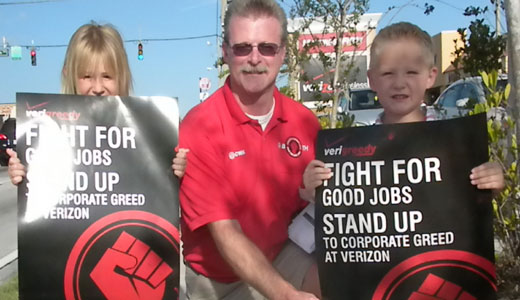 ORLANDO, Fla., – Members of the Communications Workers of America, other unions and student and community allies protested outside of a Verizon wireless store here Mar. 22 as part of a nationwide day of action for 45,000 Verizon workers demanding a fair contract from the telecommunications giant.
The workers – 35,000 represented by the CWA and 10,000 by the International Brotherhood of Electrical Workers – install and repair telephone and fiber-optic Internet and cable lines in nine northeastern and mid-Atlantic states. They have been in contract negotiations with the company for nine months.
The workers went on strike in August for about two weeks after the company had failed to negotiate seriously and demanded a staggering 100 givebacks from the workers. Verizon's wish list included concessions on pensions, transfer of health care costs to workers (almost $7,000 annually for active and retired workers), disability benefits, overtime, sick days, paid holidays, job security, outsourcing of work to non-union contractors (some overseas), merit pay and guaranteed raises.
The CWA filed bad-faith bargaining charges with the National Labor Relations Board, but workers returned to the job when Verizon agreed to their demand for a meaningful collective bargaining process.
Despite its promise, the extremely profitable mega-corporation, which made profits of $4.65 billion in the last quarter of 2011, and had "net cash" earnings during the year of almost $30 billion, has persisted in seeking concessions, and negotiations have dragged on. According to the CWA, the total value of the concessions is $1 billion–an average of $20,000 per union worker.
"Verizon is an extremely profitable company whose CEO, [Lowell] McAdam, has seen his salary triple in the past year," noted Steve Wisniewski, president of CWA Local 3108, which represents AT&T workers in Central Florida.
A proxy statement filed with the Federal Securities and Exchange Commission on March 20 reported that in 2011, his first year in the top job, McAdam was paid $23 million–$1.4 million in salary, almost $19 million in stock, and the rest in other forms of compensation. In 2010, when McAdam was still Verizon's COO he had to scrape by on a mere $7 million in compensation.
"I want to see Verizon negotiate a fair contract with their employees, seriously negotiate, not ask for these unreasonable demands," said Wisniewski.
"I do not work for Verizon," he said. "However, I just want a decent middle-class life, and I fear that if something doesn't change here with Verizon, I may be next."
Thursday's Orlando action was one of around 300 across the country. Spirited chants of "Verizon Workers Have Rights–Fight! Fight! / Union Workers Have Rights–Fight! Fight! / The Working Class Has Rights–Fight! Fight!" boomed from the sidewalk in front of the Verizon wireless store on Colonial Drive, one of Orlando's main roads. Around 50 demonstrators, many of them in red T-shirts and holding signs saying "Fight for Good Jobs–Stand Up to Corporate Greed at Verizon," made it loud and clear which side they're on in this struggle.
The protest was organized by Fight for Florida, an AFL-CIO backed group which opposes the anti-worker, anti-middle-class agenda of the Republican-dominated legislature and millionaire Gov. Rick Scott, and Central Florida Jobs With Justice in conjunction with CWA Local 3108. Other groups participating included community ally Organize Now! and the Student-Labor Action Project (SLAP) at the University of Central Florida.
"We're here to say as members of the working class: we've had enough," said Curtis Hierro, of SLAP, noting the importance of students and workers acting together for social and economic change.
Support for the CWA and IBEW workers has been an on-going campaign for SLAP, which is sponsored by Jobs with Justice and the United States Student Association. Hierro vowed the solidarity would continue. "We're going to keep doing it until the Verizon workers get a contract that's fair for them," he said.
A delegation of about 20 demonstrators attempted to enter the store to hand a letter to management outlining their grievances, but a manager blocked the door and would only allow two UCF students who both have Verizon wireless and an employee of the Central Florida AFL-CIO Central Labor Council to come inside. However, once they were inside, managers refused to speak to them about their concerns and said they would only address issues related to their phone service. They also called the police.
"They would not allow us to speak on behalf of the workers at all," said Mayra Uribe, Mobilization Coordinator of the Central Florida CLC. "They told us that if we spoke about anything besides phone service that we were going to be kicked out of the store, " Uribe said, adding that she felt the cops were there to "bully" them. When Natalie Intondi, one of the UCF students, asked how much it would cost to cancel her contract, the managers refused to look up this information for her.
Wages and benefits are just some of the concerns expressed by CWA members. "We'd like to see them [Verizon] pay their taxes, " said AT&T call center worker Jim Howe, of 3108, referring to the fact that Verizon paid zero in federal corporate income taxes from 2008-2010, and still managed to receive nearly a billion dollars in federal tax refunds.
Howe also would like to see the company "clean up their safety act" in light of the death of Douglas Lalima, a Verizon technician who was electrocuted on the job in New York last September. The federal Occupational Safety and Health Administration (OSHA) recently fined Verizon $140,000–the maximum allowed under law– for 10 violations in Lalima's death.
According to a New York Times article (March 19), an OSHA investigation found that "Verizon repeatedly failed to provide Mr. Lalima and other technicians with life-saving equipment, … and did not ensure that protective helmets and gloves were used during dangerous work operations. The administration also determined that Verizon did not provide adequate training to technicians who worked near high voltage lines, and that the company failed to list Mr. Lalima's death as a fatality in the required records."
Another purpose behind Thursday's national day of action was to build support for the CWA-backed U.S. Call Center Worker and Consumer Protection Act (H.R. 3596), which has been introduced in the U.S. House. The bill, sponsored by Reps. Tim Bishop, D-N.Y., and Dave McKinley, R-W. Va., would ban federal grants or guaranteed loans to American companies that move call center jobs overseas.
The legislation, which has picked up more than five dozen co-sponsors from both parties, would require that consumers be told the location of the call center to which they're speaking and would give them the right to transfer their call to a U.S. customer service agent, if preferred. Additionally, the bill would create a list of U.S companies that make a practice of exporting jobs.
To learn more about the Verizon workers' struggle and how you can support them, visit StopVerizonGreed.org and UnityatVerizon.com.
Local 3108 is inviting its allies and community supporters to participate in an informational picket outside an AT&T facility at 6021 S. Rio Grande Ave., Orlando, on Wed., April 4, from 4-6 p.m. (Meet at the Oakridge Road entrance.) The action is in support of 3108 members in contract negotiations with the company.
Photo: Ben Markeson/PW