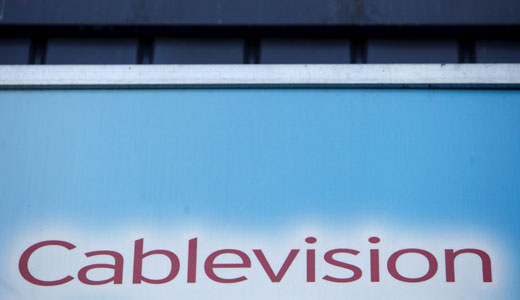 Brooklyn, NYC – Scores of workers at dusk on February 6 chanted for Cablevision to rehire 22 workers allegedly locked out and fired on January 30 from Brooklyn Cablevision. NYC pro-labor and labor leaders spoke words of encouragement to the workers and delivered fiery criticism to Cablevision and its management during the well-organized demonstration of solidarity. One speaker stated defiantly: "We aren't gonna let Cablevision walk all over you!" while another offered: "We are all in this fight together!" Speakers included at least one potential candidate for NYC mayor.
According to the City and State, workers at Brooklyn Cablevision voted to join the Communications Workers of America Local 1109 in January 2012. City and State reports further that workers at Brooklyn Cablevision criticize management in a letter to Cablevision CEO James Dolan for threatening pay and benefits in order to discourage union affiliation. Hindrance to the legally protected right to organize and bargain collectively is a major grievance against Cablevision by the Communications Workers of America.
Communications Workers of America filed charges of discharge and lockout on January 31 with the National Labor Relations Board in support of the 22 workers. They allege that these workers were fired by Brooklyn Cablevision for seeking a meeting with management in which to discuss and express support for collective bargaining. A speaker at the rally on February 6 in support of solidarity with the 22 workers made a simple observation: "The law is the law."
Many pro-labor and progressive forces are active in supporting the rights of Brooklyn Cablevision workers to bargain collectively. Among these are thecablevision99 and 99pickets. A petition exists to express solidarity with the 22 workers.
Photo: Seth Wenig/AP