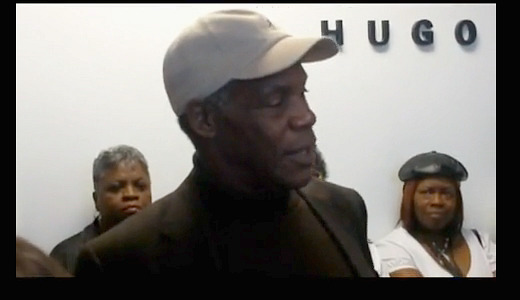 BROOKLYN, Ohio – The fight to stop Hugo Boss from closing its men's suit plant here got a big boost Tuesday from actor and social activist Danny Glover, acclaimed for his roles in films including "The Color Purple" and "Lethal Weapon."
"Morale has been down," Glover told a press conference in the plant lobby. "I am here to support these courageous workers and give some inspiration for their struggle."
Glover had addressed several hundred workers in the plant cafeteria during their lunch break before touring the plant. He talked and took pictures individually with nearly every worker in the plant.
With passion in his voice Glover spoke of the pride the workers have in their job and how they are "the real backbone of the community."
Plant closings and outsourcing of jobs are a basic cause of the economic crisis, he said, adding, "We must change the idea of how we treat workers. Democracy cannot be sustained if this goes on."
Glover's involvement in the fight to save the plant gained national attention when nearly all Oscar nominees responded to his appeal not to wear Hugo Boss tuxedos at the recent Academy Awards ceremony.
"The Academy Awards sent a message," Glover said, "that we care about workers."
Workers in the lobby along with union officials and representatives of Gov. Ted Strickland and Congressman Dennis Kucinich cheered as Glover said, "I hope to come back to celebrate a victory."
"Danny Glover really lifted spirits," said one supervisor faced with losing the job she has held for 25 years. "I haven't seen so many smiles in a long time."
But even as Glover spoke the shutdown was under way. The cutting room, the beginning of the assembly line process with about 30 workers, had already mostly closed and workers in the bundling department stood in the hall hugging each other with tears streaming down their cheeks as they said their farewells.
"I've worked here 33 years, five months, 12 days, 14 hours and 20 minutes" said Ruth Vrbac. "I met my husband here. It's the only job I've known."
The fight to save the plant took off last December when the German-owned company notified its 370 employees here that the plant would close April 27 at the end of the union contract.
The action came despite negotiations involving state and federal officials. Hugo Boss CEO Dr. Andreas Stockert had told Ohio Sen. Sherrod Brown the company intends "to expand our presence in the United States."
"Closing this plant cannot be justified," said Bruce Raynor, national president of Workers United, who accompanied Glover on the tour. "This is a $2.1 billion corporation and this plant is modern, efficient and profitable."
"They already make $300 in profit on an $800 suit. This is only about greed," Raynor said.
The company, he said, wants to shift production to Slovenia or Turkey where it can pay workers less than $1 an hour. Workers here make close to $12 an hour.
"Executives who have never been in Brooklyn, Ohio, made this decision," Raynor said. "We demand they reverse this. We will do whatever it takes. This plant shall not close."
Hugo Boss was taken over in 2007 by a Permira, a private equity firm based in Britain. British and German unions with seats on the company's board voted against closing the plant, its only U.S. production facility. In addition, both the Ohio and California public employee retirement funds with stock in Permira have sent the company sharply worded letters against the closing.
Workers United encourages supporters to email Stockert at: Andreas_Stockert@hugoboss.com or call the company's New York office at 212-940-0600.
Further information on the fight is available at workersunitedunion.org.
Below is a 10-minute excerpt of Glover's press conference:
Photo: Danny Glover speaks to reporters at the Hugo Boss plant. http://www.youtube.com/watch?v=To4TQWXhj7c