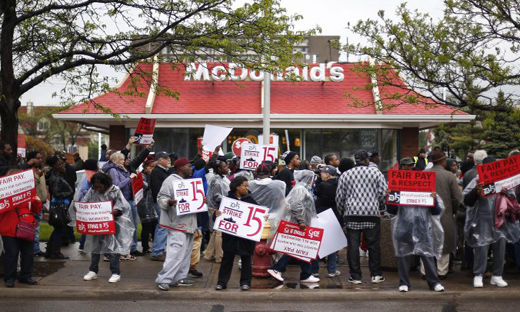 CHICAGO – McDonald's workers are calling the corporation's announcement yesterday that it will raise wages for its hourly workers a publicity stunt and say they will continue to build for what are expected to be historic strikes for $15 in more than 200 cities on Apr. 15.
Kwanza Brooks, a McDonald's worker who makes $7.25 at a company-owned store in Charlotte, N.C. said on a conference call organized by Fight for 15 today that the move was a publicity gimmick.
"It's a PR stunt," Brooks, 38, said. "And that stunt isn't going to pay my gas bill this month, or get my landlord off my back."
McDonald's said yesterday that it will raise pay at the U.S. company-owned stores which account for only about 10 percent of the more than 14,000 locations across the nation. The company said the raises would amount to one dollar more than the local minimum wage.
The announcement means that while 90,000 workers at the company owned stores will get a small raise more than 660,000 laboring in the franchise stores will get nothing.
"That still leaves millions in poverty due to McDonald's not raising to $15," said Kendall Falls, director of the Fight for $15 campaign. "We're going to show McDonald's this movement can't be stopped until we get what we deserve.".
The announcement came just weeks after Walmart tried to mollify its workers by announcing raises up to $10 an hour.
Workers who are memebers of OUR Walmart and Making Change at Walmart say that the raise to $10, while a start, is not enough and that they will continue the call on Walmart to raise wages to a minimum of $15 an hour and offer workers consistent full-time hours.
Both organizations say they building for the historic nationwide stikes planned for Apr. 15.
Photo: Paul Sancya/AP