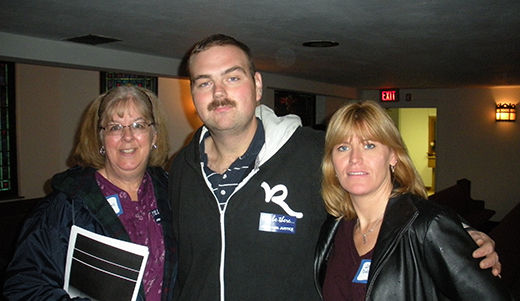 ST. LOUIS – "I've worked 96 hours in a single week," Jason Withey, a Red Cross driver from Buffalo, N.Y., told the World here on Oct. 8. "I could live better working at Wal-Mart."
Withey, a member of the Communication Workers Union of America (CWA) Local 1122, was in St. Louis attending the Missouri Jobs with Justice (JWJ) annual Workers' Rights Board (WRB) meeting. The local WRB consists of community leaders, religious leaders, academics, elected officials, and other prominent members of the community who act on behalf of workers' rights and the communities where they live.
Withey, whose official Red Cross title is mobile unit assistant (MUA), said, "Donor safety is my main concern. But I work long days, sometimes 12 to 18 hours a day." Additionally, Withey said, "People assume we've had medical training. I'm just a driver, but Red Cross wants me to take blood. I'm not trained for that."
Withey said the Red Cross used to hire registered nurses. "Now they just take people off the street, people with no training, no certification, no license." While Red Cross does provide some training to its employees, according to Withey, "their training is a joke, it's pathetic."
Jim Plotts, another MUA from central Missouri with nearly eight years of service, told the World, "This isn't the same as flipping burgers. It takes training."
Plotts, a member of the Teamster Local 682, said they've been trying to negotiate a contract with Red Cross since last November. "But they won't budge," he added.
Plotts said Red Cross wants to cut pay 30 percent, while raising health care premiums. "They aren't crying poverty. They just want more." Additionally, Plotts added, "as of July 1 Red Cross stopped contributing to our 401K."
"Red Cross is using the weak economy to take advantage of us," Plotts concluded.
Joan Suarez, the St. Louis WRB chair, said, "This isn't just a local problem. This is a national problem." However, she added, "The fate of unions and the communities in which they live are connected. They are intertwined. And we hope to bring pressure to bear for progressive values."
As part of the WRB meeting an official report, written by nationally known labor reporter Phil Dine, was presented. Dine's report, Labor Relations at the American Red Cross and its impact on Employee and Donor Safety, highlights the numerous labor law violations Red Cross has engaged in.
For example, Dine writes, "Between 1996 and 2007, the Red Cross was charged with 212 unfair labor practice violations by the National Labor Relations Board (NLRB), the country's top agency for labor law enforcement. The Federal Mediation and Conciliation Service (FMCS), the government's lead agency for resolving labor-management disputes, found it necessary to intervene 152 times in labor-management conflicts at the Red Cross between 1998 and 2007"
According to Dine, "this isn't good for workers, donors or America's blood supply."
Furthermore, according to Withey, "Red Cross has been fined every year for the past 16 years" for continued violations. "They've paid out $21 million in fines just in the past few years. They don't even follow their own policies."
Withey also questioned the Red Cross' commitment to caring for people's health. He said, "They bought seven new trucks, but what about our health care?"
Withey had gastric by-pass surgery. "While our health care covered the surgery, it didn't cover the anesthesiologists. How can you have surgery without anesthesia," he asked. Now Withey has over $3,200 in medical bills for a procedure that should have been covered by his Red Cross health care policy.
Pay is another concern for Red Cross employees. According to Plotts, donor specialists "who aren't in the union" are paid around $10-$12 an hour, with no seniority, while drivers "who are union" are paid around $18 an hour, creating a two-tear wage structure.
Plotts said he continues to work for the Red Cross because he believes in what he is doing.
"I'm adding to the good of mankind. I'm doing something good, something bigger than myself. It's our mission to supply this country's blood," he added. However, " The Red Cross needs to change. They seem more concerned about public relations than standing up for the safety of their donors."
Photo: The names left to right are:
Mary McDougall, donor specialist CWA 1122
Jason Withey, MUA, CWA 1122
Lisa Dobson, area VP CWA 1122