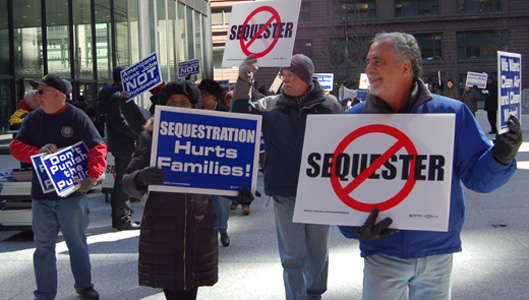 CHICAGO — At least 160 cities and towns across the country saw mass demonstrations yesterday against the "sequester" – the $85 billion in budget cuts over the next six months and $1.2 trillion in cuts over the next decade that Congress, through its inaction, has allowed to happen.
From Seattle to Albuquerque, from San Diego to Chicago, the AFL-CIO and one of its major unions, the American Federation of Government Employees, hosted demonstrations March 20 decrying what they say is a reckless policy that is hurting workers nationwide. The object of the protests was to convince lawmakers to roll back the cuts.
Here in Chicago hundreds of federal employees and their allies picketed at Federal Plaza to warn the public about the pending devastation it faces from federal budget cuts.
"Do you want unsafe food, dirtier air and water or longer lines at the airport? Congress wants to shut us down. We've got to get red of sequestration," said an outraged John O'Grady, president of AFGE Local 704.
Lawmakers who back the sequester are fond of claiming the cuts don't effect Social Security, Medicare or Medicaid. Half the cuts come from domestic programs with the other half coming from the Pentagon budget, they note.
"This will create long backlogs of services for Social Security, veterans benefit eligibility, anything to do with the department of labor, HUD, foreclosures and student loans," said Dorothy James, vice president of AFGE District 7. "These services are already understaffed and it's only going to get worse."
The workers at these agencies will get furloughs that will slash their incomes on the one hand and short-change the public on the other. That problem helped fuel protests yesterday at Social Security offices in Phoenix, Ariz., Albuquerque, N.M., and Grand Rapids and Bay City, Mich., among other places.
At least 100 rallies yesterday were staged by the AFL-CIO while dozens of rallies were staged by the AFGE.
"What's going on in Washington isn't just hurting federal employees or everyday Americans. It's hurting the whole country," exclaimed Bob Reiter, secretary-treasurer of the Chicago Federation of Labor. Congress has spent the last two years trying to break us down. It's time to stand tall."
Holly Wirick, who works at the Environmental Protection Agency as coordinator of the Clean Beach Program covering the Great Lakes, said, "The $472 million in cuts to the EPA will have huge consequences for the health and safety of the public. Beach Act funds inform the public when water quality standards in the Great lakes and marine coasts are exceeded. The public will not be protected."
The demonstrations yesterday were about getting some movement on the part of the nation's lawmakers.
The GOP-run House and the Democratic-run Senate both have decided, in their money bills, to keep the government going beyond March 27, but that the sequester should continue.
The sequester not only includes the furloughs, but also may include a third straight year of a freeze on federal worker cost-of-living raises – one reason AFGE, which represents hundreds of thousands of federal workers, hit the streets.
Federal employees who have already suffered a wage freeze since 2010 and been forced to make a 2.3 percent increase in contributions toward their retirement, are now being forced to take up to 22 days of unpaid furloughs, a 20 percent cut in pay.
"We have already taken a day to day cut," said Agatha Joseph, president of AFGE Local 1395, which represents workers at Social Security offices. "As a result of being slashed 23 percent the past two years, our offices are closed half days on Wednesdays and office hours have been shortened."
In addition to the cascading affects of the cuts, unions had still other reasons for demonstrating on March 20. In Philadelphia, for example, the Service Employees hit the streets to talk about cuts in programs for the poor.
In Detroit, a community-wide forum, including council members from both the city and Wayne County, discussed the vast array of cuts the economically ailing metropolis and its residents will suffer under sequestration.
Protesters in North Carolina and San Diego demanded that – as the Californians put it – "banks and oil companies should pay their fair share" of the costs of government that benefits them, rather than having workers shoulder the whole load via the cuts.
At the Portsmouth, N.H., naval shipyard, and at a naval base on Lake Michigan in northern Indiana, defense workers highlighted how the sequester costs jobs and pay.
In Seattle and in Beckley, W. Va., corrections officers, members of AFGE, protested cuts that would put them in danger due to short staffing at overcrowded prisons.
"Our message is very clear: Sequestration has got to go," AFGE President J. David Cox said. "If federal employees are furloughed without pay, if offices and plants are shut down, if vacancies aren't filled because of these across-the-board budget cuts, then federal employees won't be able to do the work the American public expects.
"In many towns and cities, the federal government is one of the largest employers – if not the largest employer – and is a major economic driver," he added. "Sequestration will force more than a million federal workers to take pay cuts of between 20 percent and 40 percent between now and the end of September. Less money in their pockets means less money to spend locally on food, clothing and other goods and services."
AFL-CIO President Richard Trumka laid the blame for the sequester on Congress, and specifically on its ruling Republicans: The GOP/tea party-run House and a Senate strangled by Republican filibusters.
"Republican hostage-takers demand devastating budget cuts that slash more jobs and funding for the very programs working families need to get back on their feet. Republicans continue manufacturing crises to get their way, but we cannot afford to give in to their ransom demands and risk harming our still fragile economy. Working people have sacrificed enough in the form of lost jobs and furloughed pay," he said.
Economists calculate the sequester will cost the U.S. 750,000 jobs and restart the Great Recession, he noted.
Photo: Chicago rally. Earchiel Johnson/PW