LOS ANGELES—The Los Angeles County Federation of Labor, AFL-CIO just hosted its first Workers' Congress in four years. Nearly 1,000 union members from every industry turned out on Tuesday, March 13 at downtown L.A.'s Westin Bonaventure Hotel to share stories, plan strategy, and swear in its most diverse executive board in the organization's 133-year history.
"Our issues are inseparable, our futures are inseparable, we are inseparable, and today's work is finding how we all win in 2018," said Rusty Hicks, president of the LA Fed. Attendees were often reminded of the prominent role of the diverse Los Angeles working class in moving the country's progressive agenda forward.
The day began with a series of brief presentations by a wide spectrum of speakers whose stories exemplify the benefit of a union.
The gathering heard from a father who spoke about being able to provide healthcare for his family through his union job, from a disabled veteran who found stable employment with the help of a union, from a mother whose surrogate son has changed his life for the better with his union's support.
"If my family didn't have quality healthcare through our unions, we'd probably have to depend on public assistance to cover all our bills. I'm grateful we have not had to do that, but I also know that our employers did not just hand over these benefits," said Simboa Wright, a wastewater worker and member of SEIU 721. "I'm active in my union because it is important to have a voice as a worker, as a public employee."
"Even though I wasn't a union member," said Frank Vasquez, an Army veteran and USW 675 member, "it was a union activist who stood up for me and called on our employer to hire me on permanently and told them not to discriminate against me because of my disability. That was six years ago. I continue to dedicate my time to my union to pay forward the opportunity they gave me."
"Sometimes people think that a union is just about wages and benefits, but for us it's about belonging to something that we can depend on. My son's union was there for him when things were hard, and he was able to get his life back on track," said Iran Escorcia, speaking about how her son's union (Roofers and Waterproofers Local 36) provided job security and support while he went through family and immigration issues.
Other speakers represented the LGBTQ community, the restorative justice movement, the campaign for affordable housing, and women resisting sexual assault.
The labor movement and the community are one
Three breakout workshops emphasized the broader role of the union movement in civic and public life. One concerned the "Right to Work" issue which was recently argued before the Supreme Court and will soon be decided. Most people in the labor movement are anticipating an anti-labor decision from this court, which tilts more rightward with the Trump appointment of Neil Gorsuch. How can the labor movement use this moment to educate fellow workers, both within and outside of unions, as to the importance of building the union movement for the protection of all working people and their families and allies? This is the question that will preoccupy labor in the months and years to come.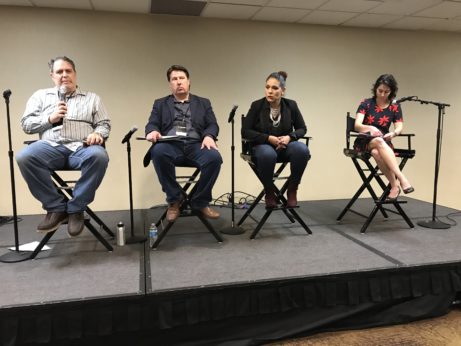 The second breakout addressed the prospect of more union and community members running for public office. Lizette Escobedo, currently on leave of absence as communications and public affairs director at SEIU Local 2015, spoke on that panel, along with three others. She is currently running to become the first Latina elected to the Whittier City Council. There are 370,000 healthcare workers in Southern California, she pointed out, and over 7,000 union members in Whittier (population ca. 87,000). "As workers, we have to start driving the narrative." A successful drive in that city resulted in the creation of City Council districts, meaning that poor and middle-class neighborhoods could gain representation for the first time. Local elections are generally nonpartisan, she reminded the audience, "so talk to everyone." Her motto is "Listen, learn, lead…. Let's be the leaders we want to see."
In the third panel, speakers addressed the deepening union involvement in public issues and campaigns. The old model for "community outreach," said Sharon Delugach from the AFT, was to call upon community organizations when the union needed bodies at demonstrations and public hearings. The new model must be for the union to be an equal stakeholder in the community, listening to the issues and adding support. "Community work is our work, not an add-on." Delugach summarized with Five Ms: 1) Map the community, 2) Mobilize our members, 3) Message our values with clear communication, 4) Meet one-on-one to learn community members' stories, ideas, and values, and 5) Move toward action.
In that panel, "Big John" Harriel, a union member and foreman with IBEW Local 11, spoke movingly about mistakes he had made early in his life that led him to prison, and how upon release the building trades unions above all kept the door open to former felons to apprentice for a new trade, join the union workforce, and transform their lives, families, and communities. He works with an organization called 2nd Call, helping former felons to unlearn dysfunctional behaviors which often lead to recidivism. Alexandra Suh from the Koreatown Immigrant Worker Alliance (KIWA) spoke of her organization's collaboration with the labor movement in trying to improve working conditions in small immigrant-run shops and restaurants that characterize the economy of her neighborhood, places where a recognized union is not a likelihood in the near future.
Afternoon speakers included renowned leaders such as Wisconsin's Randy "Ironstache" Bryce, who is running a popular grassroots campaign against House Speaker Paul Ryan; Las Vegas resident and DACA recipient Astrid Silva, who recently delivered the first Spanish-language Democratic response to President Trump's first speech to Congress last year; and Senior Advisor and National Spokesperson for MoveOn.org Karine Jean Pierre. All three are fighting for social and economic justice on the national stage.
"It's not just that union members should run," said Randy Bryce, Congressional candidate for WI-01, "we have to. Because if we don't run or if we don't vote for pro-labor candidates in every election, even the local elections, then anti-worker conservative politicians are going to do to the entire country what Scott Walker did to Wisconsin. We shouldn't just be protecting our rights, we should be expanding them. And with working people in office, we can finally get a family-sustaining federal minimum wage, Medicare for All, free college, and ensure equal pay for equal work."
"Immigrants in Nevada, DREAMERS like me," said Astrid Silva, "are all so grateful to Los Angeles because long before Trump, you were the place that gave birth to the immigrants' rights movement. Los Angeles is big, and there are millions of immigrants who make their homes here. But, you organized them. You helped people become citizens. You took to the streets. You made our rights at work your fight. You showed us the path to power and dignity and fearlessness."
Karine Jean Pierre of MoveOn.org reinforced the "Inseparable" theme of the Workers' Congress in her remarks saying, "Last year, we learned just how powerful our voices are when we use them in unison…. 2017 was the year we learned that when we stand together, we win. That when we cry out in harmony, we are louder than any voice trying to drown us out. That when the middle class stands up, we are so much stronger than the one percent. 2017 was about our voice—finding it, using it, amplifying it. 2018 will be the year we win our country back."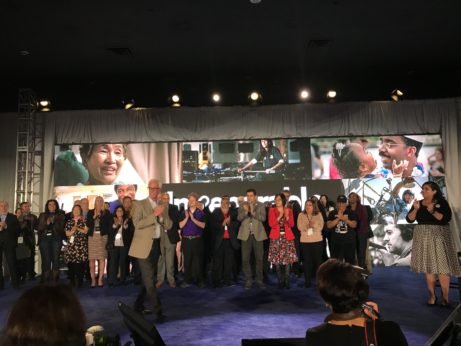 Diversifying labor's leadership
For the final portion of the afternoon, the LA Fed swore in its new board, which includes KIWA's Alexandra Suh. Her election points to the Fed's understanding that the advancement of the labor movement does not only involve members of labor unions, but also of labor centers and allies.
The Congress did not fail to take note of President Trump on his first visit to California that day. Rusty Hicks lost no time in issuing a statement saying, "… the President thinks he can make a seamless pass-through in our territory to find ways to divide innocent people.
"Los Angeles doesn't play by the rules. We organize, we stand up, and we fight back against hate and xenophobia.
"Join us today as we RESIST."
An undetermined number of Congress attendees left the hotel after the swearing-in and headed over to say "Trump out of L.A." at the demonstration site at Beverly Gardens Park in Beverly Hills.
Hicks sent the crowd home, commanding them to "Be bold and be brave and be Los Angeles."