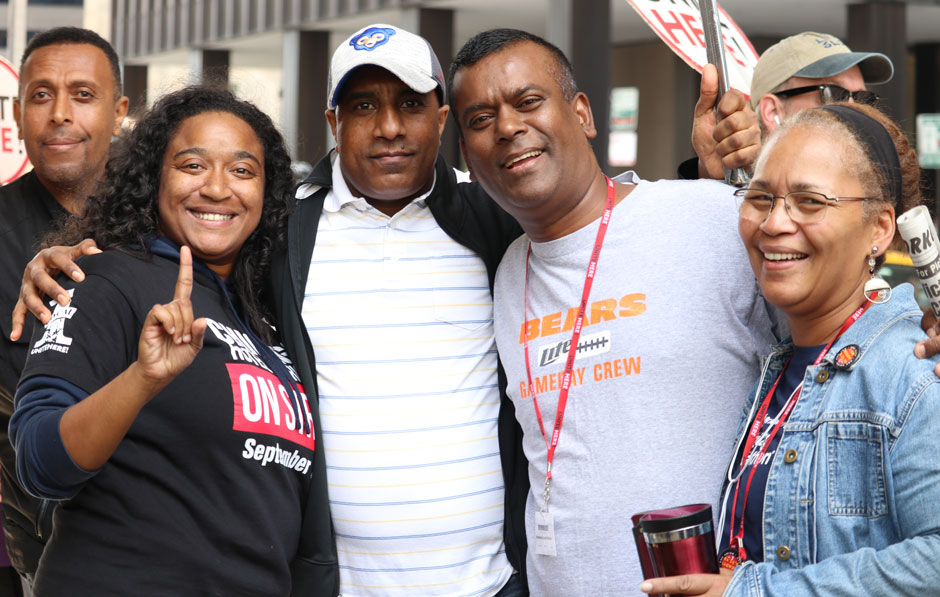 CHICAGO –  Dozens of Cambria Hotel employees continue to rally outside the 166 East Superior Street location here, marking almost four months since the first strikers in Chicago hit the picket lines. Over 25 downtown convention and boutique hotels have already settled contracts for better working conditions, leaving only the single hotel chain in the position of "holdout."
The remaining members of the Unite Here Local 1 Union have faced many obstacles in the last several months, including threats of arrest by police due to noise complaints from people at the nearby hospital. Regardless, strikers have pressed on and faced the brutal 30 degree Chicago winter weather. "We are not giving up," says Carmen Galeas, picket-line captain and Cambria Hotel employee. "Even when it's cold we take a short time to warm up and then get back out."
Galeas works as a barista and bartender at the hotel's department of food and beverages. She is one of hundreds of employees who are seeking to bring negotiations with Cambria out of gridlock. Bargaining is currently at a standstill because the hotel's operator, Fillmore Hospitality, refuses to budge on the mandated workload that is assigned to the cleaning staff.
According to union representatives, the housekeeping staff is typically assigned a quota of 13 rooms a shift, but the hotel seeks to increase the number to 15 so that they can "match" the workload written into contracts with other union hotel chains. "The rooms are big," says Galeas. "Sometimes guests like to bring in more stuff like sofas or beds [cots] into the rooms." Union members are arguing that Cambria's demands do not address the specific needs of their employees and are simply exploiting the negotiations. "My house is different than yours, this hotel is different than the others."
Management at Cambria Hotels has claimed that defiant union members have prevented the settlement of a fair contract. A letter obtained by the Chicago Business Journal and addressed to "Fillmore associates" from B. Thomas Goodwin, president of Fillmore's operations in Chicago, it was stated "Local 1 rejected our offer and chose to continue to strike."
The hotel chain has conceded to other demands, including issues of job security, pensions, year-round health insurance, and sick days. The staff has, in turn, agreed to continue cleaning their larger-sized rooms within the same time frame as smaller ones, but say they are standing their ground on the quota change. This decision comes largely due to the physical strain put on workers throughout their shift, and the risk it poses to their health.
A recent survey conducted by Unite Here Local 1 Union reported that 100 percent of the women [who work at Cambria] surveyed by the union experienced "physical pain from lifting mattresses, pushing supply carts or from the repetitive motions associated with cleaning hotel rooms." Several employees stated that they had difficulties conducting basic tasks, such as lifting their children or carrying groceries. Seventy-five percent of housekeepers surveyed also said there has been a time when they could not complete 13 rooms during their regular shift, and over half (56 percent) of the women surveyed have had an accident, injury or illness while working at the hotel.
Union strikers remain steadfast. "For me, it is about showing the company that we are human beings and we require respect." Galeas says she hates seeing her co-workers suffer every day from the physical strain of poor working conditions. "I was raised by a single mother and I know how stressful this is and how hard it can be."
The union is asking that allies continue to support Cambria staff and put pressure on the hotel's owner, the Ohio Public Employees Retirement System, to settle a fair contract. Several union members from other hotel chains have come out to stand in solidarity with their comrades. Nevertheless, until management is ready to discuss the terms of the contract, workers will remain at the picket line. "We don't just do it today for us," says Galeas, "we do it for tomorrow and for future generations."