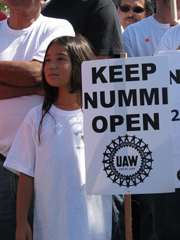 FREMONT, Calif. ― Hundreds of auto workers gathered outside their union hall, across from the New United Motor Manufacturing, Inc. (NUMMI) auto plant, Aug. 20 to hear a parade of state and local elected officials and labor allies pledge support for efforts to keep the West Coast's only auto plant open.
The NUMMI plant, a 25-year-old GM-Toyota joint venture, employs about 4,700 United Auto Workers members and holds the key to another estimated 35,000 to 40,000 jobs in the state. Its fate has hung in the balance since GM declared bankruptcy and said in June it was withdrawing from the plant. Toyota's top management says it will announce by the end of the month whether it will continue to operate the facility.
"This plant is my livelihood," NUMMI worker Ron Lopez said after the rally. Lopez, a trustee of UAW Local 2244, the union representing the auto workers, has been at NUMMI for 19 years― his second "long-term" job, he said. His wife has worked there nearly as long. "We're buying our home; if the plant closes it will be devastating. We

worry about how we would pay our bills."
Lopez was concerned about more than just his own family. "If we close, they close. We're three-quarters of their business," he said, gesturing toward nearby stores, including suppliers such as Jesse Wingard Tires as well as neighborhood eateries and others.
Debbie Williams said she and her five sisters worked at the old GM plant that once occupied the NUMMI facility. They went through that plant's closing in the early 1980s before NUMMI opened in 1984. In the 25 years since then, Williams said, the NUMMI workers have become among the industry's most competent and productive, with the highest overall quality standards.
"It would be a tragedy to take this plant elsewhere; Toyotas sold in California should be built in California," said Williams, now chair of the union's Community Action Program.
During the rally that sentiment was repeatedly expressed, including by California Labor Federation head Art Pulaski, who pointed out that Toyota cars "are driven more in California than anywhere else in America," and Teamsters Union leader Rome Aloise, who suggested that if NUMMI closes, a $500 or $1,000 surcharge should be levied on each Toyota brought into the state for sale.
Local president Sergio Santos emphasized the size of the problem as he reminded the crowd that the figures for jobs at and related to the plant "don't include the family members that go with those jobs."
Elected officials speaking at the rally included Lieutenant Governor John Garamendi, who urged that part of the federal aid to the auto industry be used to promote production of fuel-efficient cars at NUMMI, and Fremont Mayor Bob Wasserman, who highlighted the "very significant, very enticing" package of incentives a city, county, state and federal task force has sent to Toyota top management to keep the plant open.
The day before the rally, workers and their supporters held a lobby day in the state capital, Sacramento, to press for passage of three measures now in the state legislature, including a sales and use tax exemption for parts and machinery used in auto manufacturing, and creation of an enterprise zone.
Cheaper electricity rates and better transportation facilities are among other incentives being proposed.
Local 2244 workers have launched a petition to President Obama citing the plant's outstanding track record and the devastating effect its closing would have on the regional economy. The petition urges his support for efforts to keep the plant open, including short-term federal financial aid.
mbechtel@pww.org