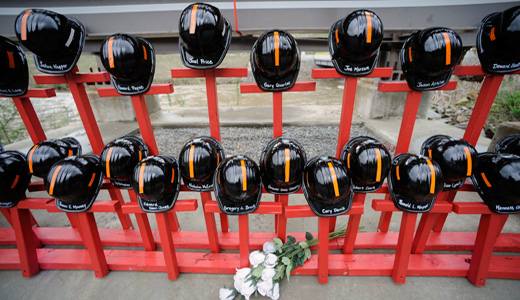 Last October two maintenance workers were doing some welding at the Gilster-Mary Lee Corp.'s pasta factory in Steeleville, Ill., when combustible dust there exploded.
Their names were not printed in the Occupational Safety and Health Administration's news release announcing a $231,000 fine against the company for job safety violations.
As compared to other victims of combustible dust explosions, they were lucky. Although both suffered serious burns over their upper bodies, both survived.
OSHA, meanwhile, put Gilster into its Serious Violators Enforcement Program, reserving for the company the extra scrutiny OSHA gives to bad repeat offenders on job safety.
The year before the explosions at Gilster some 203 other workers in Illinois, and thousands of others in the country, were not as lucky as the two at Gilster. Going to work one day during that year was all that 4,547 men and women had to do to get themselves killed.
What it means, statistically, is that there were 3.5 deaths for every 100,000 workers across the country.
Workers Memorial Day
Those who died that year and every other worker who has ever died on the job in America will be remembered nationwide April 28 on Workers Memorial Day while OSHA continues its 42-year battle to end death and injury at the modern American workplace.
Advocates for job safety note that despite low fines, lack of staff, employer resistance and intimidation of workers into holding back on injury reports, OSHA, during its 42 years of existence, has been able to drastically cut the on-the-job fatality rate. Those same advocates are raising the alarm, however, that now the job safety gains made over the last years are threatened.
"OSHA's capacity to oversee workplaces is woefully inadequate," Peg Seminario, the AFL-CIO's long-time Occupational Health and Safety chief, says.
From Oct. 1, 2008 to September 30, 2009, she said, "OSHA conducted 30,057 workplace inspections and had the capacity to inspect workplaces under its jurisdiction approximately once every 137 years."
Under the Obama administration, the number has since risen but only to about 36,000 inspections yearly, meaning the agency has to target and leverage the enforcement resources it has in order to achieve maximum results.
Seminario said that while the number of inspections is still inadequate under the Obama administration, the agency has nevertheless made "serious efforts" to provide stiff and meaningful penalties to the violators it is able to find.
But OSHA can only do so much, she says, when "penalty provisions of the Occupational health and Safety Act are far weaker than most other safety and environmental laws and fail to provide an adequate deterrence."
Relentless attack on job safety rules
At an AFL-CIO executive council meeting in Orlando, Fla. in March, the federation issued a warning that said even the small improvements in the number of inspections and the higher fines are now being threatened.
The union leaders' endorsement of President Obama for reelection this year did not stop them from criticizing his administration for issuing only one final job safety rule during its three-plus years in office.
The AFL-CIO leaders noted at their meeting, however, that the administration is not fully to blame for this problem. They slammed the business lobby for what they described as its "relentless" lobbying of Obama's Office of Management and Budget for delays in a host of federal job safety rules.
One of the very rules stalled as a result of that lobbying, they said, might have saved the two welders at the pasta plant. The stalled rules to which they were referring would have forced all firms to drastically cut down on accumulated combustible dust.
"With election of a Republican majority in the House in 2010, progress in safety and health is threatened," the AFL-CIO said in its 2011 report titled "Death on the Job." The latest 2012 edition is due out this week on Workers Memorial Day. Sources tell the PW that the 2011 warning will be repeated in even stronger fashion in the report soon to come out.
"Business groups and Republicans are trying to block new regulations and have targeted key OSHA and MSHA (Mine Safety and Health Administration) rules. Attempts have already been made to slash OSHA's budget, with proposed cuts that would decimate OSHA's already inadequate enforcement," Death on the Job adds.
"Workers in the United States need more safety and health protection, not less. Forty years after the passage of OSHA, there is much more work to be done," the report concludes.
The Labor Department's own Inspector General, an independent government official who evaluates all of the department's agencies and programs, is in full agreement with Seminario.
"Since OSHA can reach only a fraction of the seven million entities it regulates, it must strive to target the most egregious and persistent violators while protecting the most vulnerable workers," the IG wrote in a recent report to Congress.
A recent audit done by the IG, however, found OSHA has not properly evaluated the impact of $351 million in penalty reductions that were granted as supposed incentives to companies to reduce workplace hazards. The reductions were given to companies that had supposedly made safety improvements. The IG says it is concerned about the fact that in 98 percent of the cases where OSHA enters negotiations regarding safety policies with companies, the result is penalty reductions.
"OSHA did not always consider an employer's overall safety and health performance when reducing penalties, in part because its information system cannot effectively track violations company wide," the IG report said.
According to the document, 4,791 employers with a history of major violations received penalty reductions of $86.6 million. Half of them received reductions of $42.6 million on later inspections where standards similar to the original problematic ones were violated again. This shows, at the very least, that companies were not making careful or thorough corrections of cited problems.
One such problem company was the pasta company. It had 11 plants at which 2,000 workers were employed. Before OSHA gave the company its first fine, after the explosion, it had already inspected the company's plants 30 times since 2002. Those inspections resulted in 46 citations, some of which were for the combustible dust that ended up exploding.
"At the time of the incident, the two maintenance workers were repairing a hole in the side of a metal trough containing a screw conveyor that was leaking granulated sugar within several feet of an operational dust collector," OSHA said about the Steelville explosion. "The dust collector exploded due to a spark from the welding operations.
"The three willful violations include failing to eliminate dust deflagration and explosion hazards on indoor dust collectors and air material separators, contain dust during the bagging of powdered sugar, shut down ducts and conveyor systems during welding operations, which had been responsible for carrying a spark to the nearby dust collector, and ensure that electrical equipment installed in areas exposed to combustible dust was approved and safe for those locations."
OSHA defines a willful violation as one committed with intentional, knowing or voluntary disregard for the law's requirements or plain indifference to employee safety and health.
Willful violations in mines
"The same pattern is happening right now in the country's mines," said Seminario, "even after the fatal disasters at Sago several years ago and Upper Big Branch in 2010. If anything, the mining companies are even more obstructionist on job safety today.
"Many coal operators have tried to undermine and blunt the enhanced penalty provisions of the Miner Act," – passed after the Sago blast – "by contesting violations, in an effort to have penalties reduced and to avoid violations that could lead to establishing a pattern of significant and substantial violations that carry more serious consequences," she said.
Seminario said that in 2009 ,operators contested 27 percent of all violations, representing 68 percent of the fines. That was before the Upper Big Branch explosion that killed 29 in West Virginia two years ago.
She called it "plain indifference" and sad that the plain indifference by businesses is still all too common when it comes to safety on the job.
Photo: Miners' helmets and painted crosses at the entrance to Massey Energy's Upper Big Branch coal mine, April 5, 2011 in Montcoal, W.Va. The memorial represents the 29 coal miners who were killed in an explosion at the mine. Jeff Gentner/AP