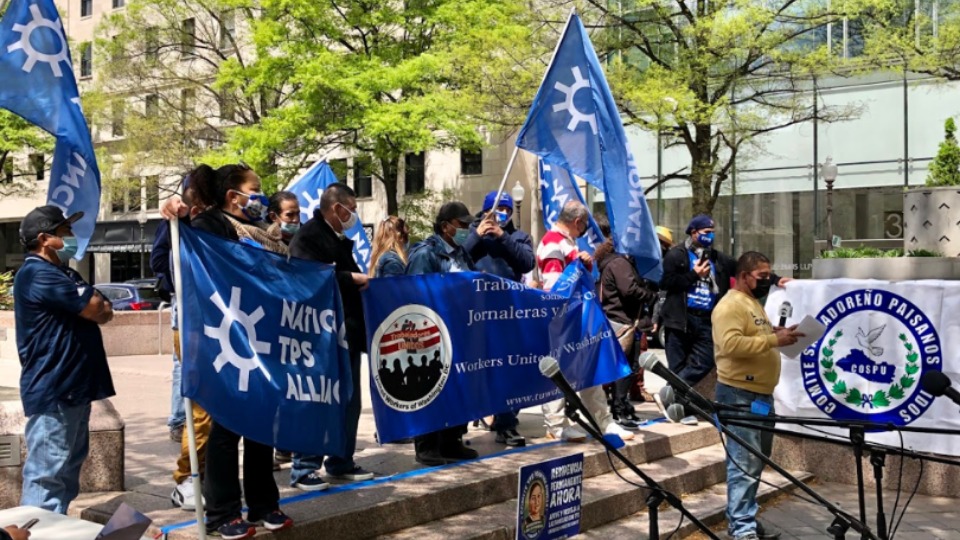 WASHINGTON—Dozens of National TPS Alliance workers rallied with their family members and friends in D.C. on Saturday in support of their ongoing hunger strike. The Alliance's primary demand is for Congress to pass legislation granting lawful permanent residency (LPR) to migrants with Temporary Protected Status (TPS).
Members of the Alliance have been on hunger strike since March 19 and say they will continue until their demands are fulfilled, or by April 30, whichever comes first.
TPS is a federal designation that protects migrants from removal if they cannot safely return to their native country because of armed conflict or environmental disaster. Alliance workers, many of whom are from El Salvador, have TPS designation but lack LPR status. Congress has recently debated whether migrants "should have a pathway" to LPR status.
Democratic congressional leaders indicated legislation to establish such a pathway is "one of their top priorities." However, the effort has so far floundered because Republicans oppose the bill, and support among the full Democratic caucus is uncertain.
The Alliance has several demands, primary among them being that all TPS migrants be granted LPR (green card) status via Congressional legislation. It also wants President Joe Biden to restore and expand the TPS program to migrants from Burma, Syria, and Venezuela.
Restoration is necessary, the Alliance says, because former President Donald Trump attempted to terminate it in 2017 and 2018 for migrants from many countries. Currently, TPS is extended to migrants from El Salvador, Haiti, Honduras, Nepal, Nicaragua, Somalia, South Sudan, Sudan, Syria, and Yemen.
Finally, the Alliance wants to weigh in on U.S. immigration policy decisions. It's pressuring Biden to halt deportations and stop separating migrant families at the southern border.
The Alliance's Saturday event was supported by local activists with the Claudia Jones School for Political Education. Dante O'Hara from the Jones School told striking workers: "We stand in solidarity with the hunger strikers risking their lives fighting for these reforms. We stand with all migrant and undocumented workers fighting for a better life, better wages, and full citizenship in this country. We must fight exploitation and oppression, and we must be united in the struggle!"
The 1990 Immigration and Nationality Act authorizes the U.S. Department of Homeland Security to designate TPS. As of March 11, 2021, approximately 320,000 individuals had TPS status in the U.S.