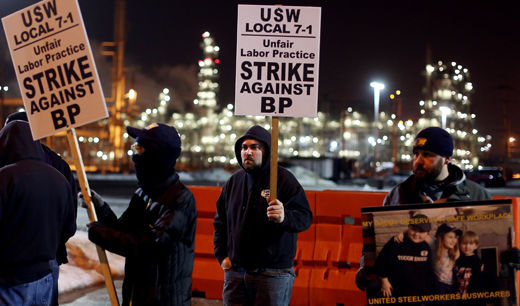 PITTSBURGH – The United Steelworkers (USW) today said yesterday that workers at BP's Whiting, Indiana and Toledo, Ohio refineries have joined the union's unfair labor practice strike against the oil industry that began on Feb. 1, after the companies failed to address serious concerns regarding the health and safety of workers and their communities.
The union gave BP management notice on Friday, Feb. 6 that about 1,100 members of USW Local 7-1 at the Whiting refinery and some 340 members of Local 346-3 on Saturday would join nearly 3,800 USW oil workers already on a ULP strike at nine refineries in California, Kentucky, Texas and Washington.
In addition to health and safety issues, contracting out and health care, the USW unfair labor practice (ULP) strike is over the oil companies' bad faith bargaining, including the refusal to bargain over mandatory subjects; undue delays in providing information; impeded bargaining; and threats issued to workers if they joined the ULP strike.
USW International President Leo W. Gerard said that the oil industry is long overdue to address many of the issues the union brought to the table that directly impact workers' health and safety.
"We are absolutely committed to negotiating a fair contract that improves safety conditions throughout the industry," Gerard said. "Management cannot continue to resist allowing workers a stronger voice on issues that could very well make the difference between life and death for too many of them."
USW negotiators are determined to resolve the members' central issues.
"After long days of discussions with the industry's lead company, Shell Oil, little progress has been made on our members' central issues concerning health and safety, fatigue, inadequate staffing levels that differ from what is shown on paper, contracting out of daily maintenance jobs, high out-of-pocket and health care costs," said USW International Vice President Gary Beevers, who heads the union's National Oil Bargaining Program (NOBP).
"In addition, Shell has failed to accept the "no-retrogression" language that refers to acceptance of previous agreements with the industry," Beevers added. "We will not relinquish 50 years of progress in NOBP bargaining."
Added USW International Vice President of Administration Tom Conway: "Our workers need enforceable contract language on their issues that holds the industry accountable.
"It is amazing that an industry-which has such a potential for danger both in the workplace and within the surrounding communities of their facilities-is refusing to engage in any serious dialogue with their work force about issues which are central to their mission and the development of a qualified, well-trained work force to meet future needs.
"Accordingly, the USW has been compelled to expand the ULP strike to now include 11 refineries around the nation," Conway added. "The USW urges the industry to begin to engage in a more serious dialogue."
Workers at the BP facilities in Whiting, Ind., and Toledo, Ohio, will join the ULP strike at 12:01 a.m. Sunday morning.
Negotiations between the USW and oil industry representatives are on a temporary hiatus, while the USW waits for the companies to comply with a long pending information request.
USW Take Action: Sign this petition to tell oil industry management and federal, state and local officials that we all want safe refineries. Safe workplaces don't just protect workers, but also the communities where we live and work. Please support the USW Oil workers in their efforts to secure a fair contract that will protect the health and safety of workers and communities!
Photo: District 7 Members Rally on National Day of Action February 8, USW7-1BPStrike5, Whiting, Indiana.