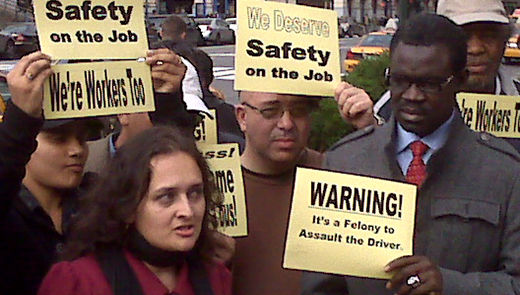 NEW YORK-He's had a gun put up to his head during a robbery. He's been assaulted with a crowbar, and had every window in his car broken. He's had a jagged beer bottle shoved into his neck. He was nearly maced.
All of this on the job.
Of colleagues he knows: One was stabbed in the lower neck with a hunting knife. One was choked by a woman. One was shot in the eye after being robbed. Another remains in a four-year coma after a violent assault. Still another, Ndiaye Serigne (pronounced "Jay Serene"), was beaten violently on Halloween by mask-wearing men.
Police officer? Soldier in Iraq or Afghanistan? What sort of job does he, David, as well as his colleagues, hold?
They work, according to the Department of Labor, the most dangerous job in the United States: New York City taxi driver. While New Yorkers tend to take cab drivers for granted, they perform the most dangerous, and one of the most grueling, jobs in the city.
In Serigne's case, the four masked passengers jumped into his cab, one of them taking the front seat. Since it was Halloween, Ndiaye wasn't surprised by the masks. But after crossing the bridge into Staten Island, the man in the front seat switched off the meter, and told Serigne that "now it's a free ride." Serigne, in a move that may have saved his life, ignored his assailants' orders to pull down a narrow street and instead drove to a nearby gas station. It was there that he was beaten and the passengers-turned-attackers fled. Now when he looks at the security camera video, he can't believe what he sees.
"I'm just thankful that I am alive," he said, noting that a childhood friend from his native Senegal was murdered on the job only three years ago. "We are just workers, but some passengers treat us so badly."
According to taxi workers and their representatives, this is a horrible story, but one that is neither an anomaly nor even surprising.
"Drivers are 60 times more likely to be killed on the job and 80 times more likely to be robbed on the job than any other worker in the United States of America," said Bhairavi Desai, Executive Director of the New York Taxi Workers Alliance yesterday.
Taxis move nearly half a million people each day, she added. "The airports, finance, restaurants, Broadway, every single industry in New York City, depend on taxi drivers for their bottom line. Our bottom line is our lives need to be protected."
Now taxi drivers, united into the TWA and well as elected officials are going to do something about it. Standing next to Desai, New York State Assembly member Rory Lancman, D-Queens, announced that he would introduce a bill into the Assembly that would extend protection already won by bus and subway workers to taxi drivers.
"Men and women who drive these taxis are entitled to just as much protection as the people who run our trains, drive our buses," Lancman, who chairs the Assembly Subcommittee on Workplace Safety, said.
Under recently-enacted laws, won after a sustained fight by Transport Workers Union Local 100 and its allies, anyone who assaults a bus driver, or subway or railroad worker, is to be charged with a felony and potentially sentenced to prison time. Lancman, the TWA and some transit workers present, want to see that protection extended to taxi workers. The law would also require a sign in each cab warning would-be assailants that any assault could lead to prison time.
The bill would send a signal, Lancman said, that "we in New York state will not tolerate [violence against drivers], and we will take every measure that we can to make sure that when these men and women get into their cab to start their shift, at the end of it, when they leave that cab to go home to their families, to go home to their children, that they come home safe and sound."
Photo: Libero Della Piana