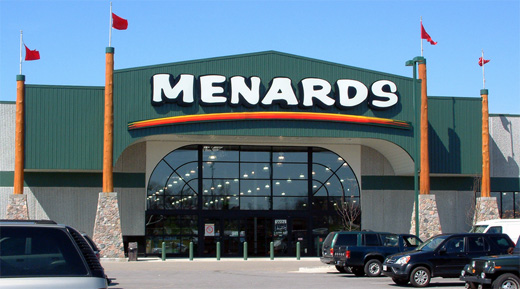 David versus Goliath comparisons leap to the journalist's pen whenever an average person fights for rights against the controlling richest .01 percent. It's a popular truism. But sometimes it's dead right. Such is the case of an unknown union organizer who likes to work computer and phone out of a coffee shop near his Manhattan home in a state that doesn't even have one of John Menard Jr.'s 280 Big Box home improvement stores.
In the Midwest – stretching from the Dakotas to Michigan with headquarters in Eau Claire, Wis., – the 76-year-old John Menard Jr. has risen to what Forbes labels the richest person in Wisconsin (personal wealth $8.6 billion) largely based on hatred of workers' rights and union organizing.
Menard's privately held company is notorious for harsh scrutiny of employees, court cases against his partners, sexual and otherwise, and legal action against environmental cops as he vies for dominance in the lucrative Midwest home improvement chain business with Home Depot and Lowe's.
His coziness with the billionaire Koch Brothers' political arms and with GOP Wisconsin Gov. Scott Walker was evidenced by the $1.5 million in secret gifts he gave the governor during the last recall election. This was uncovered last March in a delicious Rachel Maddow MSNBC segment, making Menard the definition of the politically untouchable autocrat who kicks peasants out of the way.
Seth Goldstein, an experienced New York City-based organizer for the Office and Professional Employees International Union (OPEIU) has taken up the cause of the Menard workers. He has been peppering the media and the National Labor Relations Board with more and more quality complaints against the far-away Goliath, angry that Midwest unions and government lawyers seem to have given up because of all the intimidation of money.
"I can't find anyone who likes him or likes working for him," says Goldstein, "and his violations of basic rights simply got me mad."
Menard has gone to court to fight accusations of dumping partners and soliciting sex with a partner's wife among other proclivities. In the 1990s when he was in his 60's, Menard was the most fined dodger of environmental regulations in Wisconsin history. He was accused to of spying on his employee practices with store stock.
Catch up on Urban Milwaukee editor's Bruce Murphy's delightful roundup of Menard's brushes that brought fines of $1.7 million for 21 violations. In 1997, Murphy relates, "He was caught using his own pickup truck to haul plastic bags filled with chromium and arsenic-laden wood ash to his own home to dispose in his household garbage."
Cozy relationships with Donald Trump and the Palm Beach society run through the article with explanations as to how Menard, under Gov. Walker's reign, suddenly evaporated from the illegal dumpster hate list of the state Department of Natural Resources, substituting $1.8 million in tax credits that more than offset the fines.
What really spiked Goldstein's attention was Menard's chronic treatment of workers' rights. There had long been rumors that Menard's employee handbooks forced his managers contractually to automatically dock their own pay 60 percent if a union formed under their jurisdiction, along with harsh rules if they "let workers gossip" about working conditions. Legalese imposed amazingly broad "liquid damages" against workers' pay, to be determined by binding private arbitration, even long after a worker left the company.
In December of 2015, with actual document language in tow, Menard's imposition of the 60 percent automatic dock broke into headlines through a Progressive magazine story by one of Wisconsin's leading watchdog investigative reporters, Bill Lueders.
Even though the complaining worker backed off from further action the story sparked broader coverage in several outlets (Madison Capital Times, Gawker, radio shows) and a terse company response that such language was being removed from all manager contracts in 2016.
Goldstein remained skeptical and on the hunt for more ammo. "Who can take Menard's word as one of the worst union busters I've ever seen?" he asked. "And it's not only unions. Basic rights protected by the NLRB and approved by the Sixth Federal Circuit Court of Appeals are in jeopardy. Workers don't know those rights and are afraid to act because of Menard's wealth and warnings of financial consequences."
Goldstein points out that previously signed contracts don't have an end date and Menard's also imposes a binding arbitration clause that lasts years after a worker leaves, with direct warnings not to work for a competitor. So Goldstein went to work expanding his Unfair Labor Practice complaint first filed Dec. 10 with Region 18 of the NLRB. It has grown into a formidable set of current charges as recent workers have hired their own lawyers to join the suit and more documents from more workers are being added every week. Goldstein is hunting up more and has a willing audience, filing through OPEIU, Local 153.
The NLRB has a policy of not commenting on open cases – but sources within Region 18 say this one is "being seriously investigated." A decision in a few months would probably be automatically appealed to the National Labor Relations Board in D.C.
A few current workers encouraged by management to come to Menard's defense have been rather tepid in opinion letters, saying at least they still got work through hard times and admitting there are policies they don't like.
The contract language docking managerial pay, many labor experts told Lueders and other reporters, was certainly "pernicious" on its face, but what Goldstein would need to stir Region 18 was evidence that the money threat had led to illegal action against workers.
Reached while on teaching sabbatical in Australia and given some of the documents, Paul Secunda, a major legal power who writes extensively on current U.S. labor practices suggests there's more than enough violations right there. Secunda told me by email that Menard's demand on management was on its face blatantly illegal interference with worker rights outlined in Section 7 of NLRB law and may also involve portions of Section 8 dealing with discrimination and interference. It doesn't matter that managers are not covered directly in the law – their behavior is.
Prof. Secunda, head of Marquette University's Labor and Employment Law Program, a noted law scholar and frequent panelist for NLRB events, argued that "blaming supervisors for not being anti-union enough not only interferes with their right as individual employees but also is a derivative violation of their employees' rights to organize since they will inevitably be coerced and intimidated as a result of the company policy."
He sees no question that Menard is in trouble. Goldstein continues to add individual charges and pursue more firsthand accounts from Menard hires who have been fearful to talk, he feels, because the billionaire power on the other side has scared them off. He has already found 18 specific language charges violating NLRB rules in employee handbooks and is getting more news outlets interested in following up.
Being untouchable in a biased state court system while spreading the same policy over 18 states is "scant legal protection," Goldstein points out. "I've been at this a long time and only the very rich can think of so stern a financial penalty as harmless."
Photo: Menards home improvement store, by Huw Williams (Huwmanbeing), Public Domain.