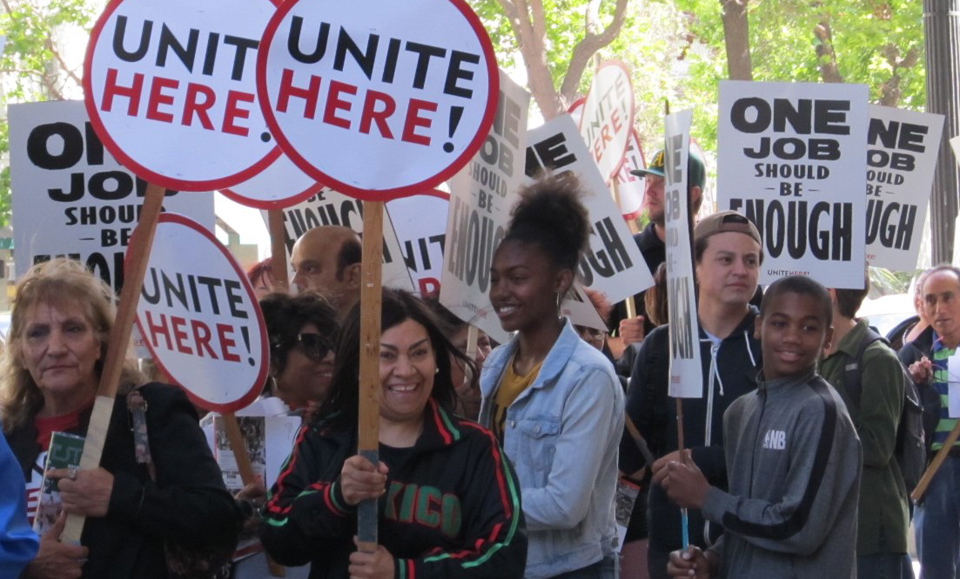 OAKLAND, Calif. – An international Day of Action with the theme, "One Job Should Be Enough," brought thousands of union and non-union Marriott workers into the streets across the U.S. and Canada June 27, calling on the giant hotel chain to use its leadership in the worldwide hotel industry to create jobs paying enough for workers to live on.
Actions organized by the hospitality union Unite Here ranged from nonviolent civil disobedience to marches near Marriott hotels, and mass picketing of hotels during high traffic hours.
Some 20,000 Marriott workers, including bellhops, housekeepers and front desk clerks, are among Unite Here's 270,000 members working in a variety of hospitality-related, industrial and transportation industries in the two countries. Contracts are expiring this year – many by the end of the summer – for 12,000 of them.
Here in Oakland, hundreds of Marriott workers and their supporters gathered outside the Oakland Marriott City Center hotel, on the city's main downtown thoroughfare, as end-of-the-workday traffic was picking up. Among other protests, actions were held in Honolulu, Boston, Seattle and Philadelphia, and in other California cities including San Diego, Los Angeles, San Francisco and San Jose.
After more than an hour of enthusiastic picketing and vigorous chanting, the protesters gathered to hear fellow workers tell their stories.
Said one, "The Marriott is trying to scare workers – they want us also to be janitors. They tell us, 'You have to do this, you have to do that,' they don't respect their workers." Workers want respect from the Marriott, he said, adding, "We know this is a big corporation and they make a lot of money and they can pay good benefits for everybody. Hire more workers!"
Another issue highlighted especially by housekeepers is the need for panic buttons in case workers are threatened or physically abused.
Unite Here Local 2850 President Wei-Ling Huber, told the crowd, "In 2018, one job should be enough! In the last four years, we've seen rents and prices skyrocketing in the San Francisco Bay Area. Our members have been getting a pittance for raises. We're going to change that this time."
Huber outlined the union's goals, including preserving health care, protecting jobs from automation and subcontracting, stopping anti-union hiring practices and ending e-verification of workers. At the same time, she said, the Marriott must hire many more local workers and pay them enough so they can live in the cities where they work.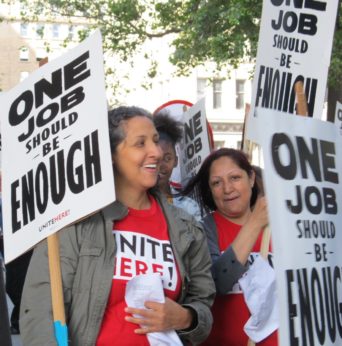 "We have a lot of important goals," she said. "And the only way we're going to win these things against a powerful corporation like the Marriott, that's opening two new hotels a day around the world, is by coming out here and speaking out. We have to let a huge corporation like this know we are united and we are empowered!"
In a conversation alongside the picket line, Local 2850 staff member Ty Hudson said the problem faced by workers, even those with relatively good union jobs, who are priced out of living in the cities where they work isn't confined to the Bay Area. "It's just as true in Boston or Vancouver or Seattle or San Diego – we're calling on the Marriott, since they're the biggest, to take the lead in making these jobs, decent jobs."
That sentiment was shared on the campaign's web site, onejob.org, by Marriott worker Courtney Leonard, who said she must commute over 100 miles daily from her home to work in Boston, because she can't afford to live any closer to her job as a cocktail server. "I'm taking action because every day I welcome Marriott guests to a city I can no longer afford even though I work for the richest hotel company in the world," she said.
The San Diego Union-Tribune reported that demonstrators there were joined by California Assembly member Lorena Gonzalez Fletcher, and city council members from the area. Gonzalez Fletcher said she came out to support her constituents "who work in the tourism industry, in particular in Marriott properties." She called the action "part of a national campaign to ensure people are paid a decent wage and don't have to work more than one job."
Unite Here says the Marriott "is the largest and richest hotel company on the planet," earning nearly $23 billion in revenue in 2017, making them "uniquely positioned to lead" a worldwide effort to ensure "one job should be enough to live in the city where we work, to raise our families, to retire with dignity … We are calling on Marriott: Make one job at Marriott enough to live on."