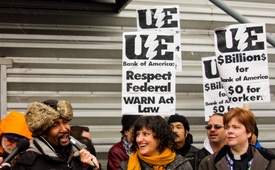 Chicago – "We're here to demand our rights," said Manuella Rivera in a gentle but firm voice, "and we'll stay until we get justice." Rivera, a 58-year-old window assembler is among workers at Republic Windows and Doors who have been occupying the plant since Dec.5 when it was shut down.
Melvin Milkin, one of the sit-in strikers spoke for all the workers when he vowed they would stay in the plant until they receive the estimated $1.5 million in severance and vacation pay and health benefits they are owed.
The company, maker of vinyl windows for the home construction market, has employed 300 workers, including 250 unionized production workers at the factory for 48 years. United Electrical, Radio and Machine Workers of America (UE) Local 1110 represent the workers.
Republic closed the factory with three days notice when they were refused a $5 million line of credit by Wall Street behemoth Bank of America (BA). BA is chief investor and has been effectively controlling finances at the company. The abrupt closure was in clear violation of the WARN Act, the federal law requiring employers to give 60 days notice of a mass layoff (Illinois state law mandates 75 days) or pay the workers and continue their health benefits for that time.
The action outraged workers because BA recently received a $25 billion bailout package from the federal government, but evidently decided it wouldn't go to keeping manufacturing operations running. When the company skipped a meeting with UE and BA on Dec. 5, the workers were furious and unanimously voted to stage a sit-in.
"The government gave $25 billion to BA. They are supposed to work with businesses to keep them open, not shut them down," Lalo Munoz, 54, told the World. Munoz, a machine operator, has worked at the plant for 34 years.
Workers are sitting-in around the clock in groups of 50. They report things are very calm and well organized inside. "We are taking care of everything," said Munoz. "We are keeping the machines in good condition so that maybe we will keep working."
"The workers feel they have nothing to lose," said UE organizer Leah Fried. "They were waiting to hear something all day (Friday). When management didn't show, they decided to stay."
Fried said the workers were thrown on the street the same day the US Labor Dept. announced job losses of 533,000 for November. Many have families, have no hope of getting a new job and now risk losing their homes.
"More than 300 people are working here, and what are we going to do now?" Vicente Rangel said. "We don't get any single benefit. They are even telling us they are not guaranteeing payment for the week we just worked."
Many of the workers are originally from Mexico and Central America. They traditionally save up vacation time to return to their home countries with their families for an extended time.
According to Republic, BA instructed the company not to make the vacation, severance and health benefit payments. Fried said this is a clear violation of federal law. And since BA has refused to say anything about the workers pay, "the workers are prepared to fight all the way," she said.
Solidarity has been pouring in. A steady stream of visitors has been bringing food, coffee and money. On Dec. 6, 200 unionists, religious leaders and community activists joined the Republic workers at a rally called by the Chicago Interfaith Workers Justice Committee.
A sign in the crowd said, 'Bank of America: You got bailed out – we got sold out.' and '$Billions for Bank of America, $0 for workers.'
Lalo Munoz told the rally 'this fight is not just a fight for the 250 workers in the plant. It is not just for our families but it is also for all the workers in this country.' The crowd broke into chants of "yes we can – si se puede" several times.
Other speakers included James Thindwa of Chicago Jobs with Justice, Richard Berg, Teamsters local 1743, Larry Spivack of American Federation of State, County and Municipal Employees District 3 and Joe Isobaker of the Service Employees International Union.
A delegation of the Communist Party USA's Religion Commission holding a national meeting in Chicago responded to the call for solidarity and attended the rally.
Also giving solidarity was Rep. Luis Gutierrez (D-Ill) who had arranged the Friday meeting. He said it was "the work and creativity of these workers that made this company. This is work they are entitled to be paid for. They are owed it and under the WARN Act they must be paid for it. That's federal law."
"I believe somebody just didn't wake up last Tuesday and decided to simply close the plant down. I believe they knew this was going to happen and wanted to walk away and didn't want to pay the workers the 60 days they are owed under federal law and the 75 days under Illinois state law, Gutierrez told the rally.
There is some speculation the plant is being closed to move out of state where it can reestablish operations at lower wages without the union. The factory sits on land sandwiched between new upscale developments and was sold to J. Wrigley Co. in 2006.
Carl Rosen, Western Vice President of UE called for all out support for a rally at Bank Of America, 231 S. LaSalle street at 12 noon Tuesday Dec. 9 in Chicago demanding that they free up money to republic window to pay the workers if no agreement is made to pay the workers in negotiations scheduled to resume on Monday.
For solidarity make checks payable to the UE Local 1110 Solidarity Fund, and mail to: 37 S. Ashland, Chicago, IL 60607.
Messages of support can be sent to leahfried@gmail.com. For more information, call UE at 312-829-8300.