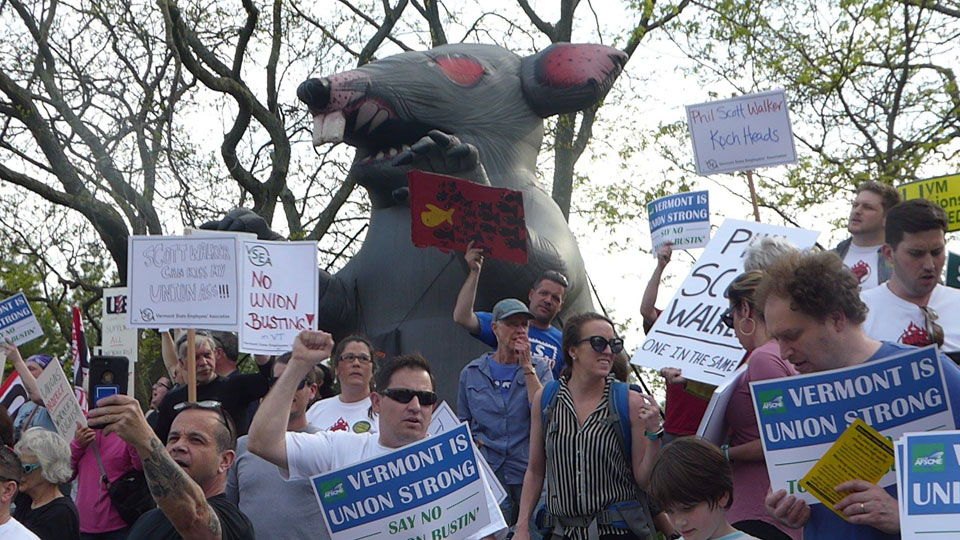 BURLINGTON, Vt.—In a protest that got wide viewing on social media, Vermont workers and progressives – complete with The Rat – "greeted" infamous former Wisconsin GOP Gov. Scott Walker when the union-busting ex-Badger State chief executive spoke in Burlington on May 30.
Walker went to the city's Hilton Hotel to keynote a Republican fundraiser inside. Outside was the huge protest, featuring The Rat, symbol of a scab. There's no indication from news reports whether Walker encountered the protesters, crossed their line – or ducked in a back door, as his also-ousted Illinois anti-worker GOP colleague, Bruce Rauner, did in Chicago.
The "greeters" outside the Burlington Hilton included members of Steelworkers Local 4, a Laborers local, the state AFL-CIO and state regional federations, nine AFSCME locals, three National Education Association locals, two Vermont State Employee Association locals, AFT-Vermont, a Bricklayers local, IBEW Local 300 and women's rights, civil rights and LBGTQ rights groups.
And Sen. Bernie Sanders, Ind-Vt., who's making his second run for the Democratic nomination for president, urged his supporters in the state – he's the wildly popular former Mayor of Burlington – to join the protest, too.
Walker was a favorite Sanders target when the senator ran in 2016. "In other words," Sanders said then, "you can get a pretty good idea of what I'll do as president by looking at Scott Walker and thinking I'll do exactly the opposite."
Walker became nationally infamous for jamming rabidly anti-public worker union Act 10 through the gerrymandered Wisconsin legislature in 2011. It stripped the state's public worker unions – except those few that backed his bid the year before – of collective bargaining rights, union dues, and other authority. Later, he got GOP lawmakers to make Wisconsin a so-called right-to-work state.
Walker also forced local unions to stand for recertification, by absolute majority votes, yearly. The result was a large drop in union membership and receipts, and in the Wisconsin economy, too.
"To labor unions, women's groups, racial justice organizations, and pro-union progressives of all stripes, Scott Walker represents the worst of the worst in terms of the wrong direction the extremist-anti-union-right would like to take our country if given the chance," said top AFSCME Vermont official David Van Deusen.
"Walker believes workers should have NO collective bargaining rights, that our education system should be privatized, that women should not control their own bodies, and that the wealthiest 1% should receive massive tax cuts, at the price of decimating our social services."
Vermont Building Trades and IBEW Local 300 President Tim LaBombard pointed out the linkage, especially since Vermont GOP Gov. Phil Scott welcomed Walker to Burlington, the state's largest city. Signs at the protest linked the two. "Scott Walker's invitation to Vermont from the state GOP speaks volumes to working Vermonters!! Be assured we will reply to the threat!!" LaBombard declared.