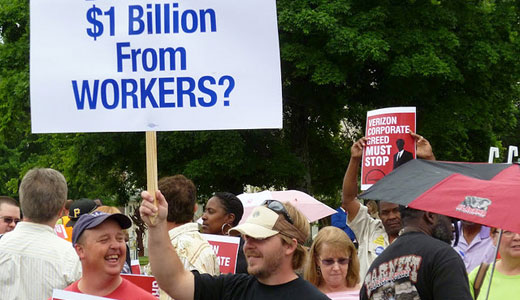 HUNTSVILLE, Ala. – Union members and their allies raised the roof at the corporation's annual shareholder meeting here yesterday, bringing the proceedings to a halt at least six separate times.
"Shame on you!" and "People before profits!" they chanted as security guards closed in and led them out of the meeting hall. Each time the workers barnstormed the meeting many of the shareholders in the crowd rose to their feet in applause.
The wild meeting came as the corporation is in negotiations with the Communications Workers of America and the Electrical Workers (IBEW).
In those negotiations Verizon, which raked in $22.5 billion in profits last year, is demanding givebacks of as much as $20,000 per worker, while more than tripling the compensation of Lowell McClellan, its CEO, from $7.2 million to $23.1 million.
(story continues after video)
Verizon is the 16th largest corporation in the U.S. and pulled in $100 billion in profits over the last four years. Its top five executives were paid $283 million during the same period, earning the company the name "Verigreedy," which workers yelled out repeatedly yesterday each time they stormed the shareholder meeting.
Patrick Wells, a Verizon retiree, told labor reporters yesterday that "Verizon has broken the promises made that if you work hard, follow the rules and pay your taxes, then you'll have a good retirement."
"Verizon is on the run from their own workers, and thought that by taking the meeting to Alabama, a 'right-to-work' state, they could avoid embarrassment," said Alabama AFL-CIO President Al Henley, "but they misjudged our sense of solidarity here in the south."
Addressing thousands massed outside the Verizon shareholder meeting, Ron Collins, CWA's chief of staff, declared: "Enough of the attacks on middle-class jobs while paying executives obscene salaries and dodging taxes.
"Today we see new meaning in the Alabama state motto that we dare defend our rights," said Scott Douglas, executive director of the Greater Birmingham Ministries, as he spoke to the crowds.
"This is an issue of fairness," said Sarita Gupta, director of Jobs With Justice. Gupta noted that with $23 million per year in compensation, Verizon's CEO makes 600 times more than the average worker at the company.
People demonstrating at the shareholders meeting came by the busload from all over the South including Florida, New Orleans, Mississippi, Birmingham, Atlanta and Nashville.
Among them were members of unions, Jobs with Justice, Occupy Huntsville, Occupy Birmingham and the Student Labor Action Project.
Students who came from Orlando slept at the local Plumbers and Pipefitters Union Hall.
While the events were taking place at the shareholder's meeting there were support rallies in 15 cities, including Philadelphia, Minneapolis, Boston, Portland, Miami and Orlando.
Photo: Demonstration in Huntsville, Alabama. Communications Workers of America // CC 2.0
This article has been edited to correct an error in the original figures.