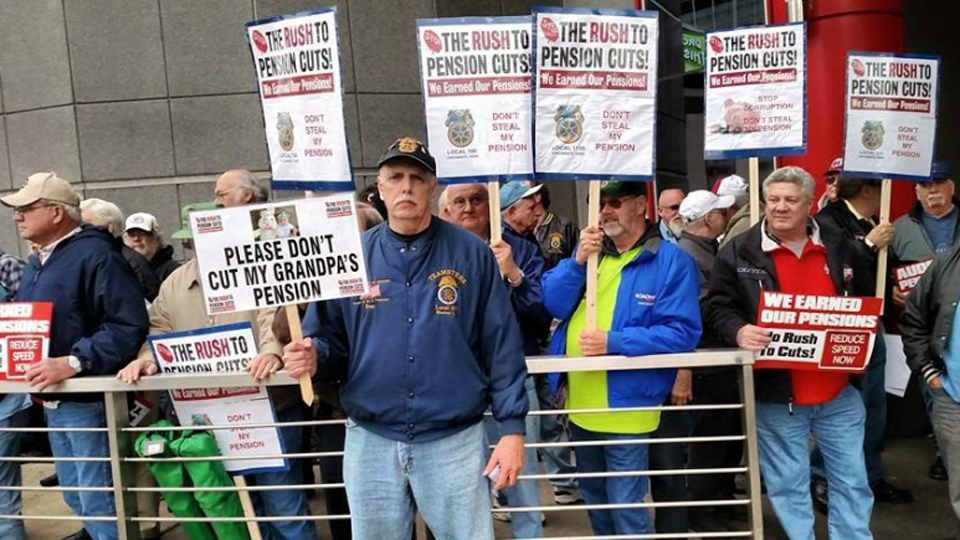 (PAI and Workday Minnesota) — The Teamsters, and many other unions, held rallies across the nation this week in support of a bill introduced in the House and Senate that would guarantee that workers' pensions are there when they need it
The new bill would restore the financial health of multi-employer pension plans, which are common in construction and other industries where workers are employed by many different contractors.
Sen. Bernie Sanders, Ind-Vt. who also introduced the bill, said it could save the pensions of up to 10 million workers the multi-employer plans cover.
Called the Keep Our Pension Promises Act, Sanders introduced the measure last year as well. Rep. Marcy Kaptur, D-Ohio, has introduced a companion bill in the House.
"We have got to send a very loud and clear message to the Republican leadership in Congress and the president of the United States," Sanders said in a statement. "When a promise is made to the working people of this country with respect to their pensions and retiree health benefits, that promise cannot be broken. If Congress could bailout Wall Street and foreign banks throughout the world, we certainly can protect the pension benefits of American workers."
To show support for the measure, members of Minnesota Pension Rights and of the Teamsters—whose multi-employer Central States Pension Fund faces insolvency—organized a rally at the state capitol in St. Paul. It coincided with similar events nationwide and a news conference with Sanders, Sen. Al Franken, DFL-Minn., Machinists President Bob Martinez and several others.
As an actor and screen writer, Franken knows what it is like to be in a multi-employer pension plan.
"These agreements should mean something," Franken said. "That's all we're talking about here – live up to your agreement … If you care about the working men and women of this country, then you will want them to have secure retirements and that means honoring their pensions."
Martinez said at the D.C. news conference that "Too many Americans have already had their earned retirements ripped away from them through no fault of their own. Where I'm from in Texas, we call that highway robbery."
Besides the Americans covered by multiemployer pension plans, 30 million more are in single-employer pensions. The Pension Benefit Guaranty Corporation oversees and insures both.
In 2014, Congress changed the rules, allowing struggling pension plans to cut workers' promised benefits now, with approval from the U.S. Treasury Department, to keep the plans solvent later. Some of the 400,000 workers and retirees covered by the Teamsters Central States Pension Fund faced cuts of 50 percent or more. Some 18,000 affected Teamsters live in Minnesota.
Treasury rejected the planned Central States cuts. Retirees depending on that plan have been spared — for now. But the long-term future of the Teamsters' benefits remains in doubt. Treasury has also rejected several other multi-employer plans who wanted to cut present benefits to preserve future solvency. It called their proposals inadequate.
But it approved cutting the pensions for beneficiaries of Ironworkers Local 17 in Cleveland. Two-thirds of voters there agreed to cut their present benefits in order to keep the plan solvent beyond 2024. The plan covers 1,938 people, and just under half voted, the union said.
The Keep Our Pension Promises Act would boost funding for the PBGC so it can keep the promises made to pensioners, by closing two tax loopholes used by the wealthiest Americans. It is currently the only legislative solution to the multiemployer pension crisis, Franken's office said.
Participants at the rally in St. Paul welcomed the federal legislation. U.S. Reps. Keith Ellison, Rick Nolan and Tim Walz, all DFL-Minn., joined them.
"It's something you negotiated on in good faith, with the assumption and the belief that it would be there when you needed it," Walz, a union teacher, said. "Keep in mind – that bailout that happened on Wall Street put the pressure on these pensions. While we were there as taxpayers to ensure our financial system was supported, we need to be there to make sure our workers are supported."
Ellison urged people to keep up the heat, saying action "will send a signal throughout Minnesota and the United States that you cannot mess around with people's pensions that they have worked for their whole life."
Nolan said the threat to worker pensions is yet another example of "a system that is rigged to help the few at the expense of the many. It calls and begs and demands for change!"
The three, along with Rep. Betty McCollum and Sen. Amy Klobuchar, both DFL-Minn., who could not attend the rally, pledged their support for the Keep Our Pension Promises Act. Other backers include Sens. Claire McCaskill, D-Mo., Tammy Baldwin, D-Wis., and Sherrod Brown, D-Ohio, Reps. Marcy Kaptur and Tim Ryan, both D-Ohio and Debbie Dingell, D-Mich., and both Democratic U.S. Senators from Michigan and Rhode Island.
"I will fight every day to defend retirees. No matter where retirees draw their retirement, whether it is a pension, a 401(k) or Social Security, Americans deserve financial stability and security in their older years," Kaptur said at the D.C. press conference.
"A secure retirement is a central pillar of economic security for our working class. The Keep Our Pensions Promise Act ends a loophole and tax break for the wealthy so we can protect the retirement security families have worked for, planned for and depend on," Baldwin added there.