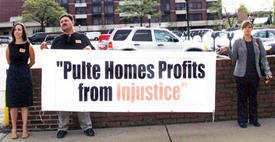 BIRMINGHAM, Mich. — Led by several Latino construction workers from the Southwest and by Robert Masciola of the national AFL-CIO, an informational rally was held outside of the shareholders meeting of Pulte Homes, Inc., at the Community House in this upscale suburb of Detroit, May 10.
Among those present were Saundra Williams, president of the Detroit Metropolitan AFL-CIO, representing 300,000 workers, and Brenda Moon, also from the national AFL-CIO. Representatives of the Plumbers Union and the Operating Engineers joined them.
The rally was called by the "Building Justice" organizing campaign that involves the Painters union, the Sheet Metal Workers union and Roofers Local 135.
Pulte Homes is the top-ranked U.S. homebuilder. It is on the Fortune 500 list of America's largest corporations, moving up 34 points to number 147 in the 2006 rankings.
In the midst of a national turndown in the U.S. housing market, Pulte still raked in $687 million in 2006. However, workers on Pulte job sites regularly report dangerous working conditions, pressure to work too quickly and to bypass recognized safety precautions, substandard wages, lack of vacation and sick days, and lack of affordable family health care.
In 2006, Pulte's chairman/
CEO got a pay boost of nearly 12 percent. That year the total compensation for the company's top five officers was $46.9 million.
One Mexican American woman worker spoke about how workers at various Pulte work sites wanted to fill up their water jugs at the on-site Pulte office, but were told the water was only for those who work in the office.
A business agent from the Sheet Metal Workers, who is also a Pulte stockholder, attempted to enter the meeting but was grabbed by one of the private security goons hired by Pulte. The police arrested the guard, and he was charged with misdemeanor battery.