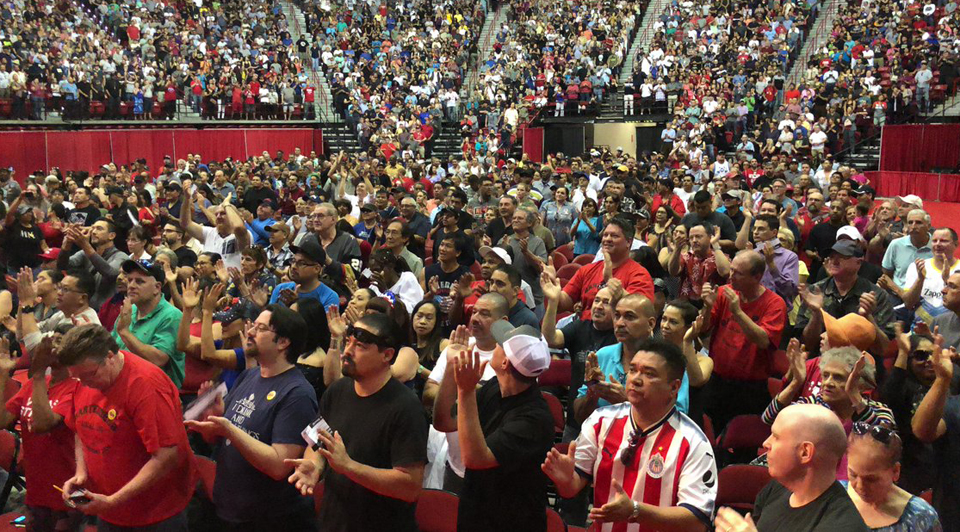 LAS VEGAS—Las Vegas casino owners' threats to subcontract or automate thousands of workers' jobs – among other issues — forced the workers, employed by Unite Here Locals 226 and 165, to vote almost unanimously to authorize a strike if bargainers fail to agree on a new pact by June 1.
If 50,000 workers, who toil at 34 big hotels on the Las Vegas strip and downtown, must walk out, it would be the union's largest strike in decades. The May 23 vote at the Thomas and Mack Center, a basketball arena, drew 25,000 members, who authorized the strike by a 99 percent-1 percent margin.
"We don't want to go on strike, but we will if we have to," said union Communications Director Bethany Khan. "The companies are more profitable than ever, because of our hard work, and the workers want to share in that success for their families."
The two locals represent culinary and other hotel workers (Local 226) and bartenders (Local 165). The other workers – at resorts such as MGM Grand, Caesars Palace, Bally's, Circus Circus and New York New York — include guest room attendants, cocktail servers, food servers, porters, bellmen, cooks, and kitchen workers. Members of the two locals, Unite Here's and Nevada's biggest, are women (55 percent), members of minorities (54 percent), or both.
"A strike is a last resort. We want to come to an agreement, but the union and workers are preparing for a citywide strike if contracts are not settled by June 1," said Geoconda Argüello-Kline, Local 226's Secretary-Treasurer. Several hotels have pacts that run beyond June 1.
"We support innovations that improve jobs, but we oppose automation when it only destroys jobs. Our industry must innovate without losing the human touch. That's why employers should work with us to stay strong, fair, and competitive," Argüello-Kline added.
If the casinos force the workers to walk, it would be the largest strike in Las Vegas in 34 years. The last long strike, settled 20 years ago, led to unionization of – and the sale of – the Frontier Casino. That drew massive labor-wide support. That walkout lasted seven years and nobody ever crossed Unite Here's picket line.
Chad Neanover, a prep cook at the Margaritaville, told the union he "voted yes to go on strike to ensure my job isn't outsourced to a robot. We know technology is coming, but workers shouldn't be pushed out or left behind. Casino companies should ensure technology is harnessed to improve the quality and safety in the workplace, not as a way to completely eliminate our jobs."
"I don't want to go on strike, but I will. The company is more profitable than ever because of the hard work we do, and I'm going to keep fighting to make sure we have a fair share of that success," added MGM Resorts International guest room attendant Adela Montes de Oca.
Besides automation and subcontracting, other top issues include more job security for members, workplace safety, measures to curb and prevent sexual harassment and the casinos' attitude towards protecting immigrants. Las Vegas has declared itself a "sanctuary city," incurring the ire of the GOP Trump administration. GOP state lawmakers are trying to put a initiative on the November ballot to ban all sanctuary cities in the state.
"In addition, the union's economic proposal seeks to provide workers a fair share of the employers' enormous anticipated cash flows and Trump tax windfalls," its statement says.
At MGM Resorts International alone, the Trump tax cut for business and the rich gave the chain's hotels $1.6 billion, the union pointed out in early bargaining. MGM bosses sent $580 million to shareholders, while pocketing the rest. Negotiations started in February.
Unite Here also asked other Nevada locals, elected officials, political candidates and tourists not to support the hotels and casinos in case the workers have to walk on or after June 1. "In event of a strike, please do not cross picket lines," its announcement says.
If the strike gets called that day, another union, the National Hockey League Players Association, will face a dilemma. The Stanley Cup title playoffs – hockey's championship series – will start in Las Vegas three days before, with the hometown Golden Knights as hosts.
A call to the NHLPA about what their members would do was not returned as of 5 pm on May 23. But Khan expects no problems. "We haven't contacted them yet, but we will," she said of the NHLPA. "We're sure the players, who are union members themselves, will be in solidarity with us."