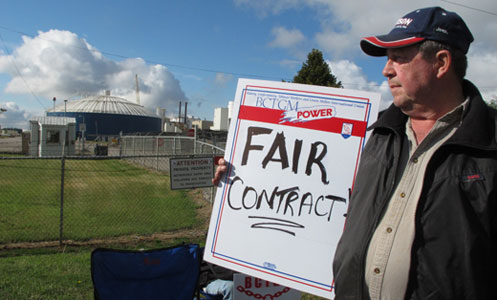 EAST GRAND FORKS, N.D. – Workers at American Crystal Sugar's seven plants in Minnesota, North Dakota and Iowa rejected, by a nine to one margin in a Nov. 1 vote, the company's latest demands. The company is continuing a lockout of 1,300 employees that it began three months ago after the union workforce turned thumbs down then on a concessionary contract workers say would have destroyed job security.
The union, Local 167G of the Bakery, Confectionery, Tobacco Workers and Grain Millers, said the latest company offer was almost identical to the offer workers rejected three months ago.
"If company executives were serious about getting us back to work, they would return to the bargaining table immediately with real compromises, not just a repackaged version of a contract that has now been rejected twice, Local 167G President John Riskey said. "It' time for a contract that benefits workers, the company, the growers, and the community."
The company, which is one of the nation's largest sugar beet producers, operates plants in what is considered a prime sugar beet growing region, the Red River Valley.
American Crystal locked its workers out three months ago after they refused to accept a new health care plan that cut benefits and raised premiums and a proposal the union said would allow the company to use subcontractors almost at will.
"With this vote our members sent a clear message to the company," said Riskey. "We want to work, but we will not accept a contract that puts our jobs and our entire community at risk."
Minnesota AFL-CIO President Shar Knutson said the lockout harms not only the workers but endangers national legislative support for sugar beet growers, who are protected by U.S. tariffs against cheap foreign-grown beet sugar.
The AFL-CIO in Minnesota is arguing that the company's bad treatment of its workers will make it difficult for organized labor, on a national level, to get behind and support a program of continued protection for the industry. "Labor-friendly members of Congress who come from non-sugar producing areas," Knutson warned, "will have a hard time supporting an industry that is treating workers as poorly as American Crystal is right now."
"Without the sugar tariffs in place," Knutson said, "Red River Valley beet sugar will longer will be able to compete with cheap imports. Even if American Crystal cuts its labor cost to zero, imports still would be cheaper."
Many workers believe the company has locked them out in order to take advantage of the nationwide attacks on unions.
"Contracts have been renewed for 30 years and there were no strikes at all during those years," Tony St. Michel, the assistant head steward at the Moorhead, Minn. Plant, told the PW in August. "The sugar beet growers are making plenty of money; the company is piling up big profits. The only reason they're doing this is they figure they can take advantage of the big gang-up on unions. Why not try it now and see if we can kill the union, they figure."
Although the company offered what it called a 17 percent salary hike over five years, workers say any increase in wages, which have not been raised for more than seven years, would be wiped out by the new contract they have now rejected twice. The nine to one margin against it this week is the same margin by which they first rejected the contract last July.
Scabs are on the job at all seven facilities and have been since almost immediately after the lockout began.
"The company planned this all along," said St. Michel, who has been in the union for 30 years. He said American Crystal placed ads for replacement workers more than a year ago and that it sent managers into the plant to closely observe what workers do on a daily basis. "They shadowed us and compiled data on everything we did so they could get their replacement workers ready," he said.
Photo: Outside an American Crystal Sugar plant in Moorhead, Minn., Sept. 2. (Dave Kolpack/AP)