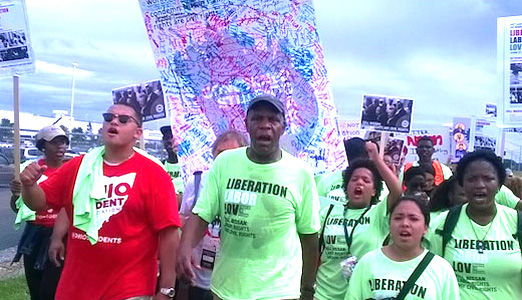 Stepping off the stage at Freedom 50, a conference honoring the 1964 Freedom Summer and training young activists for today's struggles, held at Tougaloo College in Jackson, Miss., June 25-29, Danny Glover found a few minutes to sit down. Glover, a celebrated activist and actor in the mold of Paul Robeson, seems as fond of his adoring fans as they are of him. Sitting on folding chairs in the hallway of white painted cinder blocks between the college gym and the bathrooms, Glover often stops to shake a passing young man's hand, or put his arm around a gray-haired woman for a picture.
PW Mr. Glover, thank you so much for talking with me today. Do you mind if I record this interview on my phone so I don't have to write everything down?
GLOVER No, that is fine. (Slaps hand of a passing young man.)
PW OK, my first question is, why did you become involved in the Nissan workers' struggle?
GLOVER Well first of all, I have been involved with issues about labor for a great deal of my life. I come out of a union family. My mother and my father were very much involved in organizing the union, and as the demographics changed in the U.S. Post Office in the late '40s and early '50s, I was witness to that. So the union was a very important part of my life. So when I came down here and spoke with Nissan workers, exactly two years ago, after talking to them they wanted me to be part of their movement to win the right to get to vote to get a union.
He leans over briefly, and smiles, to have his picture taken with a woman wearing a white long sleeve shirt who bounces out of the seat as soon as the flash goes off.
PW So what is unique about this campaign?
GLOVER Well I don't know if I want to characterize it as unique. Part of what we see is that the issue of collective bargaining is at risk, and has been at risk in the private sector and the public sector as well. Like Martin Luther King said, the best anti-poverty program he knows of is a union, and I've seen that from my own experience.
A young man 12 years old sits down in the open chair next to Glover and shakes his hand. While multiple cameras flash, Glover teases with him and his 13-year-old classmate leaning against the wall.
PW And lastly, how do you see the significance of tying in this rally for Nissan workers with Freedom Summer?
GLOVER Well one of the things that I think is important about this particular rally is that you see workers' rights as the same as civil rights. These students are looking at the role they play as citizens and as activists in the 21st century. They are building on the work that was done previous to them, and that continues to be done. I think the rally is building a support mechanism for these workers, and that is what we have been doing around the country, in New Orleans, wherever we've been, even in South Africa – we have drawn attention to these workers' struggle. Bringing attention to the plight of workers around the world, it is no longer an issue of workers in any particular nation-state. It is the issue of workers around the world – as long as we build this coalition, whether it is in South Africa, or in Brazil, or with unions in Germany, wherever we are, workers are crossing national lines and I think that is what is important.
Photo: Danny Glover marches with students to deliver petitions to Nissan management in Canton, Miss. James Raines/PW