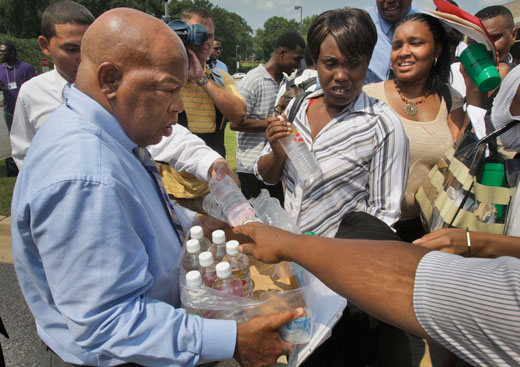 WASHINGTON – A panhandler in New York's subways had worked for years as a union painter and carpenter before he was reduced, by job cuts, to begging for a living.
Some of the children at a public school in Cincinnati show up for class hungry every single day. Teachers at the school, who have not had a pay raise in five years, pool their own money to feed these kids.
Some 300 people at a national symposium on Jobs, Justice, and the American Dream heard these stories here this morning while tens of thousands watched it live, over the Internet. The event, sponsored by the AFL-CIO and the King Center, took place just two days before the dedication of the Martin Luther King Jr. memorial on the National Mall [now postponed due to Hurricane Irene].
Devon Lomax, a member of the Painters and Allied Trades District Council 9 in New York told the gathering about how he hasn't had a job for more than a year and how his co-worker had lost his home and ended up begging in the subways.
Katie Hofman, one of the Ohio teachers chipping in to buy food for hungry kids, told the gathering also about widespread homelessness among her students.
AFL-CIO President Richard Trumka said King's vision was more than ending racism. He said that King saw that goal as part of a larger struggle for human dignity, "a larger struggle centered on economic justice.
"The tragedy of American history in our lifetime, while we have defeated legal segregation and driven open racism from our public life," said Trumka, "is that we live in a country less economically equal than in Dr. King's time. Jobs are scarcer, it's harder to go to college and the right to a voice on the job has been largely taken away from America's workers."
All the speakers agreed that 48 years after Martin Luther King Jr. delivered the famous "I Have a Dream" speech, at the 1963 March on Washington for Jobs and Freedom, the nation is still far from having achieved the slain civil rights leader's vision of a nation where everyone who wants to work has a good job, and the freedom to achieve to the best of his or her abilities.
"We're here to do the work that must be done to represent what Martin Luther King stood for," said Martin Luther King III, president of the King Center.
Rep. John Lewis, D, Ga., the last living person who spoke at the 1963 rally, said, "To get Americans back to work will require people to join together, make some noise, and get in trouble again, by taking to the streets and demanding that Congress approve the money for a massive national jobs program."
Sarita Gupta, executive director of Jobs with Justice, said organizing and mobilizing were critical to the building of a movement that will realize King's dream.
Hofman said she was encouraged because she sees "real passion for change." She talked about a teacher who ran the 100 miles between Cincinnati and Columbus, Ohio to deliver petitions in the referendum fight to overturn Republican Gov. John Kasich's law that killed collective bargaining rights.
Bruce Western, a public policy professor at Harvard, said unions were the key to creating the kinds of jobs needed to restore the nation's economy. "The decline [in the number] of unions coincides with the decline in good-paying jobs and the increase in job insecurity," he said.
In her call for the creation of good jobs, AFL-CIO Executive Vice President Arlene Holt Baker mentioned the earthquake that rattled Washington, "Just as our nation's capital literally shook this week, we hope that discussions like the one we are having today will shake our elected officials to move with boldness and a fierce urgency of now."