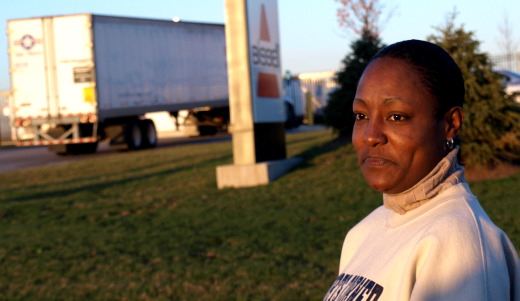 CHICAGO – Cindy Marble, 40, is a single mother of four who lives in Crest Hill, just southwest of here. For seven months Marble worked at the Elwood, Ill.-based Bissell Homecare warehouse in Will County. On Nov. 5, Marble and several of her co-workers were fired without any warning, after some of them had trained their replacements.
"I was fired because of my decision to go along with the union," Marble said in a phone interview Nov. 12.
On Nov. 11, Marble, her co-workers and supporters picketed in front of the warehouse to protest the firings. They carried signs that read, "Stop Bissell's dirty work."
The Bissell warehouse, managed by Maersk Logistics, opened in January this year and is part of the expanding distribution industry in Chicago's suburbs. It supplies Bissell vacuum cleaners to big box retailers including Kohl's, Wal-Mart and Target.
Marble said she and her co-workers were fired en masse after they filed legal complaints over many violations of state and federal law at the warehouse. In addition the workers notified management last month that they had decided to form a union with the United Electrical, Radio and Machine Workers of America (UE).
There were a lot of unfair conditions, said Marble. The workers had no paid sick days and many of their wages were arbitrarily slashed. And none of them had any say in the matter, she said.
Marble said one of her co-workers was eight months pregnant and no provisions were made for her well-being. She was expected to lift boxes of vacuum cleaners over her head, said Marble.
"So I spoke up for her and the supervisor said she needed to bring in a doctor's note saying she couldn't lift the heavy boxes," Marble said. "It was too much for her." The pregnant woman too was eventually fired.
According to UE the warehouse has been using an unlicensed temporary employment agency, Roadlink Workforce Solutions, that has repeatedly violated many state and federal laws, including paying some workers less than minimum wage. Workers also cite racial discrimination, unpaid wages and threats of retaliation for bringing these issues to management's attention.
The workers have complained that Bissell Homecare, via their management company and temporary employment provider, violated the Fair Labor Standards Act, which governs minimum wage; the Day Labor And Temporary Services Act, a state law that regulates temporary employment agencies; the National Labor Relations Act, which governs workers' right to association and organization; and the Civil Rights Act, which prohibits discrimination based on race.
The workers and the union say Bissell is to blame because it hired the two firms in the first place.
Bissell says none of its employees work in the warehouse. In a press release Bissell claimed it "is concerned about any allegations of improper labor practices and we have advised Maersk that Bissell expects full compliance with all appropriate legal and safety standards in the workplace." Bissell said the company is going to end its contract with Roadlink, "which is apparently at the root of the dispute that has arisen here."
Abe Mwaura, project coordinator for a workers rights group called Warehouse Workers for Justice, said the workers came to his group for help.
After the workers decided to form a union many of them received threats, he said. The day after the workers told management to recognize their union, two of the leaders were immediately fired, said Mwaura. About half of the others were later let go, he said.
Mwaura said that by the end of the month a total of 65 workers will be left without a job, after they train their replacements. As of Nov. 12, 20 of them had been let go, he said.
"It's very clear to us and the workers this was an act of retaliation for blowing the whistle on the many violations of the law," said Mwaura. "We feel very strongly all sorts of discrimination issues were going on here," he said.
Mwaura said the workers were in the process of filing for a union election and that 80 percent of the expected and fired workers were in support of forming one with UE.
"We feel that Bissell needs to beheld accountable because it's their vacuum cleaners that these workers are producing," he said. "They are joint employers and they along with the other two agencies are jointly at fault."
Bissell hired these firms, it owns the warehouse and it is jointly at fault for allowing these abuses to go on in its supply chain, said Mwaura.
"We want them to follow the law and put these people back to work. These are workers who built the wealth of this multinational company," he said. For them to take no responsibility is unacceptable, said Mwaura. Labor laws were violated, workers were fired with no warning and none of this is legal, he said.
As the holiday season approaches, Marble said she worries about her children at home.
She said she could understand that Bissell thought things were fine at the warehouse. But now that they know what's really going on, they need to be held responsible and take positive steps to correct the problem.
"Their families are not better than ours. We just want to be able to work, make decent wages and provide for our families," she said. "We want the same things they want. We're not beneath them."
Marble hopes Bissell will pressure Maersk to abide by the law and reinstate her and her co-workers.
"We just want to go back to work and be treated with respect without being harassed," said Marble. "That's all we're looking for – some justice."
Photo: Cindy Marble stands in front of the warehouse as a truck arrives to pick up vacuum cleaners. (www.warehouseworker.org)