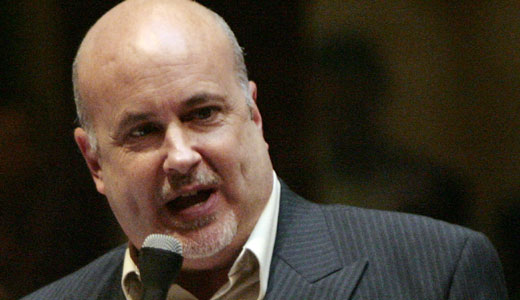 MADISON, Wis. – Mahlon Mitchell isn't the only unionist seeking high political office this year in the electoral turmoil that's called the state of Wisconsin. Meet Mark Pocan, a Painter running for Congress.
And unlike Mitchell, the Firefighters' state president who seeks the lieutenant governorship in the Jun. 5 special election there, Pocan, a member of Local 770 and a state legislator, appears to be a favorite for victory: He seeks an open U.S. House seat this fall in the Democratic-leaning district centered around the state capital of Madison.
Pocan introduced himself and his candidacy to his fellow Building and Construction Trades Department members on May 1 during the group's 3,000-person legislative conference in Washington. He got a rousing reception and support pledges.
The enthusiasm for Pocan was similar to that at the IAFF legislative conference two months before for Mitchell. The charismatic, fast-talking Firefighter is the sole Democratic candidate for lieutenant governor in the Badger State, while three prominent politicians vie in a May 8 primary for the gubernatorial nod in the special recall election against GOP Gov. Scott Walker and his running mate.
"We stood for the middle class and [Walker] stood with the Koch brothers and the corporate interests," Pocan said of the governor, whose law killing collective bargaining for 200,000 state and local workers brought tens of thousands of unionists and non-unionists onto Madison's capitol grounds in constant protests and occupation.
"We knew that many companies in the private sector were waiting to do the same thing to us," had Walker's law been routinely accepted, Pocan added. "They felt, 'Hell, if the governor can bust unions, why can't we?' But in 35 days, the working families of Wisconsin are going to look Scott Walker in the eye and hand him a pink slip. They'll tell him, 'You go back to the Koch brothers and ask for a job,'" Pocan said, to cheers.
Opinion polls show Wisconsin is almost evenly and bitterly divided right down the middle about Walker and his law, which also stripped public sector unions of dues checkoff and forced unions to stand for re-certification yearly – at least until a federal judge in western Wisconsin overturned those two provisions.
If elected, Pocan would be one of only a handful of active unionists in the U.S. House. He rattled off the names of three present building trades members now there: Democrats Bob Brady of Philadelphia, Linda Sanchez of Southern California and Steve Lynch of Boston. Pocan named two more Democrats: Teamster Gary McDowell in Michigan's Upper Peninsula, and fellow Painter Elizabeth Crowley in New York City, who seek open seats. Rep. Mike Michaud, D-Maine, an industrial union member whom Pocan did not mention, is also seeking re-election.
Photo: Mark Pocan speaks during a debate on the state budget. M.P. King/AP