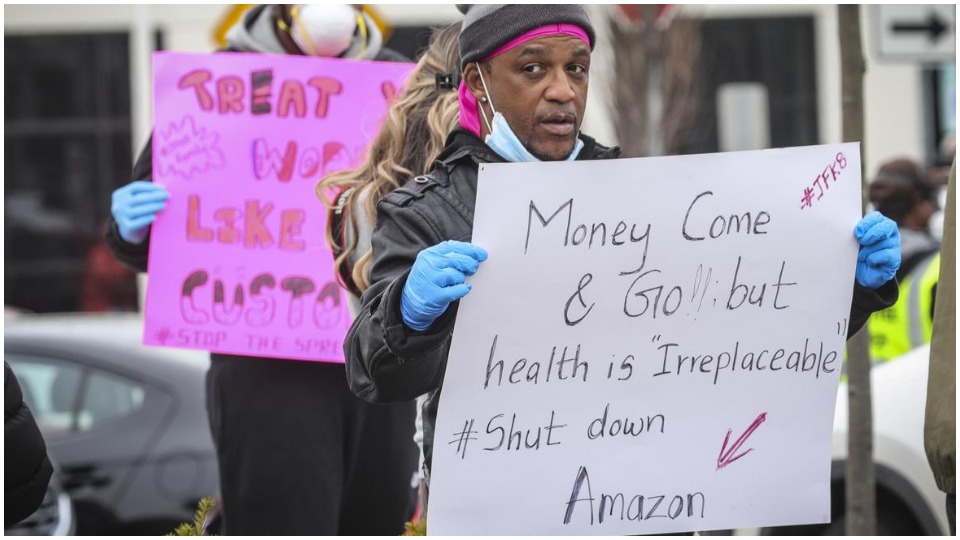 WASHINGTON—From Sara Nelson to Alexandria Ocasio-Cortez, from the Economic Policy Institute to the Congressional Progressive Caucus, progressive leaders and groups are hatching ambitious plans for measures they insist should be in the government's next economic stimulus bill to deal with the coronavirus pandemic's impact.
And this time, they declare they won't accept a business-heavy measure such as the $2.2 trillion law the GOP Senate majority forced on Congress in mid-March—even if Democrats and progressives won notable changes in it, from tough oversight of its $500 billion pro-business "slush fund" to extended and expanded jobless benefits for individuals for four months, with few if any questions asked.
Lawmakers of both parties agree Congress will have to further stimulate the U.S. economy to try to keep it from plunging into a 1930s-style Depression as a result of the mass shuttering of much of U.S. commerce in order to cut down if not completely end "community spread" of the coronavirus.
There's no question of the danger of such community spread. The number of coronavirus victims was at least 160,700 nationwide and there were at least 3,100 deaths as of the morning of March 31. The economic pain forced so many layoffs that the number of new claims for jobless benefits skyrocketed to a record 3.28 million for the week ending March 21, up 1,059% in one week.
And lack of protective equipment among front-line workers who must constantly battle the threat of getting sick led to job actions. They include a walkout by non-union Amazon warehouse workers in New York City, protests and demonstrations by unionized nurses nationwide, and a strike by 50 non-union Purdue poultry plant workers in rural Georgia. Amazon's response: It fired, in all likelihood illegally, the walkout leader.
The latest job action was a mass "sick call-in" by Whole Foods workers on March 31 to demand protective gear such as N95 masks, gloves, and sanitizers. "By fighting for their rights as workers, they're fighting for workers and families across the country," said Sen. Elizabeth Warren, D-Mass., the day before.
"By fighting for basic safety, they're helping to stop this crisis," she added. Warren urged shoppers to, in solidarity, not cross Whole Foods picket lines, and if they must buy groceries, do so elsewhere.
"Whatever plan we put together must be totally focused on workers," Association of Flight Attendants-CWA President Nelson declared in a teleconference with thousands of members of the Working Families Party on March 29. "We want this from the ground up."
"We don't need people on the unemployment lines, but to keep people in their jobs," she said.
"Working people must have the income, healthy food, safe shelter and child care, workplace leave, and cost-free medical testing and treatment that they need right now," Sen. Bernie Sanders, Ind-Vt., said in a statement after the stimulus bill passed.
The next bill, he added, should focus on the needs of "seniors, children, community members with compromised immune systems and chronic illness, those experiencing or at risk of homelessness, as well as students, homeowners and renters, workers, and small-business owners."
"Our community's reality" in Queens, N.Y., "is this country's future if we don't do anything," Rep. Ocasio-Cortez (D) warned during the debate on the $2.2 trillion stimulus law. She pointed out her district includes the hospital in Queens where 13 coronavirus victims died in one night. New York leads the nation in both positive coronavirus identifications and in deaths.
And while Ocasio-Cortez did not mention it, her Facebook page posted a photo of a long line of people awaiting testing and treatment at the hospital, stretching out the emergency room door, around the corner, down the length of the hospital parking lot, and beyond.
"Hospital workers do not have protective equipment. We don't have the necessary ventilators. What did the Senate (Republican) majority fight for? One of the largest corporate bailouts with as few strings as possible in American history. Shameful," the congresswoman said.
The next stimulus
But Ocasio-Cortez, like the other progressives in the Democratic-run U.S. House, faced a "take it or leave it" vote on the economic stimulus, so they swallowed hard and voted yes—and went to work on the next one.
So did House Speaker Nancy Pelosi. D-Calif., whose determination in holding the line against the GOP won concessions from the Senate and GOP President Donald Trump. Both initially opposed helping workers as opposed to corporate chieftains.
"Pelosi flew back to D.C., and she did exactly what we wanted her to do for us," said Nelson.
Having won the extended jobless benefits, Pelosi promised the next stimulus bill would have "a further round of direct cash payments" to adults in the U.S. and "an expanded family and medical leave law" for starters. The other progressives are thinking even bigger.
"A couple hundred dollars from @Walmart isn't going to protect workers on the frontline," Rep. Mark Pocan, D-Wis., a Painter and co-chair of the now-influential Congressional Progressive Caucus, tweeted. "From the grocery store to the factory, we need consistent & enforceable federal labor standards to keep all essential workers safe." Working with Rep. Peter DeFazio, D-Ore., Nelson got those standards into the airline section of the stimulus law, she told the Working Families Party.
"It says every single worker in the airline industry—all two million of us—stays on the payroll through Sept. 30," Nelson added. Because 80% of airline workers are unionized, they have other protections, like health insurance and pensions. The other 20% include those who work for aggressively anti-union Delta, which is already cutting workers' jobs and hours.
But Nelson didn't stop with consistent and enforceable labor standards. She said progressives should respond to the coronavirus pandemic and the resulting economic collapse with big ideas.
One would be for Medicare for All, and another would be a "Green New Deal" and jobs to rebuild the nation's infrastructure, including more hospitals and medical centers, plus federal loans to airlines to buy new, cheaper, less-polluting U.S.-made airplanes to replace old fleets, among other ideas.
Such purchases would not only provide U.S. aircraft industry jobs—the Machinists, who represent workers at the biggest aircraft manufacturer, Boeing, have received 13,000 pink slips already—but would help the fight against global warming, Nelson said.
Working Families Party Executive Director Maurice Mitchell said there should be no discrimination in who gets aid from the next stimulus bill. A big sticking point for progressives in the $2.2 trillion plan was that the checks to adults ($1,200 each) and kids ($500) would go to people who filed income tax returns last year, even if they got refunds.
That leaves out the estimated 11 million undocumented people in the U.S., many of whom, such as thousands of Amazon warehouse workers, toil in low-paid hazardous jobs.
"The money should come to you regardless of where you live, what you look like, where you come from, or whom you love," Mitchell said. "This virus doesn't discriminate and neither should we," added Karen Baynes-Dunning, president of the Southern Poverty Law Center, the top tracker of hate groups.
Sanders, a democratic socialist—as is Ocasio-Cortez—used the prospect of the next coronavirus economic stimulus law to argue again that the virus and the crash show the economy should be turned upside down to work for workers, not for the capitalist class. He also campaigned for Medicare for All, his top cause.
"Our current economy, which allows for a grotesque level of income and wealth inequality and forces half of our people to live paycheck to paycheck, must be replaced by an economy that works for all, not just the few. It is unacceptable that tens of millions of Americans, despite working hard at full-time jobs, now find themselves laid off, with nothing in the bank and are terrified as to how they'll be able to feed their kids…In this unprecedented moment, we need to think in an unprecedented way," he said.
"It is clear to more and more Americans that we need to replace our dysfunctional healthcare system with a Medicare for All, single-payer system which not only guarantees health care for every man, woman, and child as a right but has a strong public health component which prepares our country for healthcare crises like the coronavirus. There is no excuse for the wealthiest nation on earth not to be prepared to have adequate test kits for a pandemic, or have the protective masks, gloves, and gowns our medical personnel require," Sanders added.
Sen. Sherrod Brown, D-Ohio, told a March 28 press conference in Columbus that he's already written to the heads of the nation's credit rating agencies asking them to freeze individuals' credit ratings—which can affect everything from whether you get a car loan to whether you get a job—for the duration of the coronavirus pandemic crisis. He also asked the lobbies for debt collectors to stop their members in their tracks, by suspending collections, delaying or dropping court suits, stopping interest charges, and stopping harassment of consumers. Instead, they should offer "to temporarily suspend payments." Left unsaid: If they didn't, Brown, the top Democrat on the Senate Financial Services Committee, would try to legislatively force them to halt.
Brown also revived a plan, sidelined during passage of the legislation, to "help people with their student loan debt" and to use the Defense Production Act, which Trump briefly and half-heartedly invoked, "to support our American manufacturers in their efforts to ramp up medical equipment production." Forcing use of the DPA, too, was in the House bill, but not the Senate version the House had to swallow.
Public health experts published an open letter to health insurers and officials to work together "to make sure lack of insurance and high costs do not become a barrier to testing and treatment." But there are two other barriers to testing and treatment, they said.
One is that low-wage workers know that even if they get sick, they can't afford to take time off from work—and thus endanger others when they go to their jobs. The extended jobless benefits Pelosi mentioned could help with that problem.
The other is "if members of immigrant communities fear they're going to fall into the hands of an ICE officer if they seek treatment, that is a public health problem for all of us. A disease does not care who is undocumented."
The experts, plus Ocasio-Cortez and the ACLU, called for a ban on ICE raids for the duration of the pandemic. The congresswoman wants to abolish ICE altogether. An ICE raids ban was not in the House economic relief bill.
So did the Southern Poverty Law Center. The next economic aid bill, Baynes-Dunning said, should "include much-needed relief for immigrants who are serving on the front lines of this pandemic—stocking groceries, processing our food, cleaning our hospitals, providing care for our most vulnerable—all the while exposing themselves and their families to the coronavirus."
SPLC also suggested releasing people jailed strictly because they can't pay bond—a group that is overwhelmingly African-American and concentrated in red states—and make sure those released have "access to hand washing and other sanitary supplies and adequate health care." Coronavirus deaths have already occurred in several state and federal prisons. Overcrowded conditions in all of them are a risk.
Reuters reported 132 New York City inmates and 104 staffers are ill, as are 89 inmates and nine staffers at Chicago's Cook County Jail, with another 92 inmates there awaiting coronavirus testing. Horrified Rikers Island inmates saw one woman corrections officer start coughing, turn red, and collapse. The inmates also told Reuters they're not being tested or allowed to keep social distancing.
Economic Policy Institute President Thea Lee criticized the huge sum that went to "industry bailouts" in the $2.2 trillion money bill. Even the inspectors general and congressional oversight aren't strong enough "to ensure taxpayer dollars are used to save the jobs and wages of typical workers, rather than to preserve the wealth of shareholders, creditors, and corporate executives," Lee warned. That's because the oversight and the IGs would act after the money was out the door.
"It also egregiously fails to include explicit protections for worker safety during this epidemic in industries seeking federal relief. This proposal also repeats terrible mistakes of the past by not instituting economic-conditions-based triggers that ensure relief and recovery aid continue as long as is needed."
"While the initial Republican proposal had no money for aid to state and local governments, this bill makes $150 billion available—a clear improvement. However, even this aid is insufficient in scale and requires too many bureaucratic hurdles. Future aid packages should dramatically expand state and local fiscal relief and remove unnecessary obstacles in the approval process," Lee added.
A respondent tweeting to Progressive Caucus co-chair Rep. Pramila Jayapal, D-Wash., was even more direct about whether there should be another business bailout in the next economic aid bill.
Jayapal tweeted that "We're already at work on the next package to ensure it includes provisions we fought for but didn't get this time. This is a crisis of epic proportions and we must continue to do everything we can to respond with the scale sufficient to meet the suffering of people across our country."
A woman who called herself "Dodgy Snowflake" replied: "Every dollar should go to individuals & small businesses. Big biz can live off the $1.5TN windfall they got 2yrs ago"—the  GOP tax cut for corporations and the rich.