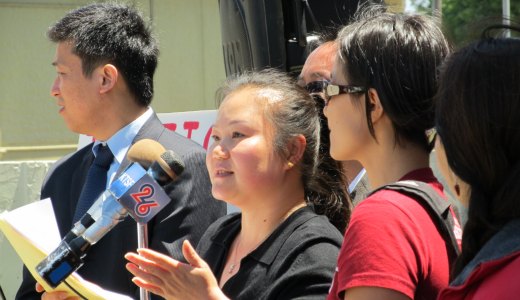 HAYWARD, Calif. – A huge wage-theft case against a San Francisco Bay Area contractor almost reached the finish line May 26. One last chapter must still be written.
Union and community leaders and activists gathered outside the Alameda County Superior Court here for a rally before NBC Contractors owner Monica Ung was scheduled to appear for sentencing in the case.
Ung had been arrested exactly two years ago, and indicted on 48 felony counts of wage theft, perjury and insurance fraud. In a settlement, she was convicted of two felony counts, received a suspended four-year prison sentence and was ordered to pay $1.2 million in restitution to hundreds of workers and to the State of California.
But in the end, the judge put off sentencing until next month, to ensure compensation is handled properly.
NBC Contractors, now bankrupt, was employed on many publicly funded Bay Area projects including city halls, schools, libraries and other public buildings.
Workers, many of them Chinese immigrants who spoke limited English, told investigators they had to sign two time cards – one showing the actual hours they had worked, and the other falsely reporting they had worked fewer hours for the higher "prevailing wage" required by publicly-funded projects.
"It's almost three years that we've been fighting to win justice for the NBC workers," Victor Uno, business manager of International Brotherhood of Electrical Workers Local 595, told the crowd. The IBEW has been at the forefront of the struggle, together with the Alameda Labor and Building Trades Councils, the Asian Pacific American Labor Alliance, and the National Electrical Contractors Association, which employs union labor.
Uno called the day Ung and two associates were arrested "a day in history for all of us who fight for justice."
State Board of Equalization member Betty Yee called the case "probably the most blatant example" of a "$6 billion underground economy problem" in the state. The construction industry accounts for a big portion of that, she said.
Alameda Labor Council head Josie Camacho said it was "a glorious day for workers who are in unions, and especially for workers who are not in unions. They are having their day in court."
The roots of the case go back nearly a decade, Alameda County Building Trades Council head Andreas Cluver said. "Unfortunately, Monica Ung and NBC Contractors are not the exception," he added. The court proceedings "will be a wake-up call," letting other unscrupulous contractors know they cannot get away with it.
Speakers warmly paid tribute to the workers who had the courage to come forward and expose NBC Contractors' wage theft and fraud.
One of them, electrician Chi Wong, thanked supporters and told the crowd to loud applause, "I am very happy today that my greedy boss must pay for what she did."
Speaking in Chinese, Un Un, a member of the San Francisco-based Chinese Progressive Association, said the group's survey last year of Chinatown restaurant workers found that at least half were not even being paid the minimum wage. "This kind of wage theft doesn't just hurt workers – it hurts their families, their communities and the entire economy," she said. "That's why we're campaigning against wage theft, so we can have justice for all."
Before the rally, Cluver said in an interview that cases like that of NBC Contractors underscore the importance of Project Labor Agreements – negotiated collective bargaining agreements covering working conditions on a project or a series of projects. Even when a state has effective enforcement, workers can be afraid to come forward, he said, adding, "The labor movement says, we'll get you a good job, and you can stand up to your employer."
Photo: Chinese Progressive Association member Un Un telling the rally about anti-wage theft campaigns in San Francisco. Marilyn Bechtel/PW