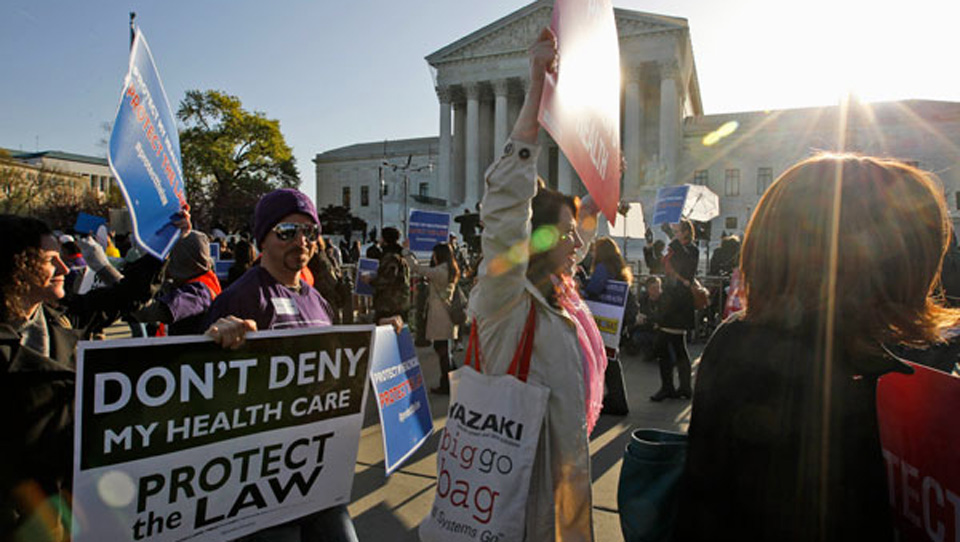 WASHINGTON, DC – As expected, the CBO score for the Better Care Reconciliation Act of 2017, shows it will cause sweeping adverse effects by stranding 22 million Americans without healthcare, and cutting $772 billion in Medicaid funding over 10 years. An earlier analysis of the House repeal bill showed that the effects of gutting Medicaid will also put nearly one million Americans at risk for unemployment.
The Senate bill could compound this job loss. Now healthcare workers across the country are fueling their actions against the shameful bill through calls to key members of Congress, vigils outside senators' state offices, social media storms, and rallies.
This Wednesday, the eve of the expected Senate vote on the healthcare repeal bill, SEIU members are joining partners for a "People's Filibuster" on Capitol Hill to demand Senators vote "no" in the interest of their constituents — the millions of working families, seniors, children, and people with disabilities who rely on Medicaid — rather than the interests of drug and insurance company CEOs. Healthcare workers will share their stories of Americans at risk of losing care — in hospitals, nursing homes or through home care —  as well as their own stories of how Medicaid provides essential healthcare to millions of working people.
SEIU members and allies have held 150 events and made 240,000 calls to Congress since their attempts to take healthcare from working people began.
Below are the voices —Republicans and Democrats —of working people, Medicaid beneficiaries, and frontline healthcare professionals —home care and nursing home workers, and nurses — who have a first hand  perspective of how important Medicaid is for their patients, consumers, and even their own families. They are available for interviews.
George Allen, Home care worker who relies on Medicaid, Las Vegas, Nevada
"I am a diabetic. Last year, my vision became blurry, and I was literally trying to work in the dark because I could not see. I needed a surgery to save my vision, and I was able to have the surgery because of Medicaid. I tell people these are Medicaid eyes. Medicaid saved my eyes." Watch George share his Medicaid story.
Ethel Turner, Nursing home worker who relies on Medicaid, Huntington, West Virginia
"I get emotional whenever I think of what will happen to the residents I care for if Senate Republicans do away with Medicaid. That is why I am fighting for them, and we will all keep fighting for a healthcare system that works for everyone not just millionaires and wealthy CEOs who some members of Congress care more about." Turner traveled to Washington last week to ask Sen. Shelley Moore Capito to take the bill home and explain to voters what is in it. Watch Ethel share her Medicaid story.
Michael Collins, RN, University Medical Center, Las Vegas, Nevada
"It's become increasingly apparent—in Nevada and across the country—that Republican members of Congress do not care about the wellbeing of Americans. If they did, they would have never proposed such a disastrous health care bill that destroys Medicaid, and penalizes people for having pre-existing conditions. They're simply playing politics with people's lives, which is frightening."
Cheryll Athorp, Two-time breast cancer survivor, Ketchikan, Alaska
"I signed up for Primera in the marketplace in 2013. Then I was diagnosed with breast cancer for a second time in January 2014. I had a double mastectomy and chemotherapy. I had to have a $10,000 shot before each chemo treatment because my white blood cell count was so low. This time because I had health insurance, it was a lot less stressful this go around. Even though the second time was more serious, it was easier because I did not have the stress of finances and I was able to focus on getting on well." Last week, Cheryll traveled to Washington to meet with senators Lisa Murkowski (R-AK) and Dan Sullivan (R-AK). Watch Cheryl talk about the need to save Medicaid here.
Becky Wang, Home Care Worker, Mom of severely autistic son who relies on Medicaid; Sterling, Va.
"My son has autism, so affordable healthcare is very important for our family. If our representative is not working to save affordable healthcare and prevent slashes to Medicaid funding the president is proposing, it is going to be a problem for my family."
Lisa Savage, Mother of quadriplegic son who relies on Medicaid, Philadelphia, Pennsylvania
"Brandon's injury devastated our family. He went from being a vibrant, active college student, to being paralyzed from the neck down in the blink of an eye. The last seven years have been hard to say the least, but we are – Brandon is – thriving. But that's only because we have all the resources we need through Medicaid: access to prescription drugs, medical equipment, therapy, and in-home care services. This waiting game, will they repeal the bill or not, has been very stressful for us. If the ACA is repealed and Medicaid is stripped, I don't know how I will take care of my son. This is a very scary time for us."
Richard Dituri, Home Care Worker, Tulare, California
"When I voted for President Trump, I wanted him to improve healthcare. I did not imagine he and Congress would vote to end Medicaid. My consumers need Medicaid to survive. I care for consumers who would not have prescription medicines, doctors' visits, or home care services without Medicaid. And I need Medicaid, too, because I wouldn't have a job without it."
Brenda Lozada, Home care worker who relies on Medicaid, Aurora, Colo.
"I have been a home care worker for 12 years, and not only do my consumers depend on Medicaid to access medical care and life-saving medications, but so does my family. Millions of people rely on Medicaid, but Republicans seem to only want to take care of special interests and wealthy CEOs. I hope they choose to listen to their voters because their voters are certainly watching and listening to them." Last week Lozada attempted to meet with Sen. Cory Gardner (R-Colo.) in his D.C. office to ask him not to vote for a bill that his constituents have not seen. Watch Brenda share her story.
Corey Van Denburgh, Home Care Worker, Anoka, Minnesota
"I am a conservative who believes Americans should have access to healthcare, including Medicaid. My consumers can lead productive lives because they have access to necessary medications and in-home care that they depend on. Many of my party members label Medicaid as an entitlement program, but it is not. It is a program that puts quality care in reach for Minnesotans and all Americans. I agree with conservative principles, but I disagree with House Republicans' efforts to dismantle healthcare in a way that dismantles Medicaid. I do not and cannot support that. We need to improve healthcare and keep Medicaid intact."
Lee Ann Howell, Nursing home LPN, and Mom of two children who rely on Medicaid – Washington, PA
"As a nurse, I can tell you that repealing the Affordable Care Act without a suitable replacement and cuts to Medicaid would dramatically affect the quality of care that I'm able to provide for my patients. It will also affect the care that my 23-year-old son receives. He has a traumatic brain injury, and needs round-the-clock care. My 9-year-old son is autistic and receives weekly treatment. Without Medicaid, I wouldn't be able to afford all the expenses for their coverage, for my family and myself."