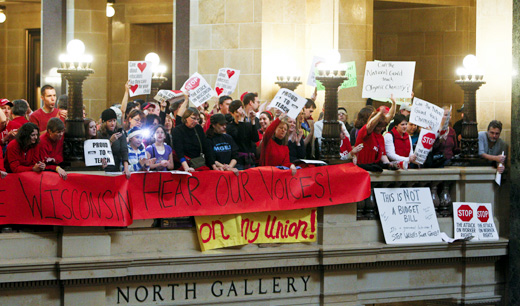 MADISON, Wis. – While 10,000 people continued a four-day occupation of the Wisconsin state Capitol building today, tens of thousands outside chanted their approval when AFL-CIO President Richard Trumka declared: "You are stronger than the governor. You are stronger than his CEO buddies. You are the strongest movement in America."
Politicians like Republican Gov. Scott Walker "want to take away our freedom," Trumka told the roaring, sign-waving crowd.
"We won't give it to you, governor, and you can't take it away from us," Trumka said.
"I've never been in a workers' uprising like this in my life," said a middle-aged woman as everyone around her broke into cheers. Their cheers were for 200 firefighters making their way through the crowds, playing bagpipes and carrying signs that read, simply, "Firefighters for Labor."
The Capitol was completely taken over by the workers, students and families today, the fourth day of the protests. The Republican-controlled state Senate was unable to approve the governor's proposal to kill union bargaining rights for public employees because the Democratic minority remained out of state, at undisclosed locations. The lawmakers said they will stay away until the Republicans take the union-busting measure off the table. (Story continues after slideshow and video of protestors singing The Star Spangled Banner is at the end of the story.)
Right-wing state legislators and governors in other states have been keeping a close eye on Wisconsin because they too would like to weaken organized labor in their states. Among those states are Indiana, Ohio, Michigan, Pennsylvania and New Jersey. But the mass outpouring of rank-and-file workers here may be giving them pause.
The crowd broke into prolonged cheers and chants when Trumka said, "The Michigan governor just announced that he doesn't want to pick a fight." – meaning he will not push anti-collective-bargaining legislation in his state, or not now at least.
Huge sections of the crowd, inside and outside the Capitol, frequently broke into chants of "This is what democracy looks like" and "Recall Walker."
"Union busting is disgusting," chanted a contingent of college and high school students .
Firefighters and law enforcement officers were treated like rock stars whenever people spotted them. Crowds cheered, whistled and yelled their support.
Teachers from all over the state were among the demonstrators, forming the backbone of the protests. There were so many in attendance that the Milwaukee public school district, Wisconsin's largest, had to close down. At least six school districts in the state have had to cancel all classes.
In addition to the firefighters and teachers and other public workers, thousands of private sector workers were in the crowd. There were sheet metal workers, Teamsters union members, steelworkers, electrical workers, meat cutters and many more.
Keith Kemper, a sheet metal worker from Racine, was here with his two sons and their friends. "We've had rallies in Racine where schools were closed yesterday," he said. "It's not about the money. It's about workers' rights. Workers deserve a right to bargain. If you tell a public employee he has to pay more for health care, they deserve the right to bargain over it."
Rick Clayton, a pipe installer, added his voice to the tens of thousands who have been saying the issue driving the protest is the attack on collective bargaining, not money. "If he [Gov. Scott Walker] would delete collective bargaining from the bill, this would be all over," said Clayton."
Among the demonstrators were many who were not union members. They were people like Nick Grobarchik, a freshman at the University of Wisconsin in Madison. His mother teaches in Green Bay, the town in which he used to live. "I'm afraid she'll lose her job," he said. "It's scary, it's not about the budget. It's about attacking unions. We don't know how we will pay these college bills if she loses her job."
A Milwaukee teacher who was among the thousands occupying the inside of the capitol got on her cell phone, urging colleagues back home to come to Madison for Saturday to join their fellow workers, under attack from the far-right. "You've got to come up and bring everybody," she said. "We hear the tea party is making plans to be here and that Fox News is mobilizing. Get up here. Bring everyone out."
Photo: Wisconsin workers pack the rotunda at the state Capitol in Madison, Feb. 17. (AP /Andy Manis)