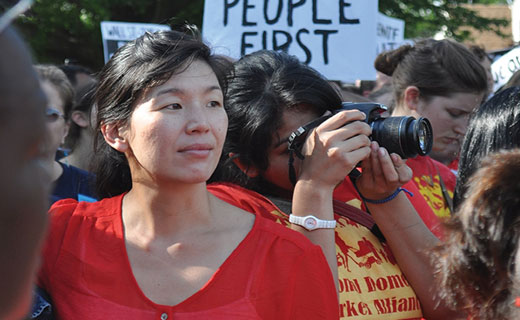 WASHINGTON – Laura Lyn Clark toils more than 100 hours a week, and she gets paid $8.87 per hour – and that's for the first 40 of them.
She doesn't get overtime pay. Her health insurance may come from Medicaid. She hasn't had a vacation. She doesn't know if she'll be able to send her daughter to college. And retirement? Forget it. She hasn't been able to sock money away.
Soon, she will. Clark, you see, is a home health care worker in Virginia. But she's also one of the more than two million such workers who will, under final rules the Obama administration's Labor Department unveiled on Sept. 17, get paid at least the minimum wage – and overtime.
The rules, from Labor Department's Wage and Hour Division, cover home health care aides, personal care aides and certified nursing assistants. They may not cover a minority of home health care workers for the elderly employed by individual families – or a developing "grey market" of workers whom families hire, outside the home health care system, by advertising in newspapers and on Craigslist. But they cover most workers for individual families and all workers employed by agencies and sent to families.
"We do work hard for very little. You can't go far on $8.87 an hour," Clark told a telephone press conference on the rules. Clark loves her work caring for the elderly. "Everything you do for yourself and take for granted, I do for her," Clark says of her employer. But the rules, she said, "will allow workers like me to get what they need."
"If I work overtime, I'll get overtime," added Florida home health care worker Carolyn Gay, who often receives word-of-mouth referrals to new clients through her church. "This has to be advertised and I'll have to tell my clients."
Unions, workers' rights groups and women's rights groups lobbied hard for the new rules, which President Obama first proposed in Dec. 2011. Some 90 percent of the home health care workers are female and half are minorities. Thus, union leaders cheered the unveiling of the Obama Labor Department's final rules.
"Congress intended these hard working individuals, whose labor is often physically and emotionally demanding, have the protection of our nation's most basic labor standards – the right to be paid a minimum wage and receive more for working overtime," AFL-CIO president Richard Trumka said in a statement.
"Yet since 1975, the Labor Department allowed an entire, fast-growing industry to operate outside the law. Today, with the active support of a wide array of advocates, the Obama administration corrected this historic injustice."
"Denying these workers basic wage and hour protections is not right," AFSCME secretary-treasurer Laura Reyes, herself a former home care worker, told the telephone press conference. "This rule corrects long-standing injustice."
Giving the home health care workers "a minimum wage provides a floor and starts to create a pathway out of poverty" for the workers and their families, Ai-Jen Poo, director of the National Domestic Workers Alliance, told the press conference. "It'll transform these jobs into living wage jobs. This is a long-overdue show of respect for women in the workplace and for the important work of supporting seniors and people with disabilities."
Extending the minimum wage and overtime pay is "a major victory" not just for the present home health care workers, but for "the millions more who will be needed" in coming years as the U.S. population ages, noted Sarita Gupta, executive director of Jobs With Justice, in a statement.
"As a care worker I am grateful I will finally have the same protections as other workers do so I can continue to provide the best support to my clients," said Myrla Baldonado, a former home health care worker, now a household worker organizer with Latino Union in Chicago. Her union, along with NDWA, is lobbying the Illinois legislature to enact the Domestic Workers Bill of Rights, modeled on legislation New York already enacted. California's bill of rights is headed for Gov. Jerry Brown, D.
"This is a step forward both for quality home care and for the good jobs America needs," said Service Employees President Mary Kay Henry in a statement. "For too long this vital occupation has been treated as marginal and casual work to be performed under poverty conditions…even as the occupation has become among the fastest growing and most vitally important within the American health care system. Home care work is now the second-fastest growing job in America, but the majority of home care workers earn poverty wages, no benefits, and no healthcare coverage."
To try to change that, SEIU financed and fought a case all the way to the U.S. Supreme Court, arguing the minimum wage law should cover workers such as the home health care aide it represented, the late Evelyn Coke, a Jamaican immigrant then working, via an agency, for an elderly client on Long Island. Ms. Coke and SEIU lost.
"Our hope is the new rule will improve the quality of home care by reducing turnover and increasing the number of committed workers who enter and stay in the home care profession, creating a foundation on which truly quality care can be built," Henry added. She noted that the Labor Department cited that goal as one reason for the new rule: "To encourage home care employers and state health care programs to recruit and retain a broader base of home care workers to meet consumer demand."
One speaker at the telephone press conference, the owner of a small home health care agency in D.C. who pays her workers at least $12.50 an hour, with benefits, confirmed that's true. Her annual workforce turnover, among 20 employees, is 15 percent. Elsewhere, it's 50 percent.
Debra Ness of the National Partnership for Women and Families, which also lobbied for the new rules, called them "a tremendous victory for home care workers, fair pay, quality care and the well-being of our nation. The home care workforce has been grossly undervalued for much too long…Nearly half of home care workers rely on public assistance to make ends meet because of poverty-level wages and few benefits. These regulations will help change this grave injustice and improve working conditions."
As might be expected, Republican business toadies screamed. House Education and the Workforce Committee Chairman John Kline, R-Minn., alleged DOL's new rule "will raise costs and limit access to in-home care."
Starting on Jan. 1, 2015, the new rule will "extend the Fair Labor Standards Act's minimum wage and overtime protections to most direct care workers who provide essential home care assistance," DOL said in a fact sheet. "It will help ensure that individuals and families who rely on the assistance of direct care workers have access to consistent and high quality care from a stable and increasingly professional workforce. Today, direct care workers are, for the most part, not the elder sitters Congress envisioned when it enacted the companionship services exemption (to FLSA) in 1974, but are instead professional caregivers."
Photo: Ai-Jen Poo and the National Domestic Workers Alliance participate in an action. Bekah Mandell