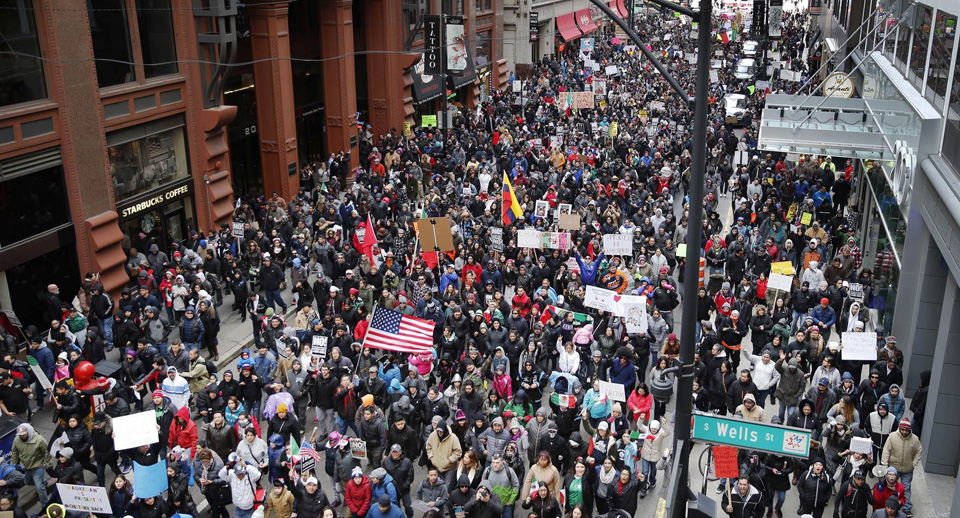 Less than a week after a wave of strikes, rallies and marches under the banner "Day Without An Immigrant"  took place around the country Feb. 16, reports are coming in of backlash toward people who participated in the nationwide walkouts.
Bradley Coatings Inc., based in Nashville, Tenn., confirmed to CNN that 18 employees were terminated for failing to show up Thursday. In Colorado, Jim Serowski, the owner of JVS Masonry, sent out a message via text forewarning people not to participate in the strike, "If you're going to stand up for what you believe in, you have to be willing to pay the price." In Catoosa, Okla., the owner of I-Don't-Care Bar & Grill, Bill McNally, fired several of his line cooks after the day of protest. A number of companies have released public statements in defense of their actions, claiming that the time taken off by their employees has hindered business and violated company policies. On the West Coast, it was reported that six California high school employees publicly ridiculed their students for participating in the protest, saying that their classes were "cleaner" without them and that the overall GPA of the class "went up." The employees have since been placed on administrative leave from their predominantly-Latinx school district.
In Chicago, a similar scene unfolded as Eliseo Real, a community activist, chose to skip work in order to stand in solidarity with his family and friends. Real's worked as a dishwasher at Dusek's, an upscale diner that resides in the predominantly Latinx neighborhood of Pilsen. Dusek's highly-priced dish selections, and craft-beer-centric menu, has earned it a reputation for being part of the gentrification that has  affected the immigrant-dominated neighborhood. Many community members have voiced displeasure with similar businesses steamrolling mom and pop shops out, in what used to be a flourishing Mexican community.
Real's own story is much like that of other residents in the Pilsen community. Real's mother came to the states 42 years ago, and after several attempts, was able to attain naturalized citizenship. She worked in a laundromat in Little Village, another predominantly Latinx area of Chicago- and according to Real has never missed a day of work, even whilst battling cancer. "She used to say, 'If I don't go who's going to pay the rent?'" said Real, who is the youngest of six children.
Watching his mother's struggle was partially what inspired him to take a stand on Feb. 16, along with others across the country. Real understands the value of his mother's labor and the sacrifices she's had to make for her children. He felt it was critical to act in solidarity on behalf of this woman, who not only nurtured and raised him, but who also never had the privilege of being able to take a stand against the establishment that has reaped the benefits of her labor.
The next day he was pulled aside by a managing supervisor and reprimanded for missing his shift. Real said that he told his boss that he opted out of work that day in order to stand in solidarity with immigrant communities, and was told that "That's great for the Mexicans, but you can't do that shit here." Real was then let go from his position.
Real's mentor, Ricardo Gamboa, is an artist and educator, and has known Real's family for several years. He heard about the incident from Real himself and immediately made a public post on Facebook calling Dusek's out on its blatant disregard for the Latino community. He was met by an unexpected influx of messages and responses, many from community members, that used the opportunity to share their experiences of discomfort or hostility and to name Dusek's as a gentrifying force in the neighborhood. A considerable number of people also jumped on to defend the restaurant and its employees. "It lets us know how many people have accepted pervasive ideologies that profits are worth more than people," said Gamboa, "and that being complicit or polite is more important than standing up for others and for what is right."
Dusek's owner went on Facebook to justify the decision, stating that it had nothing to do with Real's decision to support immigrant workers, but solely because he chose to opt out of work without telling them beforehand. "Protests aren't supposed to be convenient," Real responded.
Dusek has since offered Real his job back, but Real declined the offer for fear of going back to a hostile work environment. The young employee is scheduled to start training at another job a business nearby. After everything that has unfolded, Gamboa, who has faced the brunt of the backlash, remains steadfast. He said that occurrences like Real's firing highlights the situation of Mexican immigrants in this country perfectly. "They make this country possible–it could not run or survive without their bodies and labor– and they are still thought of as disposable and treated with diminished dignity."
Real is happy to move on from the incident, although he hopes to continue holding discriminatory management accountable for their decisions. "You know, they [Dusek's] asked what they could do to make it right," said Real, reflecting on the last several days. "They need to hire more people of color, they need higher paying positions for their employees, you need to give a quarter of the monthly profits to the community." The young activist says he harbors no ill will towards the people he worked with, but hopes that this becomes a teaching moment for all. "If you're going to be in a community of the immigrants then you need to help them instead of pushing them out."