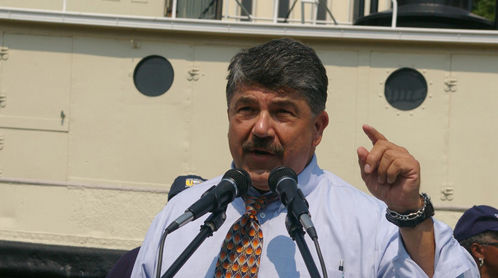 Members of Congress have begun debating how to use the money leftover from the Wall Street bailout. The speed an urgency with which the US government moved to stabilize the financial markets after the meltdown last summer has proved so apparently successful that hundreds of billions of dollars from that bailout have gone unused.
Many in Congress want to use the leftovers to reduce the deficit, and most have been quiet on the need for a second stimulus package for Main Street. Since 7.2 million people have been put out of work, why not use the left over Wall Street bailout to extend unemployment benefits and launch a second stimulus package for Main Street?
According to Bureau of Labor Statistics data for September 2009, the economy shed another 263,000 jobs. This month brings the total number of jobs lost this year alone to 4.2 percent of the overall jobs in the economy, according to analysis from the Center for American Progress.
According to that data also, the total employment rate inched up to 9.8 percent in September, a 26-year high. About 36 percent of the unemployed have been out of work for at least six months, double what it was in December 2007, the first official month of the recession.
Compared to the 1982 recession when unemployment stood at 10.8 percent, only 12.3 percent of workers had been out of work for six months or more.
There is some hope, however. The numbers show the net number of jobs lost in recent months has fallen to one-third of the number earlier this year. And according to a recent blog post by former Labor Secretary Robert Reich, most of this positive sign resulted from the President's economic recovery act, which has saved some 200,000 to 250,000 jobs each month since implementation. Reich has also argued that the recovery act passed last February was too low to adequately address the economic crisis facing Main Street.
Still, workers and the Obama administration remain unimpressed with the job numbers. In his weekly address last Saturday (Oct. 3), President Obama took credit for some economic progress, but added, "yesterday's report on September job losses was a sobering reminder that progress comes in fits and starts, and that we will need to grind out this recovery step by step."
In remarks last Friday, Vice President Biden stated, "We don't think that 'less bad' is good. 'Less bad' is not our measure of success."
One job lost is one job too many, and it's still too much pain," Biden said. "There's still too many hard-working Americans without a paycheck, still too many families struggling to get by."
Biden side-stepped a reporters question about a second stimulus package, saying, "We're working on finishing the first one here, and doing it right."
In a statement last Friday, AFL-CIO President Richard Trumka pointed out, "The only factor that kept the unemployment rate from rising even more is that 571,000 workers dropped out of the labor force last month."
Trumka urged "further fiscal stimulus" and expressed the concern that without heavy job losses would likely continue.
Praising the Obama administration for "aggressive actions" to stem the worst of the fiscal and economic crisis, Trumka added, "we will need sustained and expanded fiscal support if we are to see a robust recovery."
Trumka concluded by calling for an unemployment benefits extension for long-term unemployed, new aid to states with big budget holes, speed up of promised investments in education and training and new resources for infrastructure and a green economy.
About 1,000 workers marched in Boston to protest the ongoing economic crisis. They demanded that big banks and corporations that accepted Wall Street bailout money should stop the layoffs and loosen credit in order to promote economic activity that creates jobs.
Massachusetts AFL-CIO President Robert Haynes told the workers, "Economic recovery isn't a reality until we have an economy that works for everyone. If people can and want to work, there should be a job available to them so they can support their family."
Haynes denounced corporate greed at the heart of the financial crisis and the delay in getting people back to work. "We're calling out the corporate greed that ruined the job market," said Haynes. "We're about good jobs and we won't stop fighting corporate greed until we get them."
The weakness of the recovery has resulted mainly from the small size of the recovery package aimed at creating or saving jobs, explained Paul Krugman in a recent column in the newspaper he writes for. According to that column, the Congressional Budget Office believes that despite the $800 billion stimulus package, the hole in the US economy between next year and 2013 will be about $2 trillion.
Some economists have begun to argue that fears over the economic consequences of retaining high deficits in the current climate are unfounded. In a new report for the Economic Policy Institute, researcher John Irons argued that the generational impact of this recession in terms of lost income, wealth, retirement benefits and economic activity will be harsher for working families than high interest rate payments associated with large national debts. Recessions should not be thought of as "a one-time event" for the vast majority of working families, but as a crisis that "will have consequences for years to come," he argued.
On the issue of concerns about high deficits, Irons wrote, "an economic stimulus can lead to a short-run boost in output that outweighs the additional interest costs of the associated debt increase."
The US government moved swiftly and adequately to save the profits of the big banks and to stabilize the financial system? Why can't it do the same for Main Street?