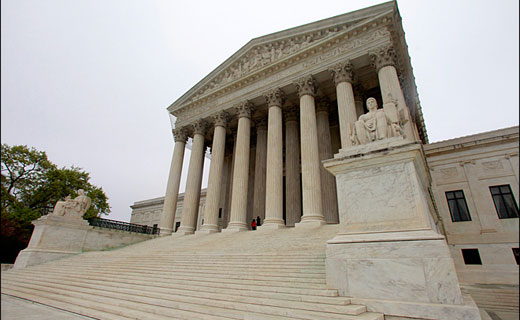 Two separate groups of union workers – public workers in Florida and American Airlines retirees nationwide – racked up big wins in separate courts in recent days.
The 85,000 Florida state workers, represented by the American Federation of State, County and Municipal Employees, District Council 79, got their win from the U.S. Supreme Court on April 21. The justices, without comment, let stand a lower court ruling tossing drug tests for at least 52,000 – 60 percent – of them.
Three days earlier, a federal bankruptcy judge in New York tossed out the attempt by AMR, American Airlines' parent firm, to end its payment of health care and life insurance benefits for 47,000 retirees, most of them unionists. AMR has since merged with US Airways.
Right-wing Gov. Rick Scott, R-Fla., ordered the drug tests in March, 2011. AFSCME and the Florida branch of the American Civil Liberties Union took him to court, saying the government-wide tests violated workers' rights, privacy and the 4th Amendment to the U.S. Constitution. The tests were stalled until the case was concluded.
The 11th U.S. Circuit Court of Appeals in Atlanta ruled for AFSCME, the workers and the civil liberties group, with a caveat: The state could still test the 33,000 workers in public safety jobs. Scott wanted everyone tested, both pre-employment and while at work. By contrast, the U.S. district judge in Miami tossed out Scott's tests for all workers, public safety or not.
Scott went too far one way and the lower court went too far the other way, the circuit court said. The Supreme Court, without comment, upheld that split decision.
"This relief swept too broadly, enjoined both constitutional and unconstitutional applications of" Scott's executive order mandating the testing, the circuit court had said. The district court banned testing all the workers "without examining the specific job categories to be tested. What the Supreme Court's case law requires, in contrast, is that the trial court balance the governmental interests in a suspicionless search against each particular job category's expectation of privacy.
"Among the covered state employees, for example, are law enforcement personnel who carry firearms as well as employees tasked with operating heavy machinery or large vehicles — groups the Supreme Court has held may be drug tested without individualized suspicion. As to those safety-sensitive employees, the executive order's application would most likely be constitutional, and, therefore, the district court's order cannot stand as written."
In the American Airlines lawsuit, bankruptcy judge Sean Lane said contracts covering the health benefits and life insurance "lack language categorically reserving" AMR's right to dump the coverage. The air carrier's parent firm wanted to shift the costs to the retirees, letting them buy policies at groups rates from it. Lane said no. AMR said it might appeal.
Photo: Supreme Court building. AP