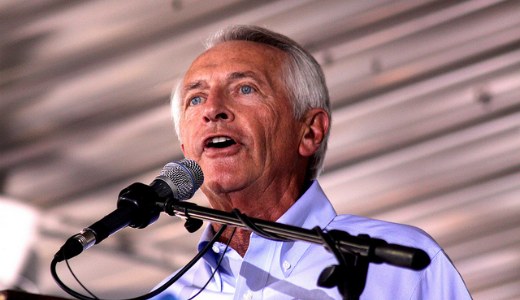 LOUISVILLE, Ky. – The latest polls for the Kentucky gubernatorial election between Democratic incumbent Steve Beshear and Republican nominee David Williams are showing a massive lead for Beshear, with 52 percent of likely voters leaning towards him compared to the 28 percent leaning towards Williams. Independent candidate Gatewood Galbraith has 9 percent, with 11 percent undecided.
Beshear ran unopposed in the primary, choosing former Louisville Mayor Jerry Abramson as his running mate. Abramson decided not to run for mayor in 2011 so he could run for lieutenant governor.
Beshear's years as governor have coincided with a Republican majority legislature. Nevertheless he has launched a green energy initiative and protected education funding from cuts. In addition he has backed labor rights and other labor-backed measures.
Despite opposition from the reactionary Republicans, in April 2008 Beshear announced that he would divide the state's Environmental and Public Protection Cabinet to form a new Energy and Environmental Cabinet. This was a reversal of the consolidation of Environmental, Public Protection, and Labor Cabinets effected under Republican Ernie Fletcher, whom Beshear unseated in 2007. Beshear initiated a comprehensive energy plan allowing for the expansion of solar, wind and biomass energy generation, as well as coal gasification. The plan discussed the use of nuclear power favorably, but Beshear stopped short of advocating an end to Kentucky's ban on construction of nuclear reactors.
During budget cuts earlier this year, Beshear protected SEEK, the primary formula for state education funding, from the $1 billion that was cut from the state's budget.
The Kentucky AFL-CIO has decided to endorse Beshear again for the 2011 election. Beshear has spoken in opposition to right-to-work legislation and supports Kentucky's prevailing wage law, which like the federal Davis Bacon Act, requires workers on public construction projects to be paid based on the wages prevailing in private construction in the area – in other words it aims to prevent exploitation of these workers.
Earlier this year, Williams and his running mate Richie Farmer defeated tea-party-backed candidate Phil Moffett by 10 percentage points in the Republican gubernatorial primary, a stark contrast to last year's U.S. Senate primary when tea party candidate Rand Paul won in a landslide over establishment GOP candidate Trey Grayson. Williams, president of the Kentucky state Senate, attempted to ram a right-to-work law through the legislature and is against the prevailing wage law. In 2009, he voted in favor of requiring pre-abortion ultrasounds, a bill that ultimately passed. He also voted in favor of restricting public employee benefits to only spouses defined under Kentucky's marriage law, considered by many to be purely anti-LGBT in purpose. He has continuously come out in opposition to the teachers' unions (in his words, they "constantly stand in the way of better schools.").
Galbraith, the independent, is a lawyer and was a former candidate with the Reform Party in 1999. Galbraith's campaign seems to be targeted at Kentucky's younger voters. He has proposed giving high school graduates $5,000 for books, tuition, and fees if they attend any higher education institution in Kentucky. He is against mountaintop removal, and puts the environment as one of his top three issues in his campaign. Galbraith is a supporter of the Second Amendment (gun rights) and believes that the federal goverment is overstepping its boundaries. He was critical of the stimulus package and says he favors private sector growth. He has become the first independent candidate endorsed by a labor union, the United Mine Workers. The UMW had endorsed Beshear in the 2007 campaign, but were disappointed when Beshear chose Abramson as his running mate, as Abramson is seen as anti-union.
This election is key for Kentucky's union workers and working-class communities. Williams has said that he is an admirer of Wisconsin Gov. Scott Walker, known for his anti-union actions. If Kentucky workers want to retain their pensions and benefits, they'll have to fight Williams and the Republican Party every step of the way. The Kentucky AFL-CIO is sponsoring a Labor 2011 program. All across the Bluegrass State, union volunteers will be phone banking, distributing literature and talking face to face with union members at their workplaces, urging them to support labor-endorsed candidates with a people's agenda.
Photo: Gage Skidmore // CC 2.0