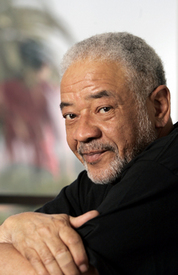 You might be a Bill Withers fan without realizing it.
If you ever grooved to Will Smith's "Just the Two of Us," sang along with "Lean On Me" or thought to yourself, "Ain't No Sunshine" when she's gone, you know Withers' timeless musical touch.
Artists who have covered his songs read like a who's who of pop music: Sting, Michael Jackson, Barbra Streisand, Paul McCartney, Aretha Franklin and Tom Jones, among others. Withers' work has been heard in more than 50 films and television shows, a dozen commercials and as samples in countless rap tunes.
The 67-year-old singer-songwriter, whose hits also include "Use Me" and "Lovely Day," was honored by the American Society of Composers, Authors and Publishers, June 26, for his musical contributions. LL Cool J was also honored.
Born July 4, 1938, in Slab Folk, W.Va., Withers was the youngest of six children. His father died when he was a child and he was raised by his mother and grandmother. After a nine-year stint in the Navy, Withers moved to Los Angeles to pursue a music career in 1967. He recorded demos at night while working production at the Boeing aircraft company.
Withers wrote "Lean on Me" based on his experiences growing up in a West Virginia coal mining town. Times were hard and when neighbors needed something beyond their means, the rest of the community would chip in and help, he said. Withers said he came up with the chord progression while noodling around on his new Wurlitzer electric piano and the sound of the chords reminded him of the hymns that he heard at church while he was growing up.
"If you stick around long enough, eventually somebody's going to give you something," Withers joked with Associated Press writer Sandy Cohen about his ASCAP award.
With working-class modesty, he insists there's nothing too special about him. Everyone likes to sing, he said, everyone likes music and he can't really play guitar or piano.
"I just was able to plunk around with them enough to write some songs," he said.
Still Bill Trailer from B-Side Entertainment on Vimeo.
UPDATED: Feb. 18, 2010
A new documentary about the music legend Bill Withers has just been released. "Still Bill" by b-side films is currently playing in NYC, but is available on DVD. House viewing parties are encouraged. The film is described as "an intimate portrait of soul legend Bill Withers, best known for his classics 'Ain't No Sunshine,' 'Lean On Me,' 'Lovely Day,' 'Grandma's Hands,' and 'Just the Two of Us.' With his soulful delivery and warm, heartfelt sincerity, Withers has written the songs that have – and always will – resonate deeply within the fabric of our times."