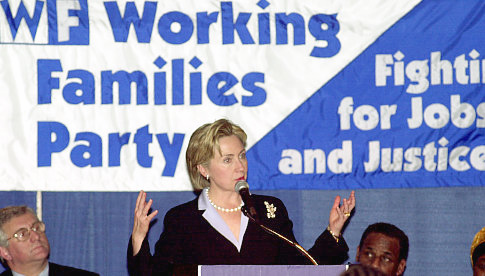 By a 68 percent-32 percent margin, members of the Working Families Party, a labor-backed progressive organization in seven states and D.C., voted on August 16 to endorse Democratic nominee Hillary Clinton for president.
In doing so, it followed the same trajectory of other progressive activists who originally backed her top primary foe, Sen. Bernie Sanders (Ind.-Vt.). He too has endorsed Clinton.
Just before the nationwide balloting closed, late in the week of August 12, the Communications Workers – the largest of the five unions that backed Sanders during the primaries – e-mailed a letter urging its members to join WFP and back the pro-Clinton move.
Not only did WFP members agree, so did its board, said national director Dan Cantor.
But he also said the party would hold Clinton accountable for her campaign stands, and that it would also concentrate on electing down-ballot progressives to help push its program and hold her feet to the fire.
The most important reason WFP gave for backing Clinton was to stop Republican nominee Donald Trump. Cantor called the business mogul "the most dangerous figure in mainstream American politics since George Wallace," the 1968 segregationist candidate.
"We need to not merely defeat Trump – we need to repudiate him and everything he represents," Cantor added. "A Trump victory would not only put an unqualified, know-nothing, narcissistic, authoritarian jerk in the White House, it would empower the most malignant tendencies in American society. He offers up a phony, racist populism. He mocks the disabled. He stokes fear and incites hatred of immigrants, Muslims, and women. His rhetoric has generated violence.
"We believe a multi-racial, progressive, and genuinely game-changing populism can win back some of his voters over time, especially independents, and that's a task for the next decade. The task of the next 84 days is to sweep Trump – and Trumpism – off the stage once and for all."
The WFP also praised Clinton's policies on many issues "deeply important to lives and fortunes" of workers and the poor. That includes, Cantor said, presidential appointments to the National Labor Relations Board, as well as labor law reform.
Her stands also include public financing of elections, restoration of the Voting Rights Act, "enormous and overdue investment on public spending on clean energy and infrastructure," and an end to private prisons and mandatory minimum sentences, among other issues.
"This is not to say that Hillary Clinton is perfect. She's not. No candidate is. The truth is, if she becomes President Clinton, she will only be as good as we – social movements, unions, progressive activists and organizations – make her," Cantor warned. "It's up to us to set the stage for the future we want to see."
The WFP has separate ballot lines in several states, including Oregon and New York, and has cross-endorsed selected progressive congressional candidates. But in Oregon, WFP nominated Longshore and Warehouse Union member Shanti Lewallen, to challenge pro-Trans-Pacific Partnership Sen. Ron Wyden, D-Ore., this fall (see story in August 12 edition).
Before the vote, Rosita Lopez of CWA's political staff wrote an e-mail saying her union and the WFP stood together for Sanders and mobilized millions of people to fight for – and win – a bolder, more progressive agenda, embodied in the Democratic platform. The platform denounced bad trade deals and advocated a $15 federal minimum wage, among other things.
"CWA has already endorsed Hillary Clinton because she has stood with CWA members and pledged her commitment to making life better for working families," Lopez noted.
"Hillary stood with us on the Verizon picket line. Hillary was an original sponsor of the Employee Free Choice Act. Hillary opposes union-busting right to work (for less) legislation. Hillary supports an agenda that would put working families first, such as paid family and medical leave and equal pay legislation. Hillary opposes the Trans-Pacific Partnership and promises to build up America's manufacturing sector," Lopez wrote.
"On the other side, Donald Trump is running the most divisive and reckless campaign in recent memory. Time and time again he's proven he's no ally of working families.
"Trump has said the minimum wage is too high. Trump said he was '100 percent for right to work' (for less). Trump has constantly fought his employees' right to unionize. Trump has proposed an economic plan that would take care of his billionaire friends while triggering a recession and leaving American workers behind."
"As we look ahead to November the choice couldn't be clearer. That's why our union and Bernie Sanders have both strongly endorsed" Clinton, Lopez stated.
"The next four years could be a huge opportunity to win a fair shake for working families. But that won't happen if Trump is president. Taking a stand together can make us a powerful force to help win elections. Let's make sure our brothers and sisters of the Working Families Party are with us and Bernie Sanders in endorsing Hillary Clinton," she concluded.
Photo: Democratic presidential nominee Hillary Clinton has a long-standing relationship with the Working Families Party. Here, she addresses a WFP meeting during her campaign for the Senate in 2000. | PopularResistance.org