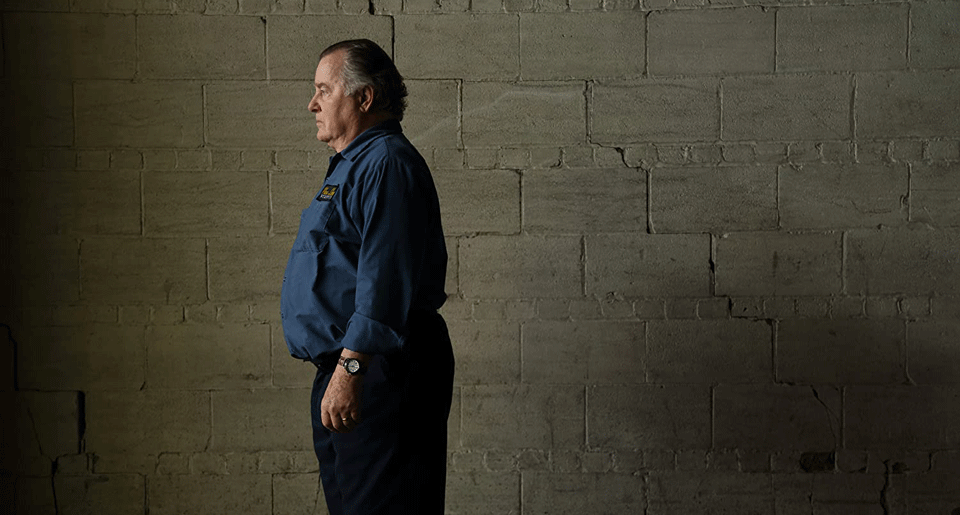 Written and directed by Robert Jury, the new feature film Working Man bears some similarity to the Academy Award-winning documentary American Factory, except that here there is no Chinese industrial mogul stepping in to rescue the hollowed-out American industrial heartland. It is Jury's first produced screenplay and marks his directorial debut.
When the slow-paced film opens we meet the last workforce in the last factory in a bleak Rust Belt town on its last day of work. When New Liberty Plastics closes its gates, the dutiful, solemn, and affectless Allery Parkes (Peter Gerety), a career employee, is the last to pick up his final paycheck and leave.
But in the next few days, incapable of reconciling himself to simply sitting at home doing nothing, sharing an uncomfortable silence with his caring wife Iola (Talia Shire), he surreptitiously re-enters the factory as more of a refuge there than he feels in his own house, even though the power is off and he's just performing pointless maintenance. The neighbors, his fellow now-unemployed workers, wonder if he's dropped a few of his mental screws in the factory, seeing him hypnotically plodding to "work" each day with his paltry lunchbox.
One of his co-workers, his Black neighbor Walter Brewer (Billy Brown), who had only moved to town and started working there less than a year before, sees something heroic in Allery's quiet resistance, and also concludes that psychologically, Allery needs some kind of dramatic lift in his life to dispel this older worker's depression and the unseen demons that are obviously haunting him. Together, but mostly at Walt's instigation, they inspire a community-supported factory occupation, reminiscent of the sit-down strikes of the 1930s, and commit themselves to fulfilling the last standing orders of product that had been left behind in the wake of the precipitate corporate takeover.
After all, as one worker in the film says, speaking for his class, "You need work to feel like you're worth something."
"I grew up in the rural American Midwest," says Robert Jury, "so Working Man has a lot in common with places and people I know, but it also reflects what's currently happening and has already happened in a good chunk of working-class America and the rest of the globe. It's a story that is set in a small, Rust Belt city where financial uncertainty and the fear of factory shut-downs are the norm. It is a place where many wonder what's happened to the world they once knew. A place where many feel forgotten."
Good solid socialist-realist esthetic theory would posit at least some rays of hope involving personal and collective class agency to emerge intact out of crushing disaster. But hope for the class as a whole is in short supply here. Will the orders get completed and filled? Will the workers be paid for their work? Can the factory be saved? These questions get answered in their own way, but as the singular title of the film suggests, ultimately this is about one man, Allery Parkes, and his inner struggles. If he is able to overcome his own pain and feel his oats again after a long hard spell, and even get acknowledged for his unexpectedly revealed leadership potential, does that tip the balance on the scale of overall working-class advancement? What lessons have been learned?
I was reminded, watching this film, of Les Misérables—novel, play, Broadway musical, film—where the spirit of rebellion is celebrated, but it ultimately fails for lack of theory and inattention to the analysis of forces that could unite behind and support the workers and students. The "never give up" re-occupation of the plastics factory may well be the single most brilliant moment in these workers' lives, a story that will be handed down to their children and grandchildren—but this "last stand" has achieved nothing to stop the corporate juggernaut. Nevertheless, the centering of an effective, caring relationship between a Black and a white worker, however flawed each of them may be as an individual, is good to see.
After a long gestation, says Jury, "I can't imagine that our film could have landed in a more appropriate, relevant, or fitting age than the present. Considering the current political and social climate in our world, this story seems to be meshing with the moment. My greatest hope for Working Man is to create a curiosity, a dialogue, and a meaningful connection with folks—regardless of personal beliefs or alliances.  Loss, grief, recovery, and love are universal. The time feels right."
To some in viewing audiences, the closing of a plastics factory might not seem like such a bad idea—setting aside the impact on the working class—but Jury pays no attention to this environmental issue. The proposed Green New Deal, aiming to address the challenges of climate change, laudably includes provisions concerning worker displacement and retraining. One film obviously can't take on every cause, but this issue is so prominent now that it seems something of an oversight.
The lead characters are all played by distinguished actors and they deliver. The rest of the ensemble are effective in their roles as co-workers, corporate flacks (one who kind of resembles Jared Kushner in both looks and attitude), and worthy of special mention, Patrese McClain in the cameo role of Cecilia Brewer, Walt's estranged wife.
Piero Basso's cinematography, shot on location in Chicago and Joliet, Ill., lovingly captures the proud homeownership of the inhabitants of this unnamed Rust Belt town, as well as the factory interior that is but a step away from becoming a deserted industrial hulk littering the landscape. David Gonzalez's original score is minimalistic in most places, bringing out the clarinet in scenes where it is integral to the story, a surprise baroque Vivaldi concerto to accompany the revived manic of factory production, and Latin music where appropriate (reflecting changing demographics in the town). The film running time is 108 minutes.
In the course of touring the film festival circuit in advance of its theatrical release, Working Man garnered a number of awards: Best Narrative Feature from SCAD Savannah Film Festival and the Kansas City International Film Festival, and Best Ensemble from the Fort Lauderdale International Film Festival. Working Man "opens" as a VOD May 5th, in accordance with the new "corona" norm, presumably at some point followed by a national theatrical release. The trailer can be viewed here.