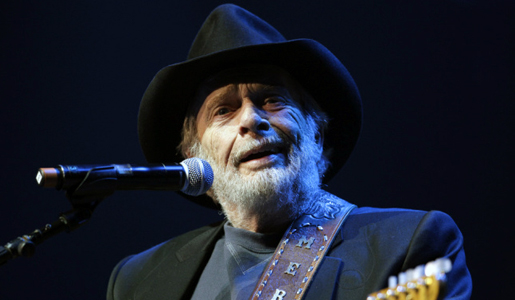 NASHVILLE, Tenn. (AP) — Merle Haggard didn't just write great country songs, he lived them.
His real life experiences of poverty as the son of Oklahoma migrants, an early stint in prison and a life lived on the road gave his songs true grit when others would just have to imagine those scenarios for inspiration. Haggard wrote songs for the American working class to drink to, to dance to and to cry to.
Haggard died Wednesday, April 6, at his home in Palo Cedro, California on his 79th birthday, according to his manager.
"We've lost one of the greatest writers and singers of all time," said his friend Dolly Parton in a statement. "His heart was as tender as his love ballads. I loved him like a brother. Rest easy, Merle."
A masterful guitarist, fiddler, songwriter and singer, the Country Music Hall of Famer with the firm, direct baritone released dozens of albums and No. 1 hits over the decades. His music was rough yet sensitive, reflecting on childhood, marriage and daily struggles, telling stories of shame and redemption, or just putting his foot down in "The Fightin' Side of Me" and "I Think I'll Just Stay Here and Drink."
The Byrds, Lynyrd Skynyrd, Grateful Dead, Emmylou Harris, Dwight Yoakam, Lucinda Williams and Reba McEntire all covered his songs, while others have paid tribute to the legitimacy he brought to country music, such as Eric Church's 2006 song "Pledge Allegiance to the Hag," or the Dixie Chicks' "Long Time Gone," a criticism of Nashville trends in 2000.
Haggard's songwriting earned him comparisons to folk songwriter Woody Guthrie because of his fascination with the common man, such as "If We Make it Through December." But his most poignant songs were the most personal, like the migrant ballad "Hungry Eyes," or the autobiographical "Mama Tried."
"I don't have a great education and music was a way out of poverty," Haggard said in a 2014 interview with The Associated Press. "I knew there was not much for me to look forward to if I didn't make it in music."
His childhood was out of a John Steinbeck novel; his family migrated from Oklahoma to California and lived as outsiders in their adopted state. Born in 1937 near Bakersfield, Haggard was raised in a converted railway boxcar, the only dwelling his parents could afford. When Haggard was 9, his beloved father fell ill and died, leaving Haggard with lasting grief. He turned to petty crime and spent several years in and out of institutions.
He served three years in San Quentin as inmate 845200 for burglarizing a cafe during a drunken spree. It was during that stint he saw Johnny Cash play, and he returned to Bakersfield at age 22 in 1960 ready to write music.
"My decisions have been easy," Haggard said in 2014. "It was either back in the cotton patch or go to work in the oil fields… They didn't compare with music. I was able to make more money in a beer joint than I was digging ditches."
Singer-bandleader Wynn Stewart was an early patron, hiring Haggard to play bass in his group. Haggard's first hit was a cover of Stewart's "Sing a Sad Song" and by 1966 he had been voted most promising vocalist by the Academy of Country and Western Music. He became a superstar in 1967, first with a cover of Liz Anderson's "I'm a Lonesome Fugitive," then with such originals as "Sing Me Back Home" and "The Legend of Bonnie and Clyde," featuring Glen Campbell on banjo.
He was that rare combination of a hard country artist who also was a commercial success. Between 1966 and 1987, he had 38 songs rise to No. 1 on the Billboard country singles charts and earned two Grammys and was named entertainer of the year by the Country Music Association in 1970.
Haggard referred to the improvisations of his band, the Strangers, as "country jazz," and in 1980, became the first country artist to appear on the cover of the jazz magazine "Downbeat." His band over the years incorporated horns, saxophones and trombones and included well-respected musicians such as Norm Hamlet, Roy Nichols, Biff Adam and Clint Strong, as well as his wife Theresa and son Ben.
In a 2010 interview about President Obama, Haggard discussed the misinterpretations that he felt had been spread about POTUS. "It's really almost criminal what they do with our president," he said. "They call him all kinds of names all day long, saying he's doing certain things that he's not." Haggard met the Obamas on a trip to the White House to receive a Lifetime Achievement Award."
"Merle Haggard was an original. Not just a singer, not just a songwriter, not just another famous performer. He was your common everyday working man," said Hank Williams Jr. in a statement.
Here's a sample of reaction to the death of country music star Merle Haggard.
"He was my brother, my friend. I will miss him." _ Willie Nelson.
"The greatest singer-songwriter of my lifetime is gone. Thanks for the music and friendship."_ Toby Keith.
"We played a lot of gigs together through the years, but some of my fondest memories were hanging out in a natural setting, like the time we sat there by the river in his backyard and ate bologna sandwiches. Merle was a simple man with incredible talent like no other." _ Tanya Tucker.
"When Merle Haggard sang, you paid attention. He is about as close to perfection in country music as we will probably ever have." _ Lorrie Morgan.
"One of the first things John and I realized we had in common was our love of Haggard songs." _"Big Kenny" Alphin of Big & Rich.
"His death seems somehow unfathomable. He carried the sounds and spirit of his heroes Jimmie Rodgers, Bob Wills, Lefty Frizzell, Hank Williams and Woody Guthrie into the present day, and he wrote the songs that told, and will continue to tell, our stories." _ Kyle Young, CEO, Country Music Hall of Fame and Museum.
"Nobody sang better or with more heart than Merle Haggard. It was an honor to spend time and share the stage with him on many occasions. Merle had a special way of making everyone around him feel like a friend, after just a short time with him." _ Neal McCoy.
Teresa Albano contributed to this article.
Photo: Mark Humphrey | AP