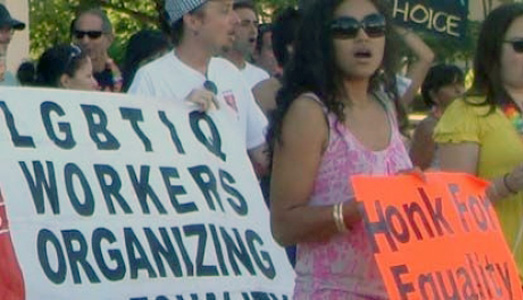 In 2013, it's difficult to believe that in many parts of the country, it's legal to fire workers for their sexual orientation or gender identity. In fact, 52% of the LGBTQ population lives in states that do not prohibit employment discrimination based on sexual orientation or gender identity. Studies show that more than one in five LGBTQ workers report discrimination on the job.
The country has long had national laws that protect workers from being fired based on their race, gender, religion, disability or other characteristics of their identity. But sexual and gender identity have no federal protections in the workplace, and we need to change that.
The Employment Non-Discrimination Act (S. 815/H.R. 1755), also known as ENDA, is a proposed law that would federally prohibit workplace discrimination on the basis of sexual orientation or gender identity/expression in all 50 states. We in the labor movement affirm everyone should have equal access to workplace rights. ENDA would finally make this a reality for our LGBTQ brothers and sisters.
Throughout our history, the AFL-CIO and its affiliates have been leading advocates against discrimination in the workplace in any shape or form. We were instrumental in passing the Civil Rights Act of 1964. We fought for the Equal Pay Act, the Age Discrimination in Employment Act and the Americans with Disabilities Act-which all prohibit on-the-job discrimination.
The AFL-CIO and Pride At Work believe it is wrong for any employer to discriminate against or fire a worker based on actual or perceived sexual orientation or gender identity. Discrimination in the workplace has no place in the United States.
The AFL-CIO will redouble our support for the passage of ENDA and continue this work until every worker-gay or straight, transgender or not-is treated with dignity and respect on the job. We urge all national and international unions to join in the effort to pass ENDA and to use their influence to sway those members of Congress who will be instrumental in the bill's passage. As we did in 2009, let us commit to doing "all in our power to see that it passes."
America's unions and working families are dedicated to bringing fairness and dignity to the workplace-and will continue this work until every worker is treated with dignity and respect on the job. We wholeheartedly support the passage of ENDA.
Richard Trumka is president of the AFL-CIO, and Darren Phelps is the executive director of Pride At Work.
Reposted from the AFL-CIO NOW blog.